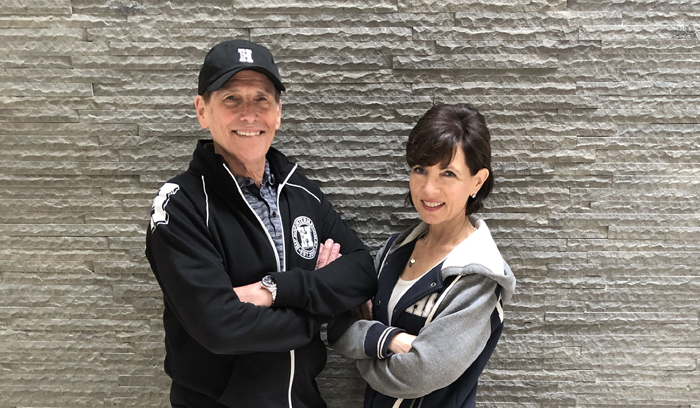 Photo: Hip Hop International founders Howard and Karen Schwartz. Photo courtesy Hip Hop International
What comes to mind when you hear the terms breaking, popping, locking or whacking? If you're thinking it's the sounds your middle-aged bones are making in the morning, you're only partially right. For the thousands of dancers who will descend on Phoenix this August, these are the names of the moves they spend hours perfecting.
For the third straight year, the Hip Hop International World Hip Hop Dance Championship will be held in Phoenix Aug. 5-10. Before the world competition, the Hip Hop International U.S.A. Finals will run Aug. 2-4.
If you enter "hip-hop dance crews" in the YouTube search bar, you will be inundated with videos. You can lose hours mesmerized by these dancers performing athletic moves with perfect precision. According to the HHI website, "Hip hop dance is a fusion of dance disciplines and cultural interpretations that capture the look, attitude, posture, music and elements of the urban environment."
If you attend a HHI competition, you may see Howard and Karen Schwartz. The couple looks slightly out of place – perhaps parents who are there to cheer on a competitor. But you'll quickly notice that everybody seems to know the couple. That's because they are the force behind the juggernaut that is Hip Hop International.
HOW IT ALL BEGAN
Howard and Karen met in the '80s when Karen was producing an aerobics competition (yes, the leg warmers and leotards kind). Howard, who owned a marketing and production company, was researching how to create something similar on a national basis.
It was beshert from the beginning. The two took their combined skills and brought aerobic championships across the United States and then branched out internationally. They also began to produce competitions for television.
"A lot of the videos we produced years ago have now gone viral," says Karen. "Taylor Swift had a song called 'Shake It Off,' and someone took it and matched it up with our old TV show and it went viral."
In the late '80s the championship was gaining notoriety, and the couple picked up some big sponsors including Crystal Light. The Schwartzes also worked with Shape magazine when it was a fledgling publication.
Now the quirky fitness craze has morphed into a legitimate sport. "Now it's a full-fledged sports discipline under gymnastics and the USAG," says Howard.
The couple was in Paris for an aerobic championship when they first encountered what would become their future. "We saw a bunch of b-boys (breakdancers) on the street," says Howard. "It draws a big crowd any time you see b-boys on the street. They are tremendously athletic and very dance-oriented as well. It's a unique step and a unique type of dance."
They noticed how enticing and entertaining it was for people to watch. "Then we were in Tokyo, also for aerobics, and as we were getting off the subway and in front of the stores there were a number of dancers, they were doing a hip-hop style of dance in groups," recalls Howard.
Karen adds, "They were utilizing the storefront windows as mirrors – they could see themselves in it."
The couple noticed that wherever they traveled in the world, they would come upon street performers doing some version of hip-hop. They also realized that there wasn't a platform for the dance style to be able to share it with the general public.
After this realization, they brought together a group of people who understood dance more than they did and took a couple of years to make sure that they created the proper foundation.
"What's, very, very important in hip-hop dance is the respect of the basics and the origins," says Karen. "We took our time to make sure that we developed the rules and guidelines that respected the dance."
Once they were ready, they launched their first hip-hop dance competition in 2002. Held in South Beach, FL, the event had competitors from 12 countries. Hip Hop International was born.
"We were impressed with the cultural differences and how entertaining it was and the talent we saw from the U.S. and from around the world," says Karen. "We had a sense that this was the start of something big."
ONWARD AND UPWARD
After they produced Hip Hop International competitions for a few years, the Schwartzes wanted to get the concept out so that it would become more mainstream. They began to pitch the idea of a dance competition show to different television studios, and after five years they were picked up.
"America's Best Dance Crew" premiered on Feb. 7, 2008, on MTV. The show was produced by Randy Jackson who was well known after his appearance as a judge on American Idol. "MTV told us that, 'Your show is our American Idol,' " remembers Howard.
On the show, dance crews would showcase their talents and compete for a $100,000 grand prize. The winner of season one was the JabbaWockeeZ. In 2010, the JabbaWockeeZ crew began performing in Las Vegas, becoming the first dance crew ever to headline a show there. They now perform their show, "JREAMZ" every Thursday through Monday at the MGM Grand.
ABDC ran for eight successful seasons. In 2016, the Quest Crew won a Creative Arts Emmy Award for outstanding choreography on the show, beating out two nominees from "So You Think You Can Dance."
Their show was at the beginning of the wave of popularity that performance competition shows now enjoy. "When we were doing auditions one season for ABDC, our casting director was also casting for this brand new show 'The Voice,' " says Karen. "She was showing us the concept of the chairs turning around and all that. That was brand new."
SUCCESS STORIES
Thanks to social media and YouTube, once a crew wins a Hip Hop Dance Championship they become known worldwide. Since the competition started, it has paved the way for many hip-hop dancers and choreographers to make a career doing what they love.
One such example is Parris Goebel. A New Zealand-born choreographer and dancer, her crew, The Royal Family, won the international championship three times. Since then, she has had the opportunity to work with Ciara, Justin Bieber, Rihanna, Nicki Minaj and many others.
"It's like an Olympic athlete," says Karen. "Some will take it and get the endorsements or go touring or teach or perform. It's an opportunity for some very talented people. This is their opportunity to shine and get out there and be discovered."
The top dancers are usually in their 20s or 30s. The youngest competitor was age 7. The oldest crew to ever perform at the championship had an average age of 80.
This particular crew hailed from a small island of the coast of New Zealand called Waiheke, and they wanted nothing more than to compete at the World Hip Hop Dance Championship.
"Their director put this crew together for seniors and she called us and asked if she could compete in our event – we laughed and said the only way you can compete is if you win your national championship in your country," says Howard. "We finally decided we will invite you to perform if you send us videos of your progression."


They did end up at WHHDC (in the special exhibition performance category). A documentary called "Hip Hop-eration" followed their journey from New Zealand to Las Vegas. "Their stories are so genuine and beautiful," says Howard.
"Hip Hop-eration" is not the only movie following the trail of a crew to WHHDC. A 2015 film, "Anybody Can Dance 2," was based on the story of the Kings United India dance crew.
They were the first Indian group ever to win a medal the WHHDC. In 2015 they earned a bronze and were also the crowd favorites.
"They went back to India, and a motion picture company heard about their story and said that they wanted to recreate it for a movie," says Howard. "They did – but in the movie, they won. This crew has grown tremendously around the world."
The Schwartzes realize the difficulties that some of the crews may encounter when trying to get to the United States to compete. They work with Adam Schiff's office in California to try and help the dancers with their visas.
"When we started, the MegaCrew (10-40 dancers) competition, was only for the U.S.A. because we figured it's too much to ask a country, studio or group for the expense to come to the United States with that many dancers," says Howard. "After the first year, we were inundated with, 'How come we're not part of this,' so we opened it up to the world, and it now is probably the biggest of all the events."
The crews coming to compete this year represent 50 countries; each one is licensed under Hip Hop International. "There are HHI Japan, HHI Brazil, so on and so forth," says Howard. "Part of our organization is operating and running an organization that has 50 franchisees around the world."
They have a system of judging that was created when they first launched the championship. "It's expanded, but we do teach a course all over the world, and we do have judges that are elite judges that go through the course and we approve them and certify them to a certain level so that they can teach around the world," says Howard.
The crews, from MiniCrews of three members to MegaCrews of up to 40 crewmembers are judged on their performance, technical skills and ability, but they are also encouraged to bring their culture to their dance.
"The rules and guidelines – what it does – it allows everyone from around the world to compete under an even playing field but there's certainly a lot of room for creativity, and we welcome that as well," says Karen. "You will see the cultural flavor for a dance crew from India or China or Japan. You have Russia, China, Japan, Brazil the U.S. – everybody competing to be number one in the world – it's an incredibly motivating event."
SHARING THEIR VALUES
The Schwartzes have two children, Jason who is 30 and Lauren who is 22. Lauren just graduated from the University of Oregon with a major in cinema studies and music. Jason is a sports broadcaster and lately he has been working for a minor league affiliate of the Colorado Rockies, the Lancaster JetHawks.
"Throughout the years they have been our best focus group," says Karen. "They always are appreciative of the hard work, and I think we have been good role models. They are great kids."
Howard remembers that the kids were especially excited when they were working on "America's Best Dance Crew." "Our kids could really appreciate what we were doing, and all their friends enjoyed it," he says.
The couple raised their children with the traditional values of Judaism. Howard says that it was important for the children to know their history, and to be able to ask questions.
"I think we've been able to share something that we are passionate about throughout the world," adds Karen. "It's been very rewarding to pull cultures together and family values, and we feel that we've really given something back to both the global community and families as well."
It's one thing to produce a competition on a global level, but the Schwartzes also create an atmosphere where real connections and friendships can be made under the shared passion for dance.
For the time that the dancers are in Phoenix, the Arizona Grand Resort and Spa becomes their "Olympic Village." "We have crews and dancers coming in from all over the world, and we have a wonderful opening ceremony, like the Olympics," says Karen. "The way we kick it all off starts it on the right foot where everybody meets one another so that it's a week of friendship."
"I always remark to people that our final event is four hours long, but people do not leave that arena," says Howard. "They stay until the very end, and it is exciting watching the dancers onstage live and in the audience are people from their country waving flags calling out the name of the country. It's really like being at the Olympics."
"It's very entertaining, and it's interesting for people that have never seen it before to come as a spectator," adds Karen. "We had one woman who had never seen it, and she came up to us and said 'this is probably the best four hours of my life.' "
When the final medals are awarded, the winners stand on podiums and their country's flag is lowered and the anthem is played. "People stand in respect and tears run down all the dance crews' faces," recounts Karen. "All the hardship to even get to the championship, after months and months of training and then to finally win it, you see it on their faces. It's incredible."
That takes a lot of work to make sure that they give everybody the best experience possible – both as a participant or a spectator.
"It's rewarding when you see the fruits of the efforts for (working) year round and see everyone come together," says Karen. "We went them to, as soon as they leave, count the days when they can hopefully come back."
HIP HOP INTERNATIONAL
USA Hip Hop Dance Championship
Dance crews from across America compete for the U.S.A. title and to represent the U.S.A. in the World Championship.
WHEN: Aug. 3-4
WHERE: Arizona Grand Resort & Spa, 8000 Arizona Grand Pkwy., Phoenix
World Hip Hop Dance Championships
Winning dance crews from 50+ countries including U.S.A. compete for the world title.
WHEN: Aug. 6-10
WHERE: Preliminaries at Arizona Grand Resort & Spa, 8000 Arizona Grand Pkwy., Phoenix; Final Aug. 10 at Gila River Arena, 9400 W/ Maryland Ave., Glendale
World Battles
The world's top bboys/bgirls, poppers, lockers, whackers and all-stylers compete for world honors and cash prizes in 1vs1 and 2vs2 dance battles.
WHEN: Aug. 9
WHERE: Arizona Grand Resort & Spa, 8000 Arizona Grand Pkwy., Phoenix
For more information, or to purchase tickets to any event, visit hiphopinternational.com.