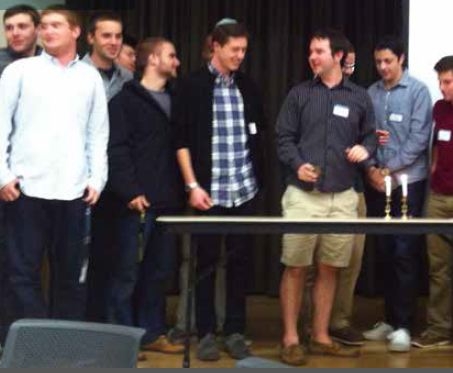 Through the first three months of the 2013-14 academic year, Oregon Hillel on the University of Oregon campus has seen consistent growth. From connecting with off-campus Jewish organizations to packing students in on Friday nights, Executive Director Andy Gitelson has seen many new initiatives breed success in Eugene's Jewish community.
"I think the big thing that we do is that we're just committed to empowering students to engage each other and to connect with other students and build that community on campus," Gitelson says. "I think by empowering students to work through different initiatives and working creatively, we're constantly reinventing ourselves a little bit."
One of the biggest areas where Oregon Hillel has seen exponential growth is with its weekly Shabbat services and dinners. Time and time again, students cram into the Hillel house and literally spill into the hallways in an effort to experience the inviting community and atmosphere. "So far this year we've had three Shabbats where there's been well over 100 students; we've averaged about 80 at most (Shabbats)," Gitelson says. "The nice thing with that is that it's not all the same folks coming, and it's really telling us that we're creating a warm and inviting atmosphere that people want to be a part of. I know very few synagogues that get that kind of a turnout for a Friday night dinner and services." Another area in which Hillel has exceeded previous marks is with student leadership and participation. More than 30 students have been involved in leadership or executive positions this year, and more have helped to plan Hillel activities and programs.
Gitelson believes a big reason for the increase in student participation and population is the way he and the director of student engagement, Amanda Weiss, have made an effort to
expand outside the walls of the Hillel house. One of the biggest problems that Oregon Hillel has faced in years past is simply the fact that the building is hard to find. So Gitelson and Weiss have worked to take location out of the equation. "Students aren't necessarily able to geographically locate Hillel to be involved, so how do we bring Hillel to them?" Gitelson says. "That's what we've committed ourselves to, that idea that you don't have to be in our house and physical structure to be in our community."
As his second year in Eugene continues, Gitelson is optimistic that as Oregon Hillel continues to gain traction on campus, it'll be a benefit for all parties involved. "My hypothesis is that by making that investment, that we'll see the overall level of organizational development among the Jewish organizations and students tick upwards," Gitelson says. "By doing that, we raise the level of expectations of all Jewish organizations on campus to provide better services, more sophisticated services."
Will Rubin is a junior at the University of Oregon with a major in journalism and an internship at Oregon Hillel. A lifelong resident of Eugene, Will has covered the Oregon Ducks for the Oregon Daily Emerald and AddictedToQuack.com, and currently writes for DuckTerritory.com. In the future, he hopes to write for a major metro publication or work for a collegiate athletic department.