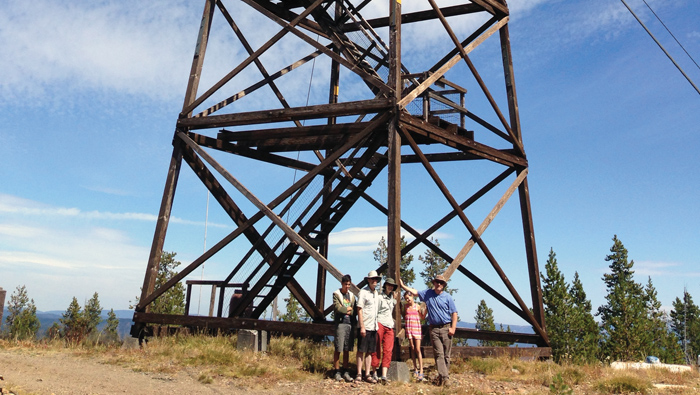 My hill is Desolation Butte, North Fork John Day Ranger District (Ukiah), Umatilla National Forest in Northeast Oregon, and my tower is Desolation. In my post-retirement job as a U.S. Forest Service Fire Lookout, I spend three and a half months, most of the fire season, in a wooden, 15 by 15, 70-foot-tall cabin in the sky.
The view is awesome, almost magnificent – from the rolling, lava-folded, canyoned Blue Mountains in the north to the 7,000-foot rocky spine between the North Fork John Day Wilderness and the Malheur National Forest in the south. The "new" granitic peaks of the Elkhorn Mountains' crest are 17 miles east; or I can look west and see Mt. Jefferson's sharp, snowy cone 100 miles away and Hood's lopsided triangle to the northwest. Fire sunsets there are spectacular.
CHECK OUT THE VIEW
According to Cheryl Hill's excellent recent book, Fire Lookouts of Oregon, there are fewer than 175 lookouts left in the state, about half of them staffed. Seventeen can be rented. Once it seemed there was a tower on every butte, hill and high point.
HINT: Want to get a good view of the solar eclipse Aug. 21? Find some old Metsker County maps in the library or online. They generally have most of the now-abandoned lookout sites which often have old road or trail access, and you can determine proximity to the celestial event's path. There is likely still clear space on the hilltops near the old lookouts where you can settle in for a clear view of the sky.
NEED FOR FIRE LOOKOUTS
People ask me, "A fire lookout? I didn't think they had those anymore. Aren't there satellites and aircraft?" Well yes. There are lightning-strike detectors and maps, flyovers, satellites (the MODIS detection system), private party reports. Most of the apps on my iPhone are weather or lightning-strike related. We fire lookouts are an endangered species, dinosaurs in the wildfire-detection business.
Yet some lookouts are still essential. There are fire-prone parts of the state, many near to towns and cities. We are the frontline of detection. Fast reporting to dispatch centers is imperative. With climate change, weather variability from one fire season to another, diseased and dead trees, and the increasing intensity of wildfires, we can peer into inaccessible terrain and cross-reference with other lookouts to pinpoint fire starts.
It can be an adrenaline accelerator. Amidst lightning strikes, we radio dispatch and make cell calls to other lookouts to cross-check township, range and section of fire starts. This teamwork plus communication with ground-based fire crews and aircraft can be highly rewarding.
Outflow winds from storms as far away as 20 miles can radically affect fire behavior. We do our yearly training on fire's often unpredictable behavior, including blazes that killed firefighters and whether the fatalities could have been prevented.
A DAY IN THE LIFE
Early September 2014, around midnight. Unpredicted high winds from the west/southwest are beginning to rock and roll Desolation, and ambient smoke from various large wildfires in the northwest are dumping into my location. I call Indian Rock Lookout, eight miles south, and JoAnn's winds are topping 80 mph (she has digital weather readouts, I have handheld meters). My cabin on wooden stilts is now seriously groaning and being crotchety, but it's survived worse since erection in 1961. The 1961 contractors from Camp Sherman did a good job, hand-digging the footings in the rocky butte; our perch is sturdy, if shaky. At 2:30 am a couple of young bowhunters tromp up my stairs and wonder if they're about to be burned out of their elk camp. I reassure them all's well. I really enjoy visitors. They often bring a Coke or beer, good cheer and sometimes a whopping case of acrophobia over which they temporarily triumph, just to get the view.
HIGH HOLIDAYS ON HIGH
September, the height of fire season, usually brings the High Holidays. You might have guessed by now I'm not the most religious, but I'm pretty confident I'm the only lookout in the mountains with kippah and tallit. What I do, I do out of respect for our great traditions, our longevity, our learnedness and our survival. I used to think my maternal grandparents were religious, because they spoke only Yiddish and lived in a Jewish neighborhood of Brooklyn, NY. Turns out they weren't very.
WANT TO BE A LOOKOUT?
Should the lookout experience pique your interest, the website usajobs.gov begins advertising openings for Forestry Technician, Lookout in the fall. Application deadlines change yearly. If you are interested in a specific advertised location, it's a very good idea to make phone or email contact with the unit's officer in charge of hiring. The personal touch still works.
If you want to do this, maybe with your significant other, BORING should not be in your vocabulary. A love for G-d's handiwork is helpful. Bird-watchers will enjoy mountain bluebirds, goshawks, mountain chickadees, several varieties of woodpeckers, long-eared owls and vultures. Vultures are actually lovely up close, and they're responsive to yelled praise and whistles and will fly close to investigate. Enjoying just the basics of life, even for a short time, can be rewarding. And lightning. What a masterwork.
Be aware, there are dangers. Lookout towers are sometimes threatened by wildfire and are evacuated. They are wrapped with fire-resistant tape and usually survive. Lightning frequently strikes towers. They are grounded, and insulated fire stools are part of the furniture.
Loneliness? You can go days without seeing anyone. Then try, as I did, to visit New York City a week after demobilization! Aloneness is not necessarily loneliness. There's a lot to do. You become a half-assed weatherman, and clouds and wind and terrain can be endlessly fascinating. A strong lamp can extend your reading and writing hours well past sunset. You can put your recipe creations to the test. Lookouts are conducive to exercise and strong lungs. Some locations are good for wildlife observation.
HEADING HOME
By late September, all of us are ready to go home. Each national forest has different end-of-duty dates. My favorite end-of-season ritual comes from my being a deli food snob. I have an order overnighted from Zabar's and Russ and Daughters: belly lox, bagels, scallion cream cheese, bialys, chopped liver, whitefish salad, knishes and sometimes latkes and kugel and rainbow cookies and marzipan candies. Many pounds of seasonal weight loss is mostly whooshed on in a week!
It is an absolute blessing to be high up in G-d's wonderful world.
LOOKOUT RESERVATIONS
Reservations must be made at least four days ahead of arrival and can be made up to six months in advance. Plan ahead; most lookouts are booked as soon as reservations open. (A spot check in May showed some openings in the fall). Go to recreation.gov and search for lookout name. At right are the lookouts available for rent, their location and dates open:
Acker Rock, Umpqua National Forest (July 31 to Nov. 16)
Bald Butte, Fremont-Winema National Forest (June 15 to Nov. 15)
Bald Knob, Rogue River-Siskiyou National Forest (May 26 to Oct. 27)
Bolan Mountain, Rogue River-Siskiyou National Forest (July 1 to Oct. 1)
Clear Lake Cabin, southern slope of Mt. Hood (November to May)
Drake Peak, Warner Mountain Range (June 15 to Nov. 15)
Fairview Peak, Umpqua National Forest (temporarily closed)
Fall Mountain, Strawberry Mountain Wildness (May 6 to Oct. 31)
Fivemile Butte, near Dufur (Jan. 1 to Nov. 30)
Gold Butte, Willamette National Forest (June 27 to Oct. 15)
Green Ridge, Deschutes National Forest (April 8 to June 19 and Sept. 16 to Nov. 13)
Hager Mountain, near Silver Lake (Nov. 15 to May 15)
Indian Ridge, Willamette National Forest (July 1 to Oct. 16)
Lake of The Woods, Rogue River-Siskiyou National Forest (May 19 to Oct. 30)
Pickett Butte, Umpqua National Forest (year round)
Snow Camp, Snow Camp Mountain (June 16 to Sept. 29)
Timber Butte, Fall Creek area of the Willamette National Forest (April 14 to Nov. 19)
Warner Mountain, Willamette National Forest (Nov. 1 to May 15)
FOREST CABIN RENTALS ARE NATURAL ESCAPES
Although there are no lookout tower rentals available in the two Northeast Oregon national forests where I live, there are several guard stations and cabins available for rent in Umatilla and Wallowa Whitman National Forest. These can be pretty cool. The Fremont Powerhouse complex on the North Fork John Day Ranger District, Umatilla, is particularly nice. Tamarack Lookout Cabin on the Heppner Ranger District is adjacent to an active lookout. The road is quite rough (think four-wheel drive) and the cabin very rustic, but the view from the cliffs on the west side of Tamarack Mountain sweeps over the John Day River, the Fossil Beds and beyond.
The rental system can be accessed through the website recreation.gov or 1-877-444-6777 for availability and other information.
NOTE 1: Cell phone and computer access can be limited at some sites. Open, higher ground can sometimes provide reception. From my experience, Verizon sometimes works well.
NOTE 2: Always be weather wise and fire-condition aware.
NOTE 3: Driving conditions and access can be vehicle-dependent. Generally sport utility vehicles, 4 x 4 pickups and AWD cars/wagons such as Subarus have adequate ground clearance.
NOTE 4: Do not rely solely on GPS … maps are, well, superior.
NOTE 5: CLOSED indicates that area access isn't available currently, often due to recent wildfire activity.
The following rental information is broken down by National Forest SO (headquarters), then Ranger District, then specific rental information. You can google each of the two Northeast Oregon national forests and then access the Recreation tab on the left and then Cabins. This will provide more detailed information on each site mentioned here.
UMATILLA NATIONAL FOREST
Pendleton, OR
Hours 8-4:30 M-F
541-278-3716
North Fork John Day Ranger District (R.D.)
Ukiah, OR
7:45-4:30 M-F
541-427-3231
Rentals:
Fremont Powerhouse
Caretaker's Cabin, four seasons
Fremont Congo Gulch Cabin, four seasons
Fremont Miner's Retreat
Cabin, four seasons
Fremont Hilltop Hideaway Cabin, four seasons (CLOSED)
---
Heppner R.D.
Heppner, OR
7:45-4:30 M-F
541-676-9187
Rentals:
Ditch Creek Guard Station,
four seasons
Tamarack Lookout Cabin,
May-November
Pomeroy R.D.
Pomeroy, WA
7:45-4:30 M-F
509-843-1891
Rentals:
Clearwater Big House Cabin,
four seasons
Clearwater Lookout Little House Cabin, four seasons