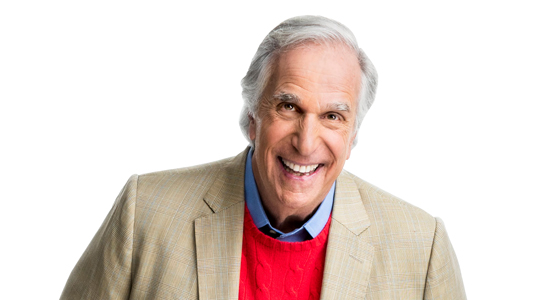 One of the last times Henry Winkler was in Oregon was to treat Portlanders to a sneak peek of his new series, "Barry." Earlier this year he visited Seattle as part of his book tour for his popular Here's Hank book series. His travels bring him all over the United States and he often appears at Jewish organization's fundraisers, including a 1998 Jewish Federation of Greater Portland gala.
Henry expresses the importance of speaking at these events. "I share not only my Jewishness, but I share my struggle with dyslexia. What I have found, when I speak all over the place, people come up to me and they go, 'Oh my God, I think I'm you … how did you understand me so well … I think I didn't catch that in my own child. So it seems to resonate, and as long as it resonates, I am going to travel."
When you speak to him or watch interviews with him on television, his gratitude and humility about his success are evident. You never hear anything negative about him, which for someone who has been in show business as long as he has, proves that he is genuinely a nice guy – a real mensch.
THE REVELATION
Henry always struggled in school, he would notice that he wasn't keeping up with the other kids academically, but he suffered in silence. "I was in the bottom 3% academically in the country," he remembers.
But an amazing revelation happened when Henry's stepson, Jed Weitzman was diagnosed with dyslexia in the third grade. Henry was 31 at the time, and everything they were saying about Jed rang true about himself.
"The first thing is you get very angry because you think, 'Oh my gosh, all of that yelling, all of that grounding, was for naught,' " says Henry. His parents always thought he was lazy and wasn't applying himself and would punish him for poor grades.
He realized the problem was in the way his brain was wired and that it was also something he had inherited, but he's not sure from whom. "I never saw traces of it in my parents because they could spell; my father spoke 11 languages – it just seemed everything was easy for them –­ it just wasn't easy for me," he says. "(I thought) you gave it to me, and now you're yelling at me."
Henry also came to the realization that perhaps he was successful in his career because the struggle actually made him stronger, that he had to fight through it and figure it out.
He also had a 180-degree shift in his own parenting, as he realized that he too had accused his children of being lazy when it came to applying themselves at school. Henry has two biological children with his wife, Stacey. His daughter, Zoe, is a teacher, and son Max is a director. Both have dyslexia.
EXPLORING A DIFFERENT PATH
Henry was experiencing a lull in his acting career in 2003, when his then manager, Alan Berger, suggested that he write a children's book. Henry replied, "I'm stupid. I can't write a book. I don't know how to write a book." Alan told him not to worry, that he was going to introduce him to Lin Oliver, who "knew everything about children's literature."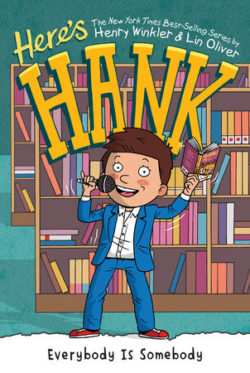 That was the beginning of the collaboration between Lin and Henry that has produced 28 chapter books for young readers. The first series followed the "everyday adventures of a bright boy with learning challenges" named Hank Zipzer. Kind of sounds like someone familiar, huh?
After 16 books in the "Hank Zipzer" series, Lin and Henry wrote 12 books under the Here's Hank title, a prequel featuring the same character in second grade.
The title character isn't the only thing special about these books. The publisher, Penguin Random House, used a font designed by a Dutch father who has a dyslexic son and is also dyslexic himself. "It makes reading so much easier," says Henry. "The font literally helps you when you just can't figure it out – it's amazing. We were very proud of that."
Since January, Henry has been on a book tour promoting what will be the last book in the series, Everybody Is Somebody. When asked why this is the last "Here's Hank," Henry replies, "The publisher said, 'Hey, how about we call it quits,' I thought that was a sign."
Fans of Henry Winkler, the author, need not fear. He has begun work on a new series of three books revolving around the theme, "don't judge a book by its cover." Like the Hank books, this series will be geared for children ages 8 to 11.
Fans of Hank can also watch the British show, "Hank Zipzer" on Universal Kids. Henry explains why Britain picked up the show. "I could not sell it in America for television because he has a problem, and we all know that children like aspirational – they don't like kids with problems. But 1 out of 5 has a problem."
The show ran for three years. . A related movie made called "Hank Zipzer's Christmas Catastrophe" won the International Emmy Kids Award in the category for TV movie/mini-series. in April 2018.
Asked what he hopes  children take away from the Hank books, Henry is passionate in his reply. "No matter how difficult it is for you to learn as an individual, it has nothing to do with how brilliant you are. That is the truth."
THE FONZ – AND SO MUCH MORE
Henry says he wanted to be an actor since he was old enough to reason.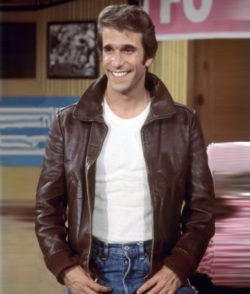 He graduated from Yale University's Drama School with a master's degree in 1970 and started working as an actor. His first jobs were in commercials, as extras in movies and repertory theater.
Then in 1974, a new show called "Happy Days" invited viewers into the idyllic home of the Cunninghams and introduced Arthur Fonzarelli, "Fonzie" or "The Fonz" to America.
Before Henry was cast in that role, "Happy Days" creator Garry Marshall had a completely different image of Fonzie. "A taller character, an Italian, tougher character – and a short Jew walked in," jokes Henry. "I just thought to myself – I am taller and Italian."
It apparently worked, because Henry made that role his own. With his signature thumbs-up and "Ayyy!" he enjoyed 10 years on the series. Fonzie also made appearances on the "Happy Days" spin-off shows, "Laverne & Shirley," "Mork & Mindy," and "Joanie Loves Chachi."
Is Henry still recognized as the Fonz?  "Every day, a hundred times a day, in every country," he says. "And I consider it to be a gigantic compliment."
Before you can even get the question out if he was typecast after playing the Fonz for so long, he replies, "Yes I was – but I just worked through it. I became a producer, something I didn't even think I could do or wanted to do. And then it turns out I have produced, end-to-end, 23 years of on-the-air series."
He has worked as executive producer on many television shows including "So Weird" on the Disney Channel, "Hollywood Squares," "Sightings," "Dead Man's Gun," "Mr. Sunshine" and "MacGyver."
He is also an executive producer on the new "MacGyver," which features Lucas Till as the young 20-something Angus "Mac" MacGyver. The original series ran from 1985 to 1992 and starred Richard Dean Anderson as the title character. Lucas was just 2 years old when the original show finished.
Henry says it was "fantastic" to see the show's resurgence and it has been consistently leading the ratings in its Friday night time slot on CBS.
Filming also just wrapped last December on the second season of "Barry," which is scheduled for release this spring on HBO. "Barry" is a dark comedy that follows a hitman from the Midwest to Los Angeles where he follows his "mark" into an acting class and decides that he wants to become an actor.
Henry plays acting teacher Gene Cousineau, who is eccentric, fastidious and worshipped by the students in his class. "The challenge is to take this really big, kind of arch(etype) character and keep him real."
When asked if Henry draws on a particular person's idiosyncrasies for Gene's character, he replies, "He's based on every acting teacher that I've had or that I've heard about."
On Sept. 17, 2018, Henry took home his first Primetime Emmy Award for Outstanding Supporting Actor in a Comedy. "I have been nominated many times and stayed in that chair many times. This time I got to stand up, and that was fantastic," says Henry.
Asked where the Emmy statue resides, he replies, "On the dining room table! When you walk into my house, you see it. When you deliver a package, you see it. I'm installing a spotlight for it, and making a chain so that I can wear it as a necklace."
FAMILY, FAITH AND THE FUTURE
Henry's mother, Ilse Anna Maria (Hadra) and father, Harry Irving Winkler, emigrated from Berlin to New York in 1939. His father was able to secure a work visa for six weeks. Harry was in the lumber business and imported and exported wood. At the time they left Germany, Harry knew they would not be returning, but he did not share his thoughts with his wife.
Henry's Uncle Helmut had planned to leave with his brother. Instead, he decided to wait an extra day for a dinner jacket that was being finished at the tailors. That night the Nazis came and took him. He was eventually sent to Auschwitz, where he died in 1942.
Henry's first visit to Berlin was documented during an episode of the show "Better Late Than Never." During the show's two-year run, Henry traveled the globe with William Shatner, George Foreman, Terry Bradshaw and "sidekick" Jeff Dye experiencing different cultures and checking items off of their bucket lists.
While in Berlin he was able to see the memorial plaque that bears his uncle's name (called a Stolpersteine or "stumbling stone") placed in the pavement in Nikolsburger Platz Park.
These small copper plaques, created by the German artist Gunter Demnig, are used to commemorate the individuals' last place of residence or work before they fell victim to the Nazis.
"I was not prepared for the extraordinary emotion that came," admits Henry. "It was pretty intense when I looked down, and I saw the plaque with my uncle's name – who I never met – on it. That emotion that is on the screen was very true at the moment."
Helmut was not the only relative to die in the Holocaust –  the Winklers lost almost all their relatives. "Every relative I had mostly were faux," says Henry. "They had come over also, and the German-Jewish community became my aunts and uncles."
Henry says that his parents "talked about the journey, about how wonderful life was until it wasn't. How everyone thrived, how they were Germans first and couldn't believe what happened."
In those first years in New York, the Winklers and other families founded a congregation, though it didn't have a building for many years. They would rent out space in halls to hold services. Then they built a building on 66th Street between Broadway and Central Park.
"I just drove by it last week, because we were in New York on a book tour, and the building is no longer there," says Henry. The name of the synagogue was Congregation Habonim – "the builders."
Henry now observes certain holidays and is "observant with pride." Last year he invited "Fauda" creator and star, Lior Raz to break the fast on Yom Kippur. "He came with his family, and I was late, and he was dismayed that they made me work on Yom Kippur."
He also admits to often working on Shabbat, especially when making a television series.
His arduous work schedule over the years hasn't seemed to affect his marriage. Last year, he and Stacey celebrated their 40th anniversary. They married at the height of his fame during "Happy Days" – and he says the most important thing for him in those early years was to protect the children.
"At that time, the paparazzi had some respect, and they really listened," says Henry. "I said, 'Please, I'll stand here, and you shoot me, but don't shoot the children.' " That's why his children were rarely seen in the press.
He talks with pride about all his children, but he ponders the fact that he has only worked with his son Max, the director, on student films. "He has never hired me professionally, and I am thinking of having a chat with him when we hang up," says Henry.
This summer he is taking a break from his busy schedule to go fly fishing with Stacey. He enjoys the tranquility his favorite hobby brings. "You cannot do anything but concentrate on what you are doing at the moment," says Henry. "It calms you right down."
He jokes that he and Stacey must take separate boats. "Unfortunately, I must fish in her water. If I see something that looks fishy, I cannot follow the (fly fishing) rule of that's 'her' water."
The Winklers also enjoy going to the theater together. Henry says he would like to do more live theater – winning a Tony Award is on his bucket list. "I love it so much," he says. "I don't have a dream role; I'll put out in the universe to win a Tony."
When asked if he put the thought of winning an Emmy out into the universe, he says, "I think I just put out in the universe it would be fun to win."
The universe must be listening to Henry right now, and after having the honor of chatting with him on the phone, and feeling his sincerity, humbleness and positive energy coming through, I can understand why.