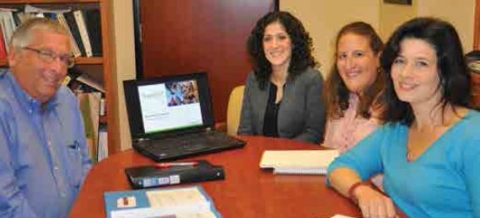 Despite more than two decades of programs designed to counter the trends toward higher intermarriage rates and lower affiliation rates, those trends are continuing. The initial report of a 52% intermarriage rate in The National Jewish Population Survey of 1990 launched a flurry of programs designed to reverse that trend, because intermarried couples also report lower rates of affiliation. Though the intermarriage number was later revised to 43%, the NJPS of 2000 reported the number had risen to 47%. The Pew Research Center's "Portrait of Jewish Americans" released this fall shows that trend accelerating with six-in-10 Jewish respondents married since 2000 having a non-Jewish spouse. Yet the Pew study also reveals three quarters of Jewish respondents say they have a strong sense of belonging to the Jewish people, and 94 percent say they are proud to be Jewish.
Now GrapeVine, sort of a social media-based amazon.com for Jewish activities and information, has come to Portland to try to link those "proud Jews" with whatever connection interests them. It enables communities to become customer-centric rather than the traditional program-centric orientation. Portland is the fourth community to offer the virtual concierge program, which launched last year in Columbus, OH, and Rhode Island. New York was next and Atlanta and Los Angeles are in the process of joining GrapeVine.
"GrapeVine is trying to help enable every Jew to take the steps they want to take on their Jewish journey," says GrapeVine founder Sacha Litman. "Our job is to understand each person's unique needs, interests, life stage and geography and to connect them with the right opportunity at the right time. We provide them with the resources to engage."
Just as Amazon offers "recommended for you" books and Netflix recommends movies based on past rentals, GrapeVine uses a sophisticated algorithm to learn about each person to recommend Jewish activities, programs and information that fit each individual's current interests and life stage.
In his role as founder, managing director and CEO of Measuring Success, a consulting firm that works with many Jewish nonprofits to enhance organizational effectiveness, Sacha says he realized every Jewish organization has the same problems: how to find new constituents, retain those touched once and keep a relationship with alumni who have moved on to a new stage of life.
"Everyone's outflow is (potentially) someone else's inflow," says Sacha, noting that after college Hillel participants might join young adult groups and then join a synagogue when they start a family. While demographic studies agree that only about 20% of Jews are engaged in the community at any one time, about 85% interact with some Jewish organization at some point in their life, said GrapeVine Community & Organization Liaison Deborah Ben-Moshe during an October visit to Portland. Deborah was in town to help local GrapeVine Outreach Coordinator Rachel Rothstein explain the new tool to the community's synagogues and organizations.
GrapeVine rolled out locally Nov. 18, in time to link Portlanders with Hanukkah programs and activities. Members of participating organizations received an email welcoming them to GrapeVine with the option to opt out if they did not want to participate. Others wishing to get GrapeVine recommendations via email, mobile app, Facebook or other social media can download the GrapeVine app on their smartphone or sign up online at Grape-Vine.com. The Jewish Federation of Greater Portland, with a grant from the Holzman Foundation, is sponsoring GrapeVine for the community for the next three years.
"Part of our (federation's) role is to get people to think about community and not just about their own organization," says Rachel. "The real hope is that this creates change in the community," says Deborah, adding while the Pew study highlights the problem of lower affiliation, GrapeVine offers a solution to help the community as a whole engage people on their own terms.