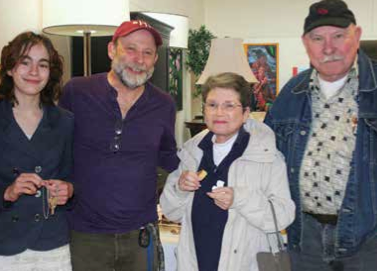 Polish Jews call it babka; Russians call it baba. But by any name, the delicious yeasted cake was among our grandmothers' favorites. So, when the Mittleman Jewish Community Center staff chose their home bake-off challenge, they deemed the sweet treat a perfect fit. They posted signs inviting bakers to compete and asked the public to judge.
The word babka means old woman in Polish and Yiddish. "Babka, in its original form, was stout and round, just like grandmothers used to be before they went to aerobics classes and practiced yoga," Arthur Schwartz, author of Jewish Home Cooking, said. Some believe its origins date to an ancient Ukrainian fertility symbol. Food writer Lesley Chamberlain says Queen Bona Sforza's 16th century Polish court modified Italian panettone for local tastes. In A Taste of Russia, author Darra Goldstein credits the invention to Polish King Stanislaw Leszczynski.
"An elaborate babka was eaten at Easter," Goldstein said. "It could include rose oil, lemon zest, bitter almonds, cinnamon, cardamom, nutmeg, lemon, bergamot or rose water but the most basic one had the finest flour, yeast, milk, with a little sugar and lots of egg yolks." Jews filled the cake with chocolate, cinnamon and sugar when they came to the United States. Many Americans first glimpsed babka during the unforgettable Seinfeld episode in which Elaine and Jerry sadly settled for cinnamon when the bakery customer in line before them snagged the last precious chocolate.
Still, babka making is unusual, and only two brave bakers showed up in the MJCC lobby on June 12, the big day. Earl Mooso drove in from Newberg with two entries, one from Love and Knishes by Sara Kasdan and a Martha Stewart lemon recipe. "I make apple pie, cookies and cakes," Earl said, explaining this was his first baking contest. Although he didn't grow up with babka, his wife Elaine made it long ago when they lived in the Mohave Desert. "We had three children and little money and tried different recipes," she said.
The other contestant, Portland Jewish Academy student, Gabi Cohn, arrived with her dad, Evan. "I grew up on Long Island, and the Smithtown Bakery had babka," he said. "They used to sell it here, but I don't see it anymore," he added, waving to the corner Café at the J. "We should have a grassroots campaign to get it back – cinnamon and chocolate. We found our recipe in the Wall Street Journal a couple weeks ago.The timing was serendipitous. I believe there will be more tasters here than bakers."
The babkas looked beautiful laid out on the table next to place cards labeled A, B and C. "Want to taste some babka and vote?" MJCC Marketing Director Marissa Brown asked as a crowd gathered around. Everyone followed the rules, tasting each entry and voting for their favorite on orange pieces of paper. Ballots filled the large glass vase quickly.
In the end, Gabi's entry narrowly prevailed. "It must have been the chocolate," Evan said. She and Earl were given MJCC T-shirts and hats as the staff cleared empty platters and took the balloons away. Expect a continuing series of MJCC Great Bake-Offs. Babka was the second. Eamon Molloy won the winter challah-making contest as the best of 10.
"It unifies us, especially if it invokes a memory," Marissa said. "We remember grandparents and have a chance to taste different ways. We started with challah, and thought babka would be interesting since not everyone makes it. We've thought of matzo, chicken soup, mandelbrot for fall, haroset or hamantashen for spring. We could do things that aren't Jewish, but why?"