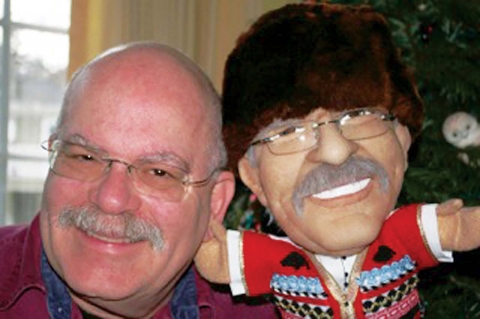 With decades of writing children's books to his credit, Portland author Eric A. Kimmel has added a National Jewish Book Award to his roster of honors, which previously included a Caldecott Honor Book and a Newbery Honor Book. This spring, The Golem's Latkes received the Louis Posner Memorial Award for the 2011 Illustrated Children's Book. Aaron Jasinski illustrated the book.
"I've been writing Jewish children's books for decades," says Kimmel, noting he wrote his first such book while working for Cricket magazine. He had been writing for Cricket since the 1970s, when the editor asked him for a Hanukkah story. He wrote Hershel and the Hanukkah Goblins, which was published in the December 1985 issue of Cricket. Later published in book form, it was named a Caldecott Honor Book in 1989.
Kimmel isn't sure how many books he has written since.
"I don't keep count. The only important one is the one you are working on now," he says. (A search on Amazon.com lists 133 paperback and 123 hardcover titles.)
A former teacher, librarian and professor of education at Portland State University, Kimmel says he draws on material he has known and loved his entire life.
"When I was growing up, I had an old country grandmother who lived with us," he says, fondly recalling asking her to tell him stories. He also draws on his Hebrew school education and the biblical stories he enjoyed as a boy. He says he likes the old stories best.
"Just tell a good story, don't try to teach. If there's a message, they'll get it," he says of his approach to writing for children. "With more than 3,000 years of history, we have a lot of stories."
The Golem's Latkes tells the story of Rabbi Loew, who goes on a trip to visit the emperor, leaving his housemaid in charge. While he is away, a golem, a creature made from clay, comes to life and creates more latkes than the city can contain.
Eleven of Kimmel's books are selections of PJ Library, a national program that distributes free Jewish books to families with young children. PJ Library families with children ages 5 to 6 in 2011 received The Golem's Latkes last November in preparation for Hanukkah.
Kimmel said PJ Library has really "primed the pump" in terms of getting publishers to print Jewish children's books. "PJ Library can go to a publisher and say they are willing to buy 20,000 copies of a book. That gets their attention. Publishers go where … there are guaranteed sales."
"PJ Library's purpose is to increase Jewish knowledge and they believe in doing it through literature. It's what I believe 100 percent," says Kimmel.
________________________
PJ Library
Nearly three million free Jewish books have been mailed to families in 176 communities since PJ Library began in 2005. In Portland, the program has reached 1,300 families during its first five years. Oregon now has programs in four additional Oregon communities: Bend/Central Oregon, Eugene, Salem/Corvallis and Southern Oregon/Rogue Valley.
To register for PJ Library, visit the national website, www.pjlibrary.org. Click on your local affiliate to see eligibility requirements and to enroll.