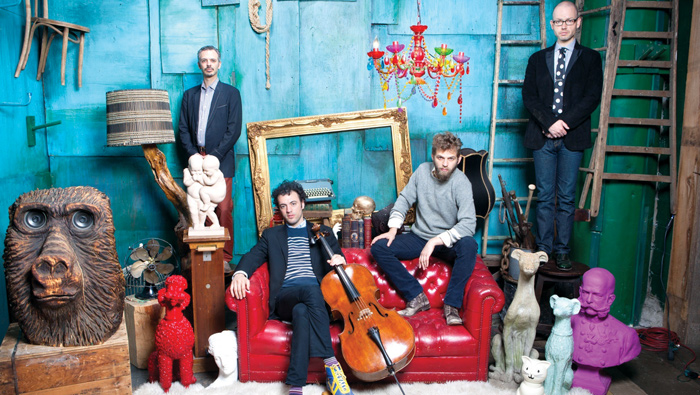 Portland'5 Presents and Chamber Music Northwest present the game-changing string quartet Brooklyn Rider with Gabriel Kahane in Portland on Nov. 16 in The Newmark Theatre.
Hailed as "the future of chamber music" (Strings), Brooklyn Rider performs eclectic repertoire in arresting performances that have attracted legions of fans and rave reviews from classical, world, and rock critics alike. The brilliant young singer-songwriter and composer Gabriel Kahane (who appeared at CMNW in 2013) meets the dynamic string quartet
Brooklyn Rider for a night of deeply absorbing music.
Gabriel has written commissioned works for the Kronos Quartet and the Los Angeles Philharmonic, and he spoke about the later commission last year in an interview with the Jewish Independent: "I definitely identify as Jewish, maybe more culturally and philosophically than religiously. … My grandmother, and all of her immediate family, fled the Nazis in 1939 and settled in Los Angeles. The story of her flight by boat was the impulse for my piece Orinoco Sketches, which I wrote for the L.A. Philharmonic, using my grandmother's diaries as a basis for my own text."
The quartet, whom the New York Times praised for "its consistent refinement, globe-spanning stylistic range, and do-it-yourself gumption," will perform selections from Kahane's "Come on all you Ghosts" for string quartet and voice and "Bradbury Studies," his recent essay for string quartet based on the song "Bradbury (304 Broadway)," and selections from his much-lauded 2014 Sony release, "The Ambassador." Also included are selections from the Brooklyn Rider album Almanac of its eclectic repertoire and Schubert's great Rosamunde Quartet.
In its 45th season, Chamber Music Northwest serves thousands of people in Oregon and SW Washington with exceptional chamber music through 100 events annually.
Portland'5 Centers for the Arts includes the Keller Auditorium, Arlene Schnitzer Concert Hall, and Antoinette Hatfield Hall, comprising the Newmark Theatre, Dolores Winningstad Theatre, and Brunish Theatre. All are public facilities owned by the City of Portland.
For more information visit portland5.com or cmnw.org.