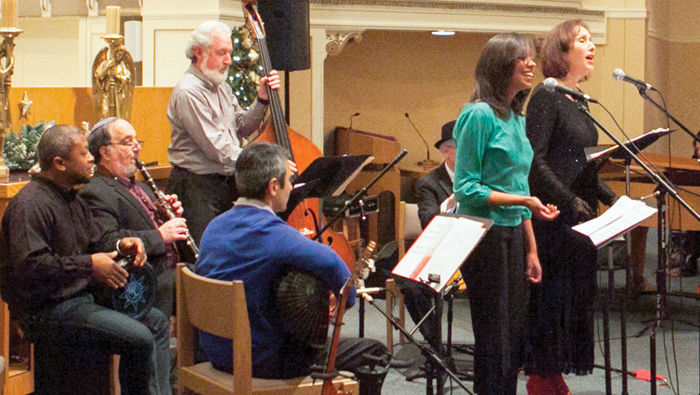 Peter Zisa and Friends present their annual celebration of peace and goodwill, "Seasons of Light Holiday Benefit Concert."
Seasons of Light, an annual benefit concert since 2007, returns Dec. 5 this year with an exciting program of music that celebrates the many cultural and faith traditions of our community. Excellent performers from many musical traditions will join together to present music from the Americas, Europe, Africa, Asia and the Middle East.
Among the many friends joining Peter Zisa this December are:
Beth Israel Cantor Ida Rae Cahana, who is also a featured soloist with Pink Martini.
Shirley Nanette, one of Portland's finest jazz vocalists, and inductee of the Oregon Music Hall of Fame. Nanette has guest soloed with the Oregon Symphony as well as many symphonic orchestras across the country.
Tatiana Kolchanova, violinist and founder/musical director of Music and Arts Academy, Camas, WA, and orchestra member of the Portland Opera.
Brian Haskins, music director and cantor at the Grotto, and soloist with the Portland Symphonic Choir.
Portland Boychoir, a nonprofit organization that provides music education and performance opportunities for boys aged 5 to 18.
Thousand Waves, an "electric and exciting blend of musical styles from different continents" ( Art Beat, 2011).
Seasons of Light is a gift to the community from Peter Zisa and Friends, and it is also an opportunity to showcase two charitable organizations that exemplify the spirit of the community. This year will highlight Jewish Family and Child Service and the Portland
Boychoir. Generous donations to these worthwhile organizations will be greatly appreciated.
Peter is a classical guitarist, educator, performer, composer and professor of music at Pacific University and Portland Community College. He has trained under such masters of the guitar as Andres Segovia and Oscar de la Torre. Peter has performed extensively across Oregon, including a performance for the grand opening of the Harold Schnitzer Diabetes Center at OHSU and numerous benefit concerts across the state.