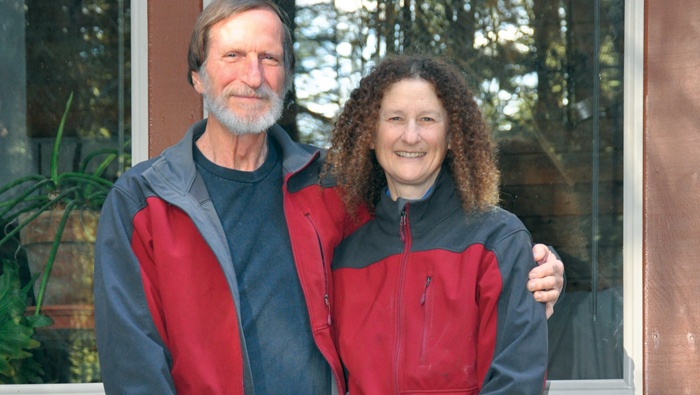 It all began with a desire to make their rural home warmer.
Though they are avid mountain climbers, Leora Gregory and Jay Avery still felt their 1980s' home on five acres that backs up to state forest land was too cold.
Initially they just planned to install a high efficiency Carrier furnace and replace the aluminum windows with vinyl windows. They hired Bytwork Construction in Forest Grove to replace all 35 windows with Cascade Winpro Series windows with low-e glass to reduce heat loss. Installed from the outside, the custom windows slid into the existing frames with exterior trim the only change they planned.
But the new furnace created a ripple of renovations. The 97% high efficiency furnace needed to vent the cool exhaust through PVC rather than the existing metal pipes in the walls. Replacing the metal exhaust pipes in the walls would have been unwieldy, so they had new PVC pipe run along the wall through the expansive laundry and utility room.
"It gave me an excuse to finally get cabinets in there," says Leora. "We put up cabinets to cover the pipes."
But the entire home has matching ash cabinets with finger pulls inset into the doors. Leora and Jay called F&C Cabinets, which had built the original cabinets. The Forest Grove cabinetmaker has designed, fabricated and installed custom cabinets since 1959. Unfortunately, the type of finger pulls used in the original cabinets were no longer in stock.
"Now cabinets use invisible finger pulls set into the bottom of the cabinet door," says Leora. She wanted everything to match, so F&C's Dave Davis went hunting.
Once he found very similar pulls online, Dave says it was easy to match the rest of the cabinet design. "We had done the original cabinets," he says, adding it's not uncommon for F&C to get calls from customers wanting to match cabinets the company built 25 years ago.
After the cabinets were installed, Bytwork returned to install the wood countertop to match the kitchen counters.
Sitting in their warm and now cozy kitchen, Leora shared the story of her family's arrival in the United States.
Aaron Riman (a tailor) emigrated from Russia early last century. He worked to bring his five brothers and sisters to New York and then returned to Russia to bring his wife (Leora's grandmother, Fruma Leah Rozanski). Leora's mother (Gertrude Betty Riman, nicknamed Trudy), the last of five children, was born in New York in 1933.
Trudy met Ralph Gregory while both were attending the University of Michigan; they married and came up with a plan to prosper.
"Education was definitely the way out of poverty," says Leora. "My dad worked while my mom went to medical school. Then he went back to school and got his doctorate in chemical engineering."
Growing up in Michigan, Leora's primary connection to her Jewish heritage was Israeli folk dancing, which the family did almost weekly.
After her freshman year of college, she joined her parents for a trip to visit relatives in Israel.
Her mom had spoken only Yiddish till she started school when she was 5, so she and her cousins spoke Yiddish while Leora struggled to follow the conversation using her college German.
"The topic was their escape out of Nazi Germany," says Leora. "I remember the biggest headache after the conversation. The topic was stressful, what they went through was horrific and I was translating in my head the entire time."
Leora's parents have prospered in Michigan, while Leora moved to Oregon to work at Intel. She fell in love with the recreation opportunities of the Pacific Northwest and soon joined the Mazamas, Portland's mountaineering organization. She met Jay climbing and the two married on the summit of Mount Hood almost two years ago.