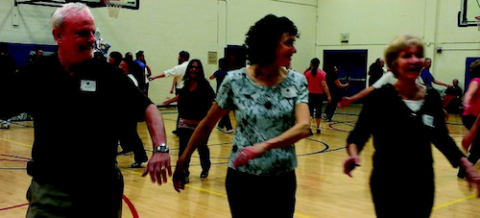 All of Portland was the stage for the nation's first Food for Thought Festival, an ambitious event that fulfilled its promise. Launched on April 18, the four-day Jewish celebration and learning experience attracted 2,500 participants and raised more than 10 tons of food for the Oregon Food Bank.
On opening night, 600 people converged on Portland Art Museum to enjoy the combined wit of top comedians David Steinberg and David Javerbaum,
moderated by Oregonian columnist David Sarasohn. It was a rare performance, and one fan was particularly thrilled. Mitch Rofsky said, "I remember
seeing Steinberg in the late '60s on the Smothers Brothers and Johnny Carson's 'Tonight' show. He hasn't done much standup in the last 25 years because he's been focused on TV directing, so for Portland to get him was very special. And the Daily Show David was extremely sharp and every bit as interesting."
Portland embraced the idea of the festival: food for thought for people of diverse interests, each bringing food for people in need. Laura Golino de Lovato, OFB's director of development, said that when she arrived on opening night, "The thing that really struck me was the number of bags of food in the lobby. There must have been 40 bags of food, and a barrel that was overflowing. Usually, when it's an evening event that's a bit formal, people don't want to lug around a bag of food. We also received $3,000 in cash donations."
"People were really, really generous, and we were thrilled," said Jean Kemp-Ware, OFB's public relations director."During the festival, our people were coming back and saying the tables were overflowing. Ten tons is 20,000 pounds and close to 15,000 meals. That's going to help a lot of people."
In his keynote speech at the festival's "Limmud PDX" program, Stephen Trachtenberg seemed to refer to the very challenges that prompted the Food for Thought Festival. The prominent attorney and author, professor of public service and president emeritus of The George Washington University, described himself as "a first-generation boy from Brooklyn, raised by parents who emigrated from Russia … after the 1918 revolution." Trachtenberg said Jewish institutions must recognize the changing needs of the Jewish community and "remember that Jewish organizations are in the business
of consumer services; we aim to serve asvmany people as we can."
In contrast to the Jewish world of the last century, when "the most significant markers that defined participation in Jewish life were synagogue membership and donations to Jewish philanthropy," he said today's Jewish community is a "patchwork" of individuals who "find a personal, not a collective, avenue into Jewish experience."
To build community, Trachtenberg advised, "Change your vocabulary. Membership is a turnoff. Young people do not join – they do things, but they do not join. …Organizations are working three times as hard just to keep even. You keep your program as a hub, but you think out of the box. You have to go to them. … Remain flexible and pliable. … Evolution and dissolution, changing course, can be not only healthy, but essential to survival."
Trachtenberg said, "It is imperative, in these changing, radical and destructive times that we hold tight to definitions of values and old traditions. You don't know change unless you understand what you're changing from. …" "I have long conversations with my sons about Judaism, which is different from yiddishkeit. I think to myself, 'They are Jewish, but they're not Yiddish.' … A lot of the things I know, I know on the basis of personal knowledge, and many of the things they know on information and belief. So that when I talk Middle East politics with my children … I talk about [Israel] because it's something I remember. … My children have a different view of Israel. Less romantic, I think, and they judge it more harshly."
Trachtenberg said he will be leading 15 university presidents on a mission to Israel next month, and they plan to visit with political leaders and businessmen. "Because of my sons, I've insisted that the group also be exposed to Palestinian leaders and members of the Israeli-Palestinian community," he said. "And I think that that balance will make the entire trip, which is meant to make friends for Israel, a far more plausible and successful initiative."
Trachtenberg concluded, "I am overwhelmed at what I have had the blessing to witness today, to be allowed to participate in
this community." Then the audience dispersed to the program's 14 breakout sessions. All day and into the night of April 20, more than 170 Israeli folk dancers rejoiced at the Portland Israeli Folk Dance 40th Anniversary Celebration at the Mittleman Jewish Community Center. World-renowned choreographers, Elad Shtamer of Israel and Nona Malki of Vancouver, British Columbia, flew in for the event, according to Sue Wendel and her dance festival committee.
Gary Fox, an expert Israeli folk dancer in the Portland community since 2005, attended a special session in which Shtamer taught several of his own dances. "He gave a very moving explanation of a dance, Ilan, he created with words from the Talmud as a memorial for his father," said Fox. "Marna Kleinman, who started Israeli folk dancing at the MJCC in 1972, came in from Israel to participate. … Dancers came from parts of Oregon, Seattle, Los Angeles, the Midwest, Israel and possibly other places."
There were many new faces in the audience at Jewish Theatre Collaborative's April 21 performance of "Naftali, Story Voyager on the Yiddish Sea," noted JTC Artistic Director Sacha Reich, who created the play. She said elementary schoolchildren learn about the shtetl, the old world and "humor as a survival tool" in this "entertaining introduction to the world of Yiddish through the stories of Isaac Bashevis Singer." That afternoon storytellers recounted the stories of beloved Yiddish writer Sholom Aleichem and "wonderful [klezmer] musicians played to a packed and delighted crowd" of 100, she said. "This was the kind of cultural vibrancy we'd like to see happen on the east side."
For Cheryl Tonkin, winner of JFGP's "Next Great Jewish Idea Contest" in 2011, the event was a dream come true. "The festival was truly all I hoped it would be," she said. "We achieved our goals of raising food and raising awareness. We created a tremendous amount of goodwill throughout the community, and we had a lot of fun doing it."
Marc Blattner, CEO and president of JFGP, said he was delighted by the diversity of the festival participants. "Jewish communal life is different today than it was in the past, and we want to be at the forefront of that," he said. "The festival has reinforced my belief that we're on the right path." Ed Tonkin, presenting sponsor, and the Harold & Arlene Schnitzer CARE Foundation, leadership sponsor, headed a roster of more than 60 sponsors, partners and supporters, representing every sector of the Portland business community, individuals, institutions, and organizations. This extraordinary
outpouring of support, together with advertising donated by four major media sponsors and the efforts of more than 150 volunteers, enabled festival presenter JFGP to fund events at little or no cost to the participants and to dedicate the power of community to a shared goal – ameliorating hunger in
Oregon.
Amy R. Kaufman is a Portland journalist, book editor and publisher.