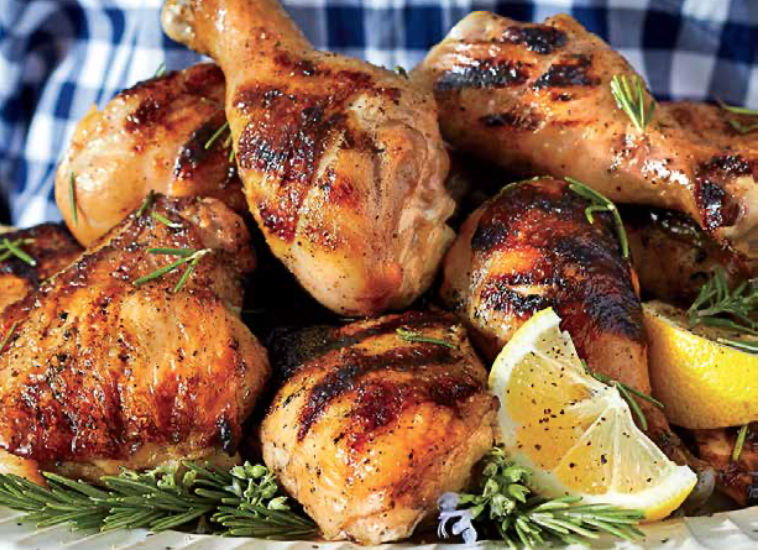 If summer had a taste, it would definitely be something grilled to perfection. These recipes cover a complete meal from main dish to dessert – all from the grill!
SWEET TEA BRINED CHICKEN
For the tastiest chicken ever, brine a whole cut-up chicken in sweet tea with lemon. (Pictured above)
Ingredients:
2 family-size tea bags
½ cup firmly packed light brown sugar
¼ cup kosher salt
1 small sweet onion, thinly sliced
1 lemon, thinly sliced
3 garlic cloves, halved
2 (6-inch) fresh rosemary sprigs
1 tablespoon freshly cracked pepper
2 cups ice cubes
1 (3 1/2-to 4-lb.) cut-up whole chicken
Instructions:
Bring 4 cups water to a boil in a 3-qt. heavy saucepan; add tea bags. Remove from heat; cover and steep 10 minutes.
Discard tea bags. Stir in sugar and next 6 ingredients, stirring until sugar dissolves. Cool completely (about 45 minutes); stir in ice. (Mixture should be cold before adding chicken.)
Place tea mixture and chicken in a large zip-top plastic freezer bag; seal. Place bag in a shallow baking dish and chill 24 hours. Remove chicken from marinade, discarding marinade; pat chicken dry with paper towels.
Light one side of grill, heating to 300° to 350° (medium) heat; leave other side unlit. Place chicken, skin side down, over unlit side, and grill, covered with grill lid, 20 minutes. Turn chicken, and grill, covered with grill lid, 20 minutes. Turn chicken, and grill, covered with grill lid, 40 to 50 minutes or until done. Transfer chicken, skin side down, to lit side of grill, and grill 2 to 3 minutes or until skin is crispy. Let stand 5 minutes before serving.
Recipe courtesy Southern Living, photo credit: Hector Sanchez; styling: Karin Olsen
THE BEST EASY GRILLED VEGETABLES
Zucchini, bell pepper, onions, asparagus, and mushrooms become sweet and savory when cooked on the grill. With just a brushing of olive oil and sprinkling of salt and pepper, this cooking method is simple and lets the vegetables' natural goodness shine through.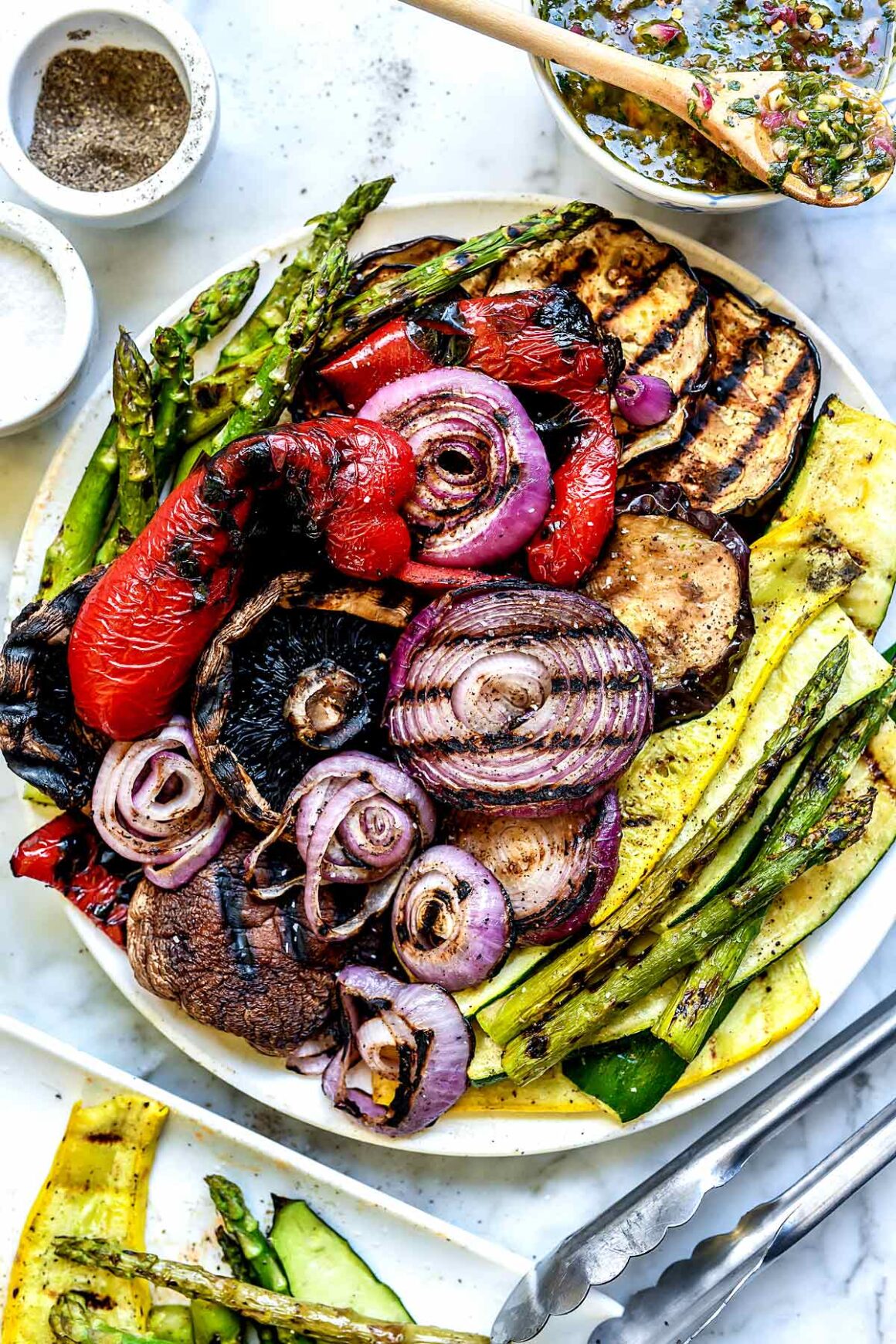 Ingredients:
2 portobello mushrooms
1 eggplant
1 zucchini
1 yellow squash
1 onion
1 bunch thick asparagus
1 red bell pepper
2 tablespoons extra virgin olive oil
1 tablespoon kosher salt
1 tablespoon freshly ground black pepper
Instructions:
Prepare the grill with clean grates and preheat to medium heat, 350°F to 450°F.
Trim the ends of the eggplant, zucchini, yellow squash and onion and cut into 1/3″ to 1/2″ slices. Seed the red bell pepper and cut into quarters. Trim the ends of the asparagus.
Drizzle the vegetables with olive oil and sprinkle evenly with salt and pepper. Grill the vegetables with the lid closed until tender and lightly charred all over, about 8 to 10 minutes for the bell peppers, onion, and mushroom; 5-7 minutes for the yellow squash, zucchini, and eggplant and asparagus.
Serve warm or at room temperature.
Recipe courtesy Foodie Crush
HERBED MUSHROOM AND RICE FOIL PACKS
Yes, you can make rice on the grill and all you need is aluminum foil.
Ingredients: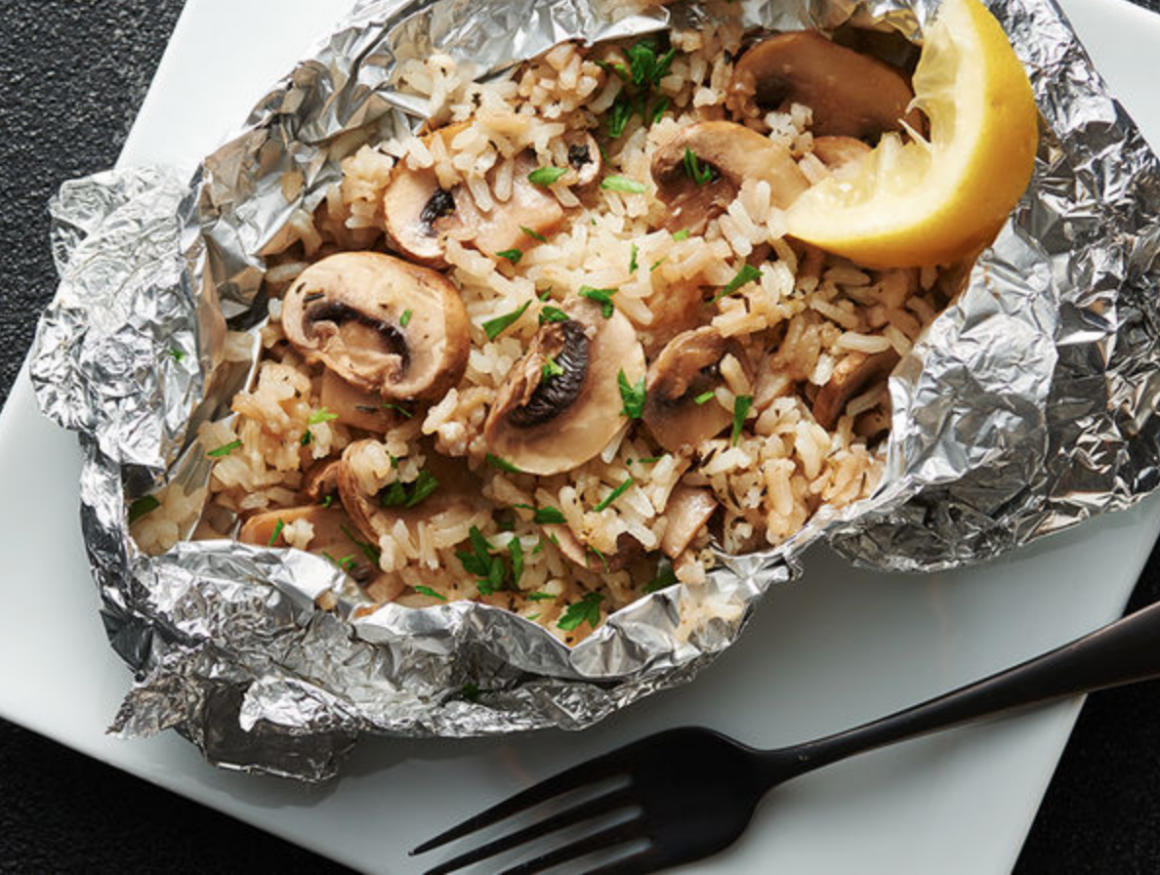 1 cup chicken broth
2 tablespoons butter, melted
1 tablespoon packed brown sugar
2 cloves garlic, finely chopped
1 teaspoon chopped fresh thyme leaves
1/2 teaspoon salt
1 cup uncooked instant white rice
1 pound button mushrooms, thinly sliced
2 tablespoons chopped fresh Italian (flat-leaf) parsley leaves
Lemon wedges, if desired
Instructions:
Heat gas or charcoal grill. Cut 4 (18×12-inch) sheets of heavy-duty aluminum foil. Spray with cooking spray.
In large bowl, mix broth, melted butter, brown sugar, garlic, thyme and salt. Add instant rice; stir and let stand about 10 minutes or until most of liquid is absorbed. Divide mushrooms evenly among sheets of foil, then top with rice mixture.
Bring up 2 sides of foil so edges meet. Seal edges, making tight 1/2-inch fold; fold again, allowing space for heat circulation and expansion. Fold other sides to seal.
Place packs on grill over medium heat. Cover grill; cook 12 minutes. Rotate packs 1/2 turn; cook 12 to 14 minutes longer or until mushrooms and rice are tender. Remove packs from grill; cut large X across top of each pack. Carefully fold back foil, and garnish with parsley. Serve with lemon wedges.
Recipe courtesy Tablespoon Kitchens
GRILLED BERRY PEACH PIE
Did you know you can make a pie on the grill? Pie for dessert, no oven needed.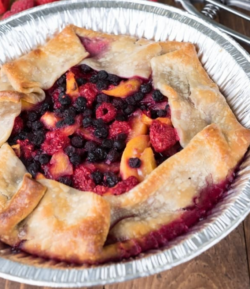 Ingredients:
1 pie crust from a pack of two or you can use a homemade crust
3 cups berries fresh or frozen, see note below
1/3 cup granulated sugar plus more for sprinkling
2 tablespoons cornstarch
1 tablespoon lemon juice from 1/2 a lemon
Zest of 1/2 a lemon about 1 teaspoon
1 teaspoon heavy whipping cream
2 disposable foil pie pans or square baking pans
Instructions:
Preheat grill to as close to 350°F as you can get it.
Place berries in a large bowl. Sprinkle with sugar, cornstarch, lemon juice and zest. Toss with your hands.
Unroll pie crust and place it in a disposable foil pie plate (or a disposable foil square pan). Place fruit in the center and fold up the edges to form the crust. Brush the edges with heavy whipping cream and sprinkle with granulated sugar (optional).
Place a second foil pie plate or square baking pan upside down on the grill. Place the pie (in its pan) on top of the inverted pan and close the lid to the grill. Cook until the crust is cooked through, from 20-30 minutes depending on how hot your grill is. Check it at 15 minutes and then every few minutes after to make sure it doesn't burn.
Carefully remove pie from grill. Cool before slicing. Serve with whipped cream or ice cream!
Note about frozen fruit – be sure to let it thaw before making your pie. Frozen fruit has a lot of extra water and will cause your pie to be juicier. Let it thaw and drain it well.
Recipe courtesy Crazy for Crust