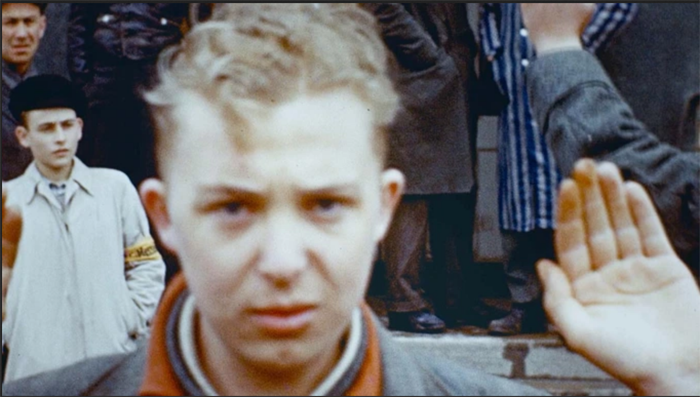 Photo courtesy Focus Features
At the beginning of "Final Account," you realize that this is unlike any other documentary on the Holocaust that you've ever watched. It starts with an elderly gentleman, Hugo Gote, singing a song with the verses, "Sharpen the long knives … so that they go better … into the Jewish belly." Hugo then admits, "as boys, we thought nothing of singing these songs. Isn't that terrible?"
It makes you think for a moment as the last living generation of individuals to participate in Adolf Hitler's Third Reich share their stories, that there is going to be more regret and shame, but that is not the case. There are gentlemen who were part of the SS and Leibstandarte – elite German forces – that vehemently denied that they were ever involved in murdering Jews. And most stood by their claims that either they had no knowledge of the atrocities or that the Nazis would have killed them had they spoken up.
There's a former SS-man, Hans Werk, who met with a group of young students at the very site where The Wannsee Conference was held outside of Berlin. The conference participants coordinated the "Final Solution to the Jewish Problem," and established a network of extermination camps in which 1.7 million Jews were murdered in 1942-1943.
Hans took part in a heated exchange with the students who were appalled by his past. He finished by saying, "I believe it is important to talk to young people like you. I ask only this of you: Do not let yourself be blinded!"
Many of the interviewees struggled when questioned if they were ashamed and considered themselves perpetrators too. They obviously had struggled with this question most of their lives, and there was often no direct answer.
They thought they were doing what they were instructed to do, and if they dared speak up they would end up in the camp, too. Had they really been able to convince themselves that they weren't complicit?
One woman worked in the office of a labor camp, and because of her position as the bookkeeper, she claimed that she had "nothing to do with it."
Near the end of the movie, there was an interesting exchange when several women who appeared to reside in an assisted living facility shared their memories. They all grew up in Ebensee, Austria, the site of a concentration camp where 30,000 individuals were imprisoned, and almost 9,000 were worked to death.
One woman claimed that the townspeople knew nothing of the camp, that there would be whispered exchanges, but nothing said aloud. Another woman vehemently disagreed with her, saying, "You could see the smoke from the ovens. You knew what was going on."
Another admitted, "Everyone knew, but no one said anything!"
Director Luke Holland spent more than a decade working on this project. He had discovered late in life that not only was he Jewish, but his maternal grandparents had died in Nazi concentration camps. He wanted to interview the "everyday people" ­– those who ensured that the camps functioned, and the death trains ran on time.
The film is beautiful, if not haunting, comprised of actual historical footage, photos and live interviews. Even though it covers the "other side" of those involved in the Holocaust, it is worth watching to remind us what can happen when evil gains power and that we must always speak up against what is wrong and be upstanders – not bystanders.
 "Final Account" opens in theaters on Friday, May 21.