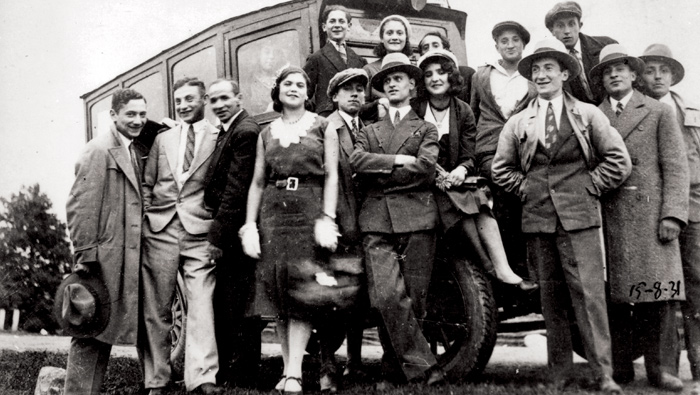 The atrocities of the Holocaust are well documented in memoirs, literature, feature films, documentaries, oral histories of survivors produced by the Shoah Project, music and the staggering paper trail left by the Nazis themselves, which describes in chilling detail the methodologies used and outcomes achieved in their attempts to implement the "Final Solution."
Perhaps less widely known are the incalculable losses incurred by the liquidation of whole communities. Stories of individual survivors and victims abound, but the destruction of cities and towns that once housed vibrant Jewish communities resulted in the loss of an entire way of life.
Portlanders will have a rare opportunity to learn more about the greatest Jewish community in Europe on Oct. 21 at the Hollywood Theatre, with a one-night-only screening of Mira Jedwabnik Van Doren's documentary, "The World Was Ours." The showing benefits the Oregon Jewish Museum and Center for Holocaust Education.
This award-winning, one-hour documentary focuses on the thriving Jewish community in the city of Vilna, the capital of Lithuania. Narrated by Mandy Patinkin, "The World Was Ours" explores the vibrant and creative life of the Jewish community of Vilna (now Vilnius, Lithuania) between the two world wars. Drawing on archival photos and footage, excerpts from diaries and letters, and through interviews with survivors and scholars, "The World Was Ours" evokes the spirit of this rich literary, intellectual and artistic community that helped shape many of the great ideologies of 20th century Jewish life.
At the start of World War II, Vilna was home to some 75,000 Jews, somewhat less than half the total population of the city. The Jewish community of Vilna was the center of Yiddish culture – at one point there were half a dozen Yiddish dailies in print and many Yiddish theaters – and in 1925 the YIVO Institute was founded there to preserve, study and teach Jewish cultural history through Yiddish. (YIVO's headquarters relocated to New York at the beginning of World War II, where it remains today.)
Vilna was also the heart of the Haskalah movement, or Jewish Enlightenment, which came to prominence in the 18th and 19th centuries. Adherents of the Haskalah, known as "maskilim" (enlightened), advocated adopting Enlightenment values, integration into European society and increased education in secular studies, Hebrew language and Jewish history. The Haskalah and the maskilim rejected the Chasidic movement founded by the Baal Shem Tov, with its emphasis on mysticism, which began spreading out from rural Poland at about the same time. Another great 18th century Jewish leader, Rabbi Elijah ben Shlomo Zalman, known as the Vilna Gaon ("the genius of Vilna") advocated Talmudic study and also opposed Chasidism. Under his influence, Vilna became a city full of great yeshivas, and scholars from throughout Europe came to study there. When Napoleon passed through Vilna in 1812, he dubbed it "the Jerusalem of the North."
Vilna, with its cosmopolitan population of well-educated Jews, epitomized the best of Jewish urban life. Artists, musicians, poets and professionals – doctors, professors, lawyers – abounded. Community activities ranged from amateur theatricals and sports teams to orchestras and a variety of social welfare projects to aid the city's poorer Jews. One woman interviewed in the film questions the concept of "hanging out" and remembers that she was always busy with activities after school.
Vilna's Jewish doctors and nurses created a health care program to tend to the poor, providing vaccinations, free clinics and other services. These programs were replicated by Jewish immigrants in cities across America; Portland's Neighborhood House, in South Portland, the heart of the Jewish immigrant community in the early 20th century, offered many similar types of outreach to newly arrived Jews.
Mira escaped the destruction of Vilna through sheer luck. In late August 1939, 10-year-old Mira and her family boarded a ship to New York to visit the World's Fair. By the time their ship docked, Hitler had invaded Poland, leaving them trapped in America. "My family was well traveled," Mira remembers. "I grew up speaking Russian, Polish, German and French." Mira's parents epitomized Vilna's upper class Jewish populace. Her father, David, a noted doctor, ran a hospital, and her mother, Lydia, was a painter. Mira herself followed in her mother's footsteps and is a visual artist, specializing in murals and enamels.
"The World Was Ours" features many archival film clips of Vilna's Jewish community, which reveal, with heartbreaking intensity, the richness and depth of the lives of the people there. Mira spent many years tracking down these clips, drawing on archives in Germany and Israel as well as some personal home movies. In the clips, we see a young girl energetically conducting her classmates as they sing in Yiddish, still photos of Yiddish theater productions, and children playing in the streets and surrounding countryside. The people of Vilna live again in these brief glimpses. Mira also includes interviews with a number of Vilna's surviving Jews, as well as historians and Jewish scholars, to provide a narrative context for the images.
Mira's cousin, Kristin Lensen, lives in Portland and organized the Portland screening of the film. She explains her cousin's decades-long drive to complete the film: "It was critical to her to honor Vilna. When she talked about her past, she was so committed to honoring people she knew in her childhood and bringing them to life. She's also a natural storyteller."
In the course of making "The World Was Ours," Mira amassed over 80 hours of footage, much of it archival, along with extended interviews from Vilna's surviving citizens. Unlike many Holocaust documentaries, she includes no personal stories, choosing instead to focus on the community as the central character. "I had to be very heartless when choosing what to include," she explains. "It was heartbreaking to take out things that wouldn't have continued the story (of the community). The story is bigger than we are."
Today Mira continues to edit the 80+ hours of footage she has left and is seeking funding so she can present more films about her beloved native city. In 2009, she traveled to Vilna to attend a screening of the film. "Many Lithuanians told me this film shed light on a history they did not know," she says.
WHAT: "The World Was Ours"
WHERE: Hollywood Theatre, located at 4122 NE Sandy Blvd.
WHEN: Wednesday, Oct. 21 at 7 pm
WHY: Benefit for Oregon Jewish Museum and Center for Holocaust Education
SPEAKER: PSU Judaic Studies Director Natan Meier will give introductory remarks
TICKETS: Available from Hollywood Theatre
EVENT INFO: ojmche.org or 503-226-3600
FILM INFO: vilna-project.squarespace.com