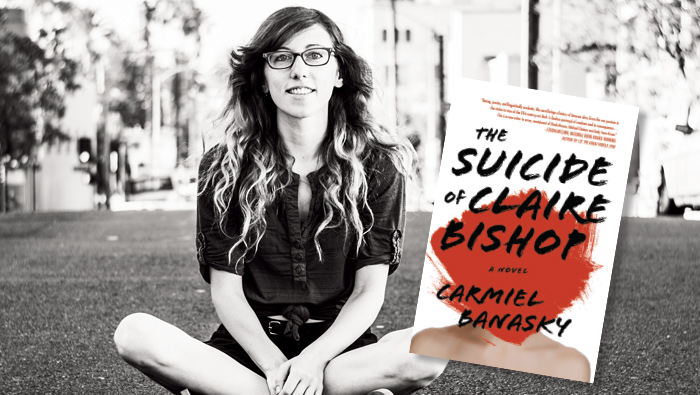 Fifth-generation Portlander Carmiel Banasky returns to her hometown this month for a book launch of her debut novel at Powell's City of Books.
The iconic locally owned bookstore is reputed to be the largest purveyor of new and used books in the world – a fitting place for a hometown girl's local launch. Carmiel will read from and discuss The Suicide of Claire Bishop: A Novel at 7:30 pm, Oct. 6, at Powell's flagship store, 1005 W Burnside St.
Since her novel was published in September, she has done book launch events in New York, Washington, D.C., Boston and Los Angeles, which she now calls home. In October she will visit Austin and Phoenix in addition to Portland.
Those cities are all places where she has family or friends she made during the four years she travelled the country participating in writers' retreats as she polished her manuscript. She had drafted the story while earning a master's in fine arts in fiction from Hunter College in New York City. By the time Carmiel submitted her manuscript to Dzanc Books for final revisions with an editor there, it was already a well-researched, polished product.
She says she has been very pleased by the early reviews and hopes they keep coming in.
In a starred review, Publishers Weekly wrote: "Banasky's memorable, intricate, and inventive debut novel uses vulnerable characters to probe themes of time, identity, perception, and love. … (T)he novel is both an intellectual tour de force and a moving reflection on the ways we try to save ourselves and others."
Kirkus Reviews notes, "Banasky writes beautifully and with great empathy."
The story begins with Claire Bishop sitting for a portrait in Greenwich Village in 1959. Rather than a portrait, the artist actually depicts Claire's suicide. Haunted by the painting, she is forced to redefine her life. When West, a young man with schizophrenia, sees the painting in a gallery in 2004, he becomes obsessed with the mysterious image of a woman's suicide. West creates an elaborate delusion involving time travel, Hasidism and art theft. When the two characters meet in the present, delusions are shattered and lives are forever changed, according to the publisher's synopsis.
Living in New York during college for five years, Carmiel says she spent time in Greenwich Village researching how the city had changed. "The book spans 1959 to 2004 with a big chunk during the '60s," says Carmiel. "It was fun to research all of that."
She says she also had to research the Hasidic elements in the book. Growing up in Portland she went to Congregation Neveh Shalom, where she became a bat mitzvah, and was very active in BBYO during high school. With the aid of Portland's Teen Israel Scholarship, she spent two months at the Alexander Muss High School in Israel.
Her parents, Bruce and Addie Banasky, still live in Portland, where her father's family has a long history. The Banaskys came over in the early 1900s from Poland. Sam Banasky had the state's first produce sales route by motorized vehicle; it operated from Portland to the northern Oregon coast. Bruce's mother's family (the Semlers) came from Poland via Winnipeg, Canada. They moved to Portland in the mid- to late 1800s. They were founding members of Ahavai Sholom. Leon Semler (Leon the Lion they called him) was a shoe store owner on Southwest Third. Another brother owned and ran Semlers Sporting Goods on the same street, and another was a dentist with a practice in the Semler building.
In recent years Bruce has become active with Chabad. Carmiel says she's attended Chabad's High Holiday services with her dad, which helped give her some Hasidic flavor.
"Dad swears I got it right," she says of the book's Hasidic elements.
Addie says Powell's has long been a part of her daughter's life ever since a teacher offered extra credit for students who attended a reading at Powell's. "I remember taking her and a friend; after that, that is all she wanted to do. Powell's became her hangout," says Addie. "The readings at Powell's were at first almost any author, then ones she really liked, then authors/teachers she knew (and) more recently many friends who have published."
And now on Oct. 6, Carmiel herself will be featured on the other side of the podium.