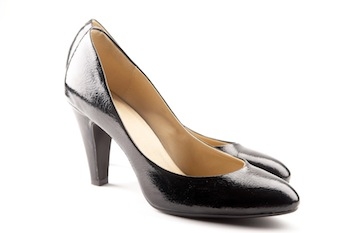 I read recently that most women average 17 pairs of shoes, though they regularly wear only three pairs. as I look over at my own closet, a quick count seems about right. I have 21 pairs (I shop a lot with clients, so that seems conservative to me). I too usually wear about two to three pairs – a black flat, a black patent pump and a wedge (depending on the outfit). Though women typically love shoes more, and spend a great deal more on them than men do, everyone in the family needs a solid wardrobe of shoes to mix and match for both form and function.
Shoes protect and support your body from the ground up, so investing in quality, comfortable shoes for the entire family should be a shopping priority each year. For kids new shoes may be necessary every six months, due to wear and tear and rapid growth. I personally invest annually in two to four new pairs – depending on the current style and what has worn out from my wardrobe inventory. By rotating and adding just a few pairs each year, I keep a current, comfortable selection in my closet to avoid the, "I don't know what to wear!" drama while dressing.
Saving money, shoe-wise: heels on both men's and women's shoes can be repaired, as can broken ankle straps and adornments. Before you toss your favorite work or dress shoe, check a local shoe repair specialist's costs. In my experience, heel repairs can start at just $5-10 per heel depending on the quality of shoe. And straps and leathers that have torn sometimes can be repaired for a small fee. Don't forget regular cleaning for your investment. A baby wipe is great to deodorize and wipe inside the shoe. Leather cleaners and waterproof treatments can extend the life of your shoes, as well.
Shoes make as much of a fashion statement as an outfit itself. and the right shoe or the wrong footwear style can complement or sabotage an outfit instantly.
Depending on your 'wear' (how you like to dress) and 'where' (where you spend the most time) habits, you may want to double up on some basics. one example is having a black, brown and metallic flat if you find flats to be the most comfortable as a stay-at-home mom. or if you work in a business professional atmosphere, doubling up on your favorite men's dress shoes by purchasing the same or multiple colors can save you time and extend the life of your shoes with rotation.
shopping for shoes is one of my favorite forms of retail therapy. and like most shoppers, finding a high-style shoe on a shoestring budget can feel like a lottery win! online deals can be found every- where from eBay to zappos and more; just make sure to check the e-tailers return policy as most shoe sizing isn't standard and returns can be a hassle. Overall if a shoe is comfortable, and if it mixes and matches with your overall style, daily function and wardrobe, definitely buy it, wear it! you know what they say, "if the shoe fits…"
At minimum I suggest every woman have one pair each of the following in their closet to mix and match easily with their base wardrobe: black ballet flats, black or brown boots, black heels, neutral sandals white or neutral wedges athletic footwear
For men: I suggest one pair each of the following basics: athletic footwear, black or brown boots for winter, black dress shoes, black or brown loafers, neutral or canvas topsiders
For kids I suggest: Two pairs of athletic shoes, one pair each of dress shoes, winter boots and sandals