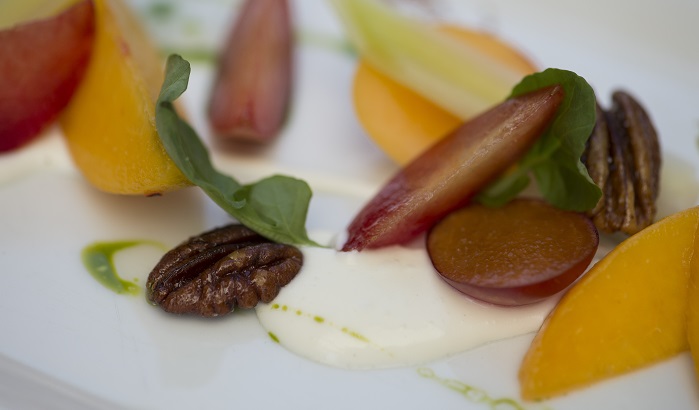 Photo: Salad of citrus braised beets, spring onion, compressed apple, Belgium endive, candied walnut, chive oil. Photo courtesy of The Allison Inn & Spa
According to The Oregonian, Portland chefs adopted the farm-to-table movement in the early 1990s. Our region is uniquely suited to this movement – the fertility of the Willamette Valley is legendary.
While many Portland-metro eateries make use of the glorious local bounty, in Newberg you can literally walk from farm to table at Jory in The Allison Inn & Spa.
Chef Kenny Giambalvo sits down with the farmer to plan out which seeds should be planted. The chef remarks that in the past, he felt more disconnected from the source while in the kitchen, but he can now walk the rows of the garden for inspiration.
"In the morning, I can see what's coming up, run back to the kitchen and say OK, this is what I want to do. It's amazing."
Kenny, who hails from an Italian family, is especially interested in produce that grows in the Mediterranean. He says that because of the Willamette Valley's climate and soil, Jory has been very successful in growing produce that normally wouldn't be indigenous to our region.
"There's a type of chicory called puntarelle, which grows in Italy," he says. "Its leaves are quite bitter, but there's a stalk that is wonderful. It does have a bitterness, as is common in chicory, but there's great crunch and texture to it. When it's really finely sliced, it makes a delicious salad. You don't see it very often, but it actually grows really well here in the Willamette Valley. We have some of that that we are anticipating for early March, so I'm excited about putting that on the menu as a salad feature."
At Jory, the menu can change from week to week depending on what is growing in the garden. But diners should rest assured that dietary preferences and restrictions are honored. The restaurant has three alternate dinner menus: vegetarian, dairy free and gluten free. Says Kenny, "There is a commitment here to be able to say 'yes.' If you have a specific request, as long as I have the ingredients, there is really nothing standing in my way to prepare something that is uniquely designed for an individual's needs – whether that means omitting or adding ingredients. The menu is certainly an expression, but if it doesn't speak to somebody, we will accommodate as best we can; it's our job to take care of our guests."
For the month of March, the chef anticipates the beginning of the salmon season, as well as the arrival of sweet pea shoots, sweet onions and green garlic. He hopes for a warmer spring, which will facilitate earlier availability of some ingredients.
Jory is open seven days a week from 5:30 to 9 pm. Reservations are highly recommended, as guests from the Allison Inn often populate the dining room.
Jory: Allison Inn & Spa, 2525 Allison Lane, Newberg, 503-554-2526, theallison.com/jory-restaurant