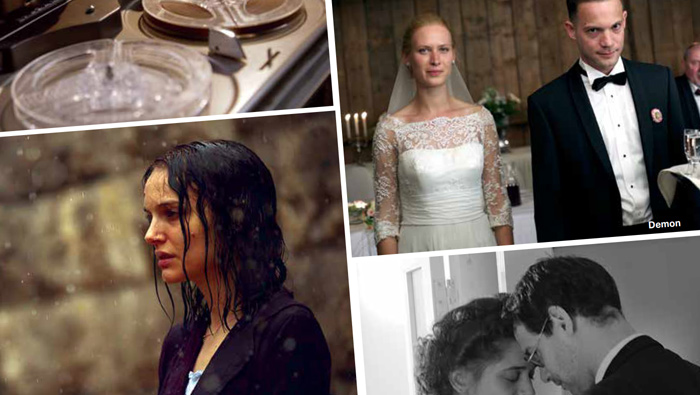 The only constant at this year's Portland Jewish Film Fest is that the films have broad appeal and Jewish content.
The 24th annual film fest presents films during 15 time slots from June 15 to 29 (see schedule pages 32-33). (In consideration of Shabbat, no films screen on Friday evenings or Saturday afternoons.)
The films selected are purposely not tied to any theme, says Bill Foster, director of the Northwest Film Center. PJFF is produced by the Northwest Film Center and co-presented with the Institute for Judaic Studies. The festival grew out of film weekends presented at the coast by IJS founder Rabbi Joshua Stampfer.
"The film center tries to introduce people to the broad range of films and ideas beyond what they get beaten over their head with by the commercial marketplace," says Bill. "We try to edge people into discovery about film and its possibilities."
Jewish culture and history offers a wealth of interesting things that have inspired filmmakers all over the world, he explains. But those films also reach diverse audiences and draw interest beyond the subculture that inspired them.
For instance, the film about Hannah Arendt, who was born to a secular Jewish family in Germany, escaped Europe and later reported on the war crimes trial of the Nazi Adolf Eichmann, has broad appeal that extends far beyond the Holocaust.
"She is interesting to people because of the rigor she brought to the notion of evil and human nature," says Bill. "Whether a German despot or African despot, it is applicable in a broader conversation" about totalitarianism, ideologies and the perils faced by refugees.
While every film may not fulfill those criteria, Bill says the films in the festival all have an appeal beyond the Jewish community.
Among the many documentaries in the program, Bill is hopeful audiences will gravitate to "Norman Lear: Just Another Version of You," a film that opened the Sundance Film Festival about the legendary television producer.
"Norman Lear's remarkable career – both as a television pioneer and activist– took the conversation about social issues outside the realm of politics and academia and put them squarely on the family dinner table," says Bill. "The issues that concerned him are still, of course, with us, but the impact of his effort can be seen and felt in many realms. His is an inspiring story."
In a review of the film after Sundance, Variety reported: " 'Just Another Version of You'… holds up a mirror to contemporary American television, tacitly asking if it's addressing issues of difference and prejudice as directly (and daringly) as Lear's shows, including such 1970s staples as All in the Family and The Jeffersons, did." For instance an episode of Maude that dealt with abortion pulled in 63 million viewers.
Bill hopes that if one movie catches someone's attention, they might find others in the festival to explore, too.
"We are getting people to discover and look beyond the commercial films and dive deeper," he says. "For filmmakers to make special interest films, it takes an audience. We try to nurture an audience which supports filmmakers who make niche, noncommercial films.
That being said, Bill adds that he believes three or more of the films in the festival may find a "commercial life in the fall."
That is almost certain, he says, for the festival's opening night film, "A Tale of Love and Darkness," directed by Natalie Portman. The drama is based on Israeli author Amos Oz' memoir, which Israeli-born actress Portman adapted into a screenplay.
An opening night reception is being planned to precede that film, which will screen at 7 pm, June 15, at the Northwest Film Center at the Portland Art Museum, 1219 SW Park Ave. Reception details were not available at press time, but will be online at nwfilm.org before the festival begins.
Last year's festival drew between 2,800 and 3,000 people to see 18 films. Bill hopes to see that audience grow.
"Be adventurous," he says. "Check out something you've never heard of. If you've never been to Morocco, go see 'The Midnight Orchestra.' "