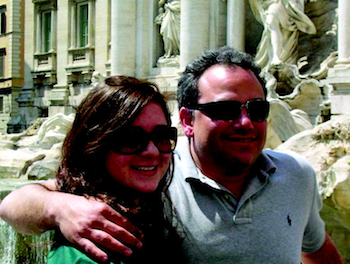 Two generations of Portland's Horowitz family have experienced the lifelong benefits of international student exchange programs.
Now the executive director of Portland Jewish Academy and Mittleman Jewish Community Center, Lisa Horowitz went to Chile as an exchange student shortly after Augusto Pinochet became dictator of Chile in a 1973 coup. "I am a big proponent of hosting and sending exchange students," says Lisa. "I was myself an AFS student in Chile in 1974-75, and two of my three daughters were AFS students in Italy when they were in high school (each for a year)." Lisa and her host family have enjoyed a lifelong friendship, not an uncommon occurrence for exchange students and hosts.
"I have maintained close contact with my host family for nearly 40 years, and my host brother visited us here in Portland with his wife a couple of years ago," says Lisa, adding she typi- cally emails her host brother about once a week.
Lisa says her family did not host a student through AFS, but they did personally host the daughter of her host brother when her "host niece" attended a language program at Lewis & Clark College.
Lisa's daughters share her enthusiasm for exchange programs. "I gained an appreciation for immersion in foreign cultures, confidence in my ability to travel and a deep sense of empathy for exchange students, immigrants and anyone else who feels like the new kid," says Gabriella (Gabi) Horowitz. "I also learned Italian fluently and gained lifelong friendships."
In addition to emailing and Skyping with her host sister since her 2008-09 stay, Gabi says she formed incredible friendships with the other AFS students in her region. "I am constantly in touch with a handful of my friends from AFS, and I have been to Copenhagen, Helsinki and Istanbul to visit AFS friends, and a friend from Iceland came to visit me in Seattle. I feel so fortunate to have such profound friendships with people from all over the world." Esther Horowitz says her exchange year has shaped her entire life since then.
"I chose a foreign university because I liked the international experience I'd had living in Italy; I majored in linguistics in undergrad because going to school in a foreign language and taking what amounted to ESL classes made me interested in the way people communicate and how language affects (and is affected by) society; I minored in Spanish and took classes taught in French because, as Romance languages, they're quite similar to Italian; I studied abroad in China because I wanted to be an exchange student again," says Esther. "It was a really positive experience, and I gained a whole lot from being able to see the world from an Italian point of view."
One Italian view of America that surprised her was a "cultural note" in a textbook "that described how Americans eat ham- burgers in a specific way that is independent of any other sort of politeness. (Using both hands, elbows on the table, not a lot of conversation until the burger is finished.) It was kind of mind- blowing to realize how fundamentally different my home environment was, and yet how similar I was to my fellow students at the same time."
Local Contact: Shaun Sullens 503-419-9509 ssullens@afsusa.org | afsusa.org