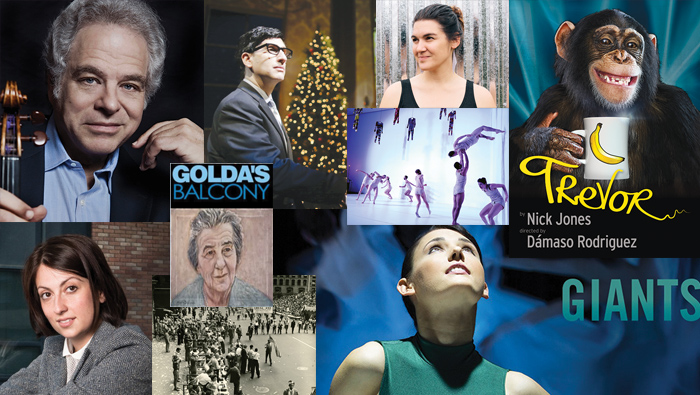 THE HAROLD SCHNITZER FAMILY PROGRAM IN JUDAIC STUDIES
Presents
The 2016 Levy Event at Portland State University
Nov. 4-6
Please join us at the PSU campus for brunch,
music, a panel and performances. Featured reading by
award-winning poet Alicia Jo Rabins, Artist-in-Residence.
Tickets: Free and open to the public
Information: pdx.edu/judaic
PORTLAND CENTER STAGE AT THE ARMORY
Presents
Hershey Felder as Irving Berlin
Nov. 30-Dec. 30
A tour de force performance takes us from Czarist Russia to the Lower East Side — and ultimately the world. Hershey Felder's masterful creation of character and musical performance makes this evening with
Irving Berlin unforgettable.
Tickets: pcs.org  •  503-445-3700
OREGON JEWISH MUSEUM AND CENTER FOR HOLOCAUST EDUCATION
Presents
Every Minute Counts – Photographs
by Katherine Joseph
Through Sept. 25
Come see this last exhibition in the museum's 1953 NW Kearney St. location. Come hear the Sept. 20 talk by Katherine Joseph's daughter Suzanne Hertzberg, author of Katherine Joseph: Photographing an Era of Social Significance.
Tickets or info: ojmche.org  •  503-226-3600
TRIANGLE PRODUCTIONS!
Presents
Golda's Balcony
March 9-April 1
Featuring Wendy Westerwelle as Golda Meir. From the pogroms of Russia to the halls of Knesset, the story of Golda Meir is the story of the state of Israel in the 20th century.
TICKETS: trianglepro.org   •  503-239-5919
OREGON SYMPHONY
Presents
Itzhak Perlman Recital
Oct. 18
A rare evening with the 16-time Grammy winner accompanied on the piano by Rohan DeSilva. One of the world's premier violinists, Perlman has been called classical music's greatest ambassador.
Tickets: OrSymphony.org  •  503-228-1353
WHITE BIRD
Presents
Inbal Pinto & Avshalom Pollak Dance Company's Wallflower
Oct. 20-22
Inbal Pinto and Avshalom Pollak are regarded around the world as two of Israel's most imaginative and accomplished choreographers and directors. Ten dancers in fantastically colored costumes create startling shapes against a gleaming white background.
Tickets: whitebird.org   •  503-245-1600
PORTLAND CHAMBER ORCHESTRA
Presents
The Spirit of Youth
Sept. 24 Nordia House
(8800 SW Oleson Road)
Sept. 25 Agnes Flanagan Chapel
(Lewis & Clark College)
Yaacov Bergman directs Grigory Frid's musical interpretation of
"The Diary of Anne Frank."
Performed by soprano Ani Maldjian, who is known for her portrayal of
Anne in The Diary of Anne Frank, a
one-woman opera.
Tickets:
PortlandChamberOrchestra.org
503-771-3250
OREGON BALLET THEATRE
Presents
Giants
Oct. 8-15
Trace the evolution of ballet in the 20th and 21st centuries with George Balanchine's "Serenade" (1935); William Forsythe's "In The Middle, Somewhat Elevated" (1989); and the world premiere of OBT Resident Choreographer Nicolo Fonte's
"Giants Before Us."
Tickets: obt.org
503-222-5538
ARTISTS REPERTORY THEATRE
Presents
TREVOR
Starts Sept. 6
This heart-wrenching new comedy stars Trevor, a 200-pound chimp intent on reviving his showbiz career. Swinging between reality and fantasy, TREVOR takes aim at the nature of humanity and the lies we tell ourselves.
Tickets: artistsrep.org
503-241-1278