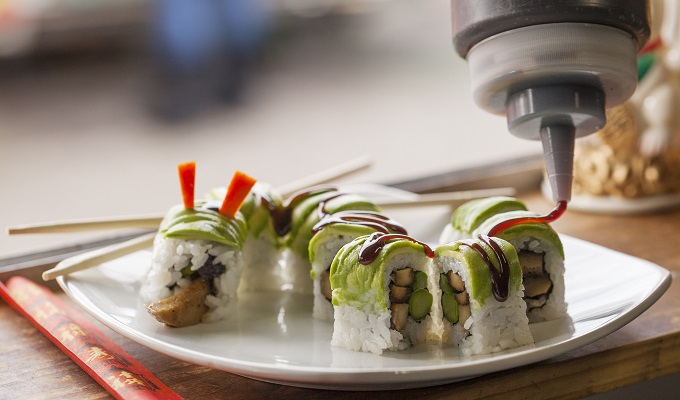 Photo: SushiLove: Mother of Dragons
While it's easy to avoid dairy when eating many Asian cuisines, it can be challenging to avoid pork and shellfish. But with the following list of plant-based Portland restaurants, you can enjoy Chinese, Japanese, Thai and Vietnamese food while respecting dietary laws.
ICHIZA KITCHEN
Open less than a year, this small, vegan pan-Asian restaurant subscribes to the theory that long noodles equal a long life. You can try a "tonkotsu" ramen with faux pork slices, a version of the Japanese kitsune udon, and the restorative lan zhou, a medicinal noodle soup that is great for winter woes. Ichiza also serves mock chicken adobo, turnip cakes, and a selection of oolong and herbal teas.
The restaurant is open for lunch and dinner Wednesday through Sunday.
1628 SW Jefferson Rd., 503-702-8374, ichizakitchen.com
KATI PORTLAND
The only ingredient of animal origin at this Thai restaurant is egg, and it can be omitted from the pad thai. The Thai iced tea is non-dairy, and there's a tofu "steak" with vegetables in a brown sauce spiked with chili, ginger and Kaffir lime leaves. Instead of pork and shrimp, the restaurant uses tofu and tempeh in its curries.
KaTi Portland is closed on Mondays; open for both lunch and dinner Tuesday-Sunday. The restaurant partners with the GrubHub food delivery service.
2932 SE Division St., 503-477-6059, facebook.com/katiportland
OBON
This "plant-based Japanese comfort food" pop-up hosts a dinner every Thursday at the North Bar in Southeast Portland. Obon's recent offerings have included a gingery miso stew with seasonal vegetables and Ota tofu, marinated tofu skewers and kabocha squash croquettes. There is also a small selection of vegan sushi rolls as well as some noodle and rice dishes.
North Bar: 5008 SE Division St., obonpdx.com
SUSHILOVE
This Sellwood food cart specializes in vegetarian sushi items such as sweet, rice-stuffed inari tofu pockets; rolls made with faux crab, avocado and cucumber; and a tofu-based dragon roll that mimics the traditional eel roll. You can accompany your sushi with a bowl of vegan miso soup.
The SushiLove cart is open Tuesday through Saturday from 11:30 am-7 pm.
1112 SE Tacoma St., facebook.com/sushilovepdx
VAN HANH
At Van Hanh, you can happily order steamed buns or dumplings without wondering what's in the filling. The dumplings are stuffed with mung beans, and the buns enclose a tasty mixture of barbecued tofu and potatoes. Spicy, lemongrass-infused spare ribs are made with wheat gluten, and the veggie "fish" is tofu based. For a refreshing treat, try the avocado or taro smoothie. Desserts include a banana cake with coconut cream.
Open for lunch and dinner every day except Tuesday.
8446 SE Division St., 503-788-0825
YUAN SU
If you crave Americanized Chinese food but don't eat roast pork, shrimp toast and spare ribs, consider this cavernous East Portland restaurant. The menu includes healthy, steamed dishes as well as greasy-but-good egg rolls, fried wontons and scallion pancakes. There are mock chicken, beef, pork and seafood dishes, most of which are pretty convincing. If you don't want something batter fried, order the veggie beef with broccoli in brown sauce or steamed "fish." The curry tofu hot pot is nice on a winter's day.
Yuan Su is open Monday through Saturday from 11 am-9 pm.
11140 SE Powell Blvd., 503-477-5775, yuan-su-veg.com