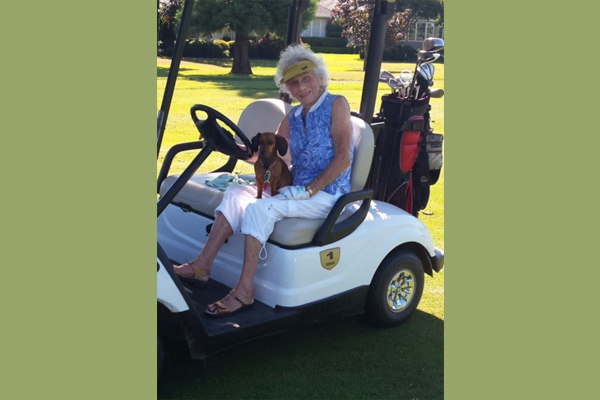 Photo: Eleanore Rubinstein and Sophie
By Diane Koopman
It could be said that she lived almost two lives – and lived them fully. Beloved family matriarch Eleanore Rubinstein peacefully left this world on November 8, 2020, at 107½ years young, surrounded by her children and grandchildren. Born April 23, 1913, to Richard and Carolyn See in New York City, Eleanore moved to Portland when she was seven. After graduating from Grant High School in 1931, she attended the University of Washington. Eleanore married Paul Rubinstein in 1933, and together they raised their four children in Aberdeen, Washington, before relocating to Portland in 1960.
A phenomenal mother and grandmother with four generations beneath her ("my granddaughter is a grandmother," she liked to say), family was the most important thing to her, and she approached every day with humor, purpose, gratitude and grace. Still driving a Lexus SUV when she turned 100, her vanity license plate read "ABZGAL," and indeed, this busy gal never slowed down.
A natural athlete, Eleanore took pride in being a tomboy growing up, with a particular fondness for baseball and track. She loved bowling and golf and played tennis into her 90s, reigning as a two-time champion of the USTA's Women's 90s division. She enthusiastically (and quite vocally) cheered on family members when they were on the field or court and even attended Mariners games as a centenarian.
A role model in every way, Eleanore demonstrated an unwavering commitment to volunteering. Starting with the Red Cross during World War II, she consistently found ways to give back, whether it was the PTA, Girl Scouts of America, or the National Council for Jewish Women. Well into her 100s, Eleanore volunteered weekly for Store to Door, making calls to homebound seniors with her miniature dachshund Sophie sitting in her lap.
No idle hands for Eleanore. A lifelong knitter, she always had a project underway, adding the label "Made with Tender Loving Care by Mom" (or "Mimi" as she was also called) before gifting each custom creation. That love was also expressed through the kitchen in the form of homemade corned beef, zucchini bread, pickles and jams. A math whiz and sharp as a tack, she adored playing bridge and working jigsaw and crossword puzzles. With stacks of sheet music at the ready by the piano, she was also a prolific letter writer and a voracious reader, consuming a steady supply of library books. She especially loved the sun and the beach, with Palm Springs and Seaside among her special places.
"What's your secret?" she was always being asked. "Just good luck and good genes," she'd respond. No restrictive diet – she ate heartily and happily, relishing spaghetti and meatballs or a juicy burger and fries. She preferred scotch and soda in the winter and vodka in the summer. And if margaritas were on the menu, "Make it a large!"
Maintaining her positive spirit and clever wit to the end, Eleanore said all of her goodbyes before she passed. When asked if she wanted to rest between Facetime calls, she pressed to continue, quipping, "I'm going to be resting for a very long time." Our "Busy Gal" is survived by her son, Dick Rubinstein (Deanne); daughters Carolyn Gevurtz (Ron); Sandi Rubin; Diane Koopman (Dirk); seven grandchildren, Teri DeHaan (Andy), Rick Rubinstein (Jill), Lisa Levin (Bart), Sheri Baer (Doug), Dirk Koopman (Secia), Devin Koopman (Amy) and Darci Keljo (Kevin); fourteen great-grandchildren and three great-great-grandchildren. And, her beloved dog, Sophie, who she got as a puppy at the age of 95. She is preceded in death by her husband, Paul Rubinstein, and nearly everyone else of her generation.