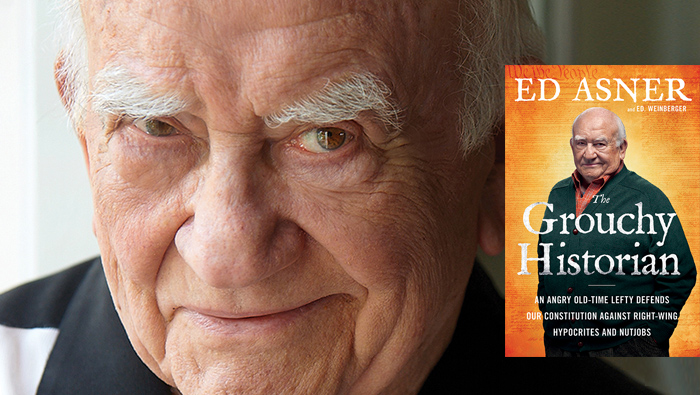 Actor Ed Asner is a grouchy old man (just ask him).
Thirty-five years after his popular TV drama "Lou Grant" was cancelled as Asner spoke out against U.S. policy in Central America, Asner is still a vocal and fiery activist working to alleviate the wrongs he sees in society.
When he turns 88 on Nov. 15, Asner will be in the middle of a 13-day road trip performing his one-man show, "A Man and His Prostate," and speaking about his new book. The Grouchy Historian: An Old-Time Lefty Defends Our Constitution Against Right-Wing Hypocrites and Nutjobs was released in October. Both projects are collaborative efforts with Ed Weinberger, with whom he last worked when Weinberger produced and wrote for the "Mary Tyler Moore Show" where the character of Lou Grant was created. The trip includes Oregon, where Asner had a beach house for many years and often came to visit his daughter who lived in Gresham for 20 years.
"It is intimidating me a great deal," says Asner, noting the trip includes a lot of travel, performing and speaking engagements.
"I'm getting too old for that crap. … I'm lucky to be able to sit and digest my paper thoroughly."
Yet he's still acting on stage and television, and performing as a voice actor. The seven-time Emmy winner has guest-starred on several TV shows in the past decade including "CSI: NY" and "The Good Wife." In 2009 he starred as the voice of Carl Fredricksen in Pixar's animated film "Up," which he says was mislabelled a kids' film. "I call it a double love story," he says. He adds that the old man's rediscovery of love and adventure after the death of his beloved wife, Ellie, is a stirring reminder for seniors that life can find new highs.
Born Yitzhak Edward Asner in Kansas City, MO, Asner grew up in an Orthodox home. His mother had immigrated from the Ukraine and his father from the border near Belarus and Lithuania. "I did not express myself politically while they were alive," he says.
But now Asner is active speaking out for issues he cares about, ranging from autism to unions.
His passion for the former stems from his youngest son Charlie's diagnosis as autistic; now 30, Charlie recently received a bachelor's degree in ecology and is working toward his masters at the University of New Haven. Asner, and now his oldest son, Matt, have been active in Autism Speaks, which promotes increased awareness of and opportunities for people with autism.
His devotion to unions included three terms as president of the Screen Actors Guild. "You are not a just and fair society until society espouses the rights of labor," he says.
"I was always a union man, but I didn't speak out until I was doing 'Lou Grant,' " says Asner.
"I grew to celebrity on 'Mary Tyler Moore Show,' " he says.
When CBS asked Asner to perform in a spin-off, he says he was as surprised as anyone when two former MTM producers suggested that rather than creating another comedy show, Lou Grant should become a newspaperman in a one-hour drama.
"I enjoyed the call to deal with issues," says Asner. "The show became good at confronting issues that confronted Americans at that time."
Asner had reconnected with Weinberger in 2015 to star in the play based on Weinberger's seven-day stay in an Italian hospital with a prostate condition. Though 90% of men older than 85 have prostate problems, Asner says his prostate is just fine. "Every 16 minutes a man dies in this country from prostate cancer," he says. "The show has a lot of laughs and important information one should know about prostate cancer."
The show hadn't been on the road for long when the 2016 presidential campaign season took an ostentatious turn. (Throughout the interview for this piece, Asner never mentioned President Trump's name; he referred only to this administration or this president.)
"The call to truth and honesty and the need to improve the state of our deteriorating democracy necessitated our collaboration," says Asner of the pair's new book.
"We've always had divides – a lot unspoken, a lot silent," says Asner of the climate in America. "It has become very open and marked – particularly with this president. He has brought the Republicans into the open so the American people can see what they are doing."
Speaking the day after the mass shooting in Las Vegas, Asner added, "The idiocy of gun control in our country is one example of the mismanagement and lack of concern for innocent citizens. … Can Congress put aside all the wealth they receive from the gun people and try to adjudicate a decent law that screens out a lot of the guns that are out there?"
Asner had never owned a gun until he received death threats when he spoke out against Reagan's policies in Central America; at that time he bought a gun to protect himself and his family. But looking back he says he realizes, "That was not the best option. Instead of grabbing guns, we should grab our congressmen and get them to write better laws."
Asner says he hopes The Grouchy Historian will make people "think very carefully when someone claims to know what the framers of the Constitution had done." Promotional materials for the book say, "There's no way that two hundred-plus years later, the right-wing ideologues know how to interpret the Constitution. On their way home from Philadelphia, the people who wrote it couldn't agree on what it meant."
Asner adds, "I encourage everyone to see the Constitution as a living, breathing document to be played with and managed to increase the justice we live by."
ED ASNER IN OREGON
Nov. 11, 7:30 pm
"A Man and His Prostate"
One-man show starring Ed Asner
Elsinore Theater, 170 High St. SE, Salem
Tickets: $20-39, elsinoretheatre.com
Nov. 12, 11 am
Live Wire taping
Mississippi Studios, 3939 N Mississippi Ave., Portland
Tickets: ticketfly.com/event/1558122-live-wire-luke-burbank-ed-portland
Nov. 12, 4 pm
The Grouchy Historian
Book reading and signing
Powell's Books in Cedar-Hills Crossing, 3415 SW Cedar Hills Blvd., Beaverton
800-878-7323
Nov. 13, 8:30 am
KATU AM Northwest Live