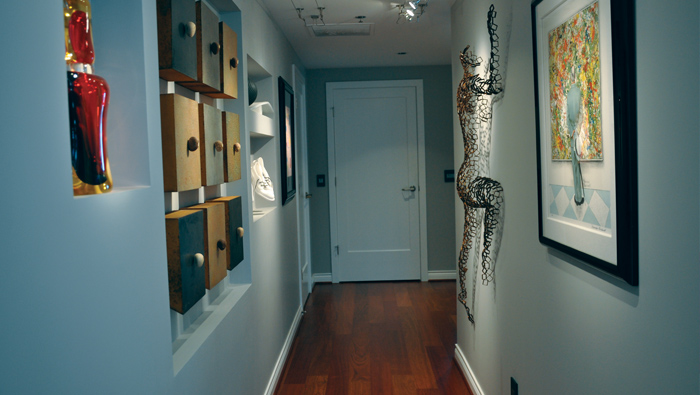 When Michael Weiner and Kathy Davis-Weiner decided to downsize from a 4,300-square-foot Lake Oswego home to a 1,972-square-foot urban condo, they had an unusual quandary.
It wasn't that they wouldn't have room when their children visited with their families. "We have occasional visits from our four kids and two grandkids, who live in four different places across the country," says Michael. "We are here by ourselves 340 days a year."
"I felt guilty," adds Kathy. "But the kids supported us and said whatever makes the most sense for us."
No, the problem was finding space for all their art.
When the couple travels, which they do frequently, they love to look at art. "But we fall in love; it's a dangerous habit," says Kathy, noting that most of their trips result in new pieces.
"Certain things, like the donkey from Israel, had to have a place," says Kathy.
Long active in the Jewish community (Michael served as the board chair of the Jewish Federation of Greater Portland), when the couple decided they were ready to downsize, they pulled out their Jewish rolodex and called their longtime friend and Realtor Carolyn Weinstein. When they started their search in late 2013, the market had already gotten so hot that places sold within days or hours. They missed one place they liked, and when they saw a condo in the hills overlooking downtown with a view of four mountains on a clear day they jumped on it.
"It was the view that captured us," says Kathy.
"It was dark and gloomy, but we saw the potential," says Michael.
So once again they called a Jewish friend – interior designer Linda Georges. Linda had recently sold her business, Room by Room, but was still working part time. She introduced the couple to her friend and builder Karl Hoffses from Ridgecrest Homes.
"It was a great collaboration," says Linda. "He's one of my favorite builders. Kathy and Michael have such an artistic eye! … We assessed their artwork to make sure we knew where it was all going to fit. It was an intensive part of the project. It was definitely a group effort."
Karl agrees that the art was a key element in the remodel.
"The most challenging aspect of the job was to arrange the various art pieces to the space and to adequately illuminate them with the limited electrical that we had available in the condo," says Karl. "The use of various forms of LED lighting helped with that."
"The Weiner's condo is surely a project that our company is very proud of," says Karl.
The couple decided to gut the entire condo; only the hardwood floors were kept intact.
"We needed light," says Michael. "We had to put in soffits everywhere."
Michael called the project a complex engineering job. "The trick is doing creative things in a small space and making sure everything flows together."
Kathy says Karl and the subcontractors had fabulous ideas.
"We were all working together," says Kathy. "It was give and take. It meant Michael and I had to communicate a lot."
"Yet we are still married," says Michael with a smile.
Kathy took the lead in finding places for artwork. She cut out templates of the pieces they knew they had to keep and started taping them to walls.
She decided the front bathroom was a perfect spot for a large glass sculpture. Michael decided a tub would complement the room and then Linda took over.
"The bathtub in the guest bath was all Michael's idea; he has a keen eye," says Linda. "I wanted the guest bath to be inviting, so I had an idea for the glass and they loved it. I created the vertical stripe through the entire floor and up the wall. Very striking and inviting. The right color is certainly my strong suite, so we played off their gray and neutral palate they wanted."
Moving to the master bathroom, Linda took her cues from Kathy.
"Kathy is very artistic herself and can see colors quite well," says Linda. "She likes textures, so we played that up in the master bath."
The kitchen and dining area took a little longer to figure out. They ended up moving in and doing the kitchen later.
"I cook and bake a lot, so I wanted a bigger oven and bigger refrigerator," says Kathy. "We like to entertain and people like to be in the kitchen, so part of the counter is more bar-top level, but I can still use it."
"The key is to make it functional and still look good," she says as Michael adds, "You have to have an eye to functionality."
While most of their favorite artwork found a space in their new home, "We had to get rid of a lot of art; some of it went to auction," says Kathy. And most of the furniture had to go.
The art created by Michael's mother, however, has a permanent home in their condo.
Ruth Weiner, z"l, who was named one of 50 "living treasures" by the governor of Illinois in 2001, created a series of books in ceramics. Michael and Kathy have a row of ceramic books that she created one page at a time. She did an entire series of open books that are now on display in a synagogue and library on which she wrote the names of Holocaust victims she copied from a book at a Holocaust memorial in Prague. Michael and Kathy accompanied her on that journey, also going to the village where her aunts and uncles perished (her parents had immigrated to the United States in the early 1920s).
"She took her experiences and travel into her art, kind of like we do," says Kathy.
"We do it a lot easier," Michael says. "She created it, we just buy it."
Custom-made cabinets line many of the condo's walls. Each cabinet was created by Mainly Cabinets Inc. (mainlycabinets.com) for a specific piece of art.
The custom cabinetmaker also brought to life Michael's vision and sketch for a bar wall.
"Michael helped design the bar," says Linda. "It was his concept from a magazine. He got his heart set on that concept, and the cabinet company, Mainly Cabinets followed suit."
The couple has discovered many benefits of urban condo life. They can walk or take the streetcar or bus to restaurants, art galleries, performances and other events. They have a bird's-eye view of traffic, weather and sunsets reflecting off the US Bank building.
"Everything is right by us," says Kathy. But perhaps, best of all, "You can go travel and just close the door."