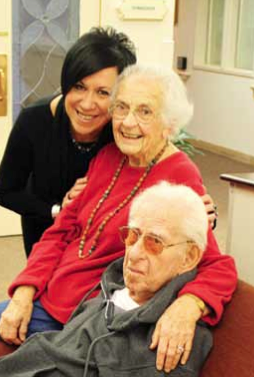 For the past 14 years, Debbi Bodie has devoted her life to the comfort of our community's eldest residents. She serves as chief development officer at Cedar Sinai Park, a nonprofit organization that provides residential care in an environment that respects Jewish values. Cedar Sinai Park maintains four affordable housing apart- ment buildings in downtown Portland, the assisted living facility Rose Schnitzer Manor and the Robison Jewish Health Center. Bodie works tirelessly to raise funds for the residents of this last facility. Explaining her role, she says, "The most important thing is building relationships with our community. And that is what I do.
Bodie maintains a busy, varied schedule."It's a 24/7 job, it's a lifestyle," she remarks. Although she is constantly coordinating special events, meeting with donors and collaborating with other agencies, she always makes sure to set aside time to get to know the residents and their families. "I try to participate in as much life on campus as possible. I'm not just sitting behind my desk."
One of Bodie's current endeavors is "A Place to Call Home," a capital campaign to build a brand-new, state- of-the-art residential care facility. "The building is a household model," says Bodie. Each household will feature 12 private bedrooms and bathrooms, a kitchen, living room and dining room. The project is being designed by award-winning firm Mulvanny G2 Architecture. "It's going to be a beautiful home," enthuses Bodie.
Bodie has long maintained a deep relationship with Portland's Jewish community. Formerly employed with the Jewish Federation of Greater Portland, she also served as the sister- hood president at Congregation Beth Israel from 1995 to 2000. "That's what started my Jewish life," she says. One particular relationship formed the basis of one of Bodie's most cherished causes: Hesed Shel Emet, a program that provides burial resources and support for the Jewish community of Oregon and Southwest Washington. Explains Bodie, "It all started in 2008. There was a resident (Florence Moore) I was very close to. I came to work one morning and found out that she had passed away the past evening. I had left her reading a romance novel, she looked great, and all of a sudden she was gone. She had no burial plans, no money."
Bodie began brainstorming. She decided to enlist the help of Congregation Neveh Shalom, where she was then serving as chair of the Cemetery Committee. "I called and explained the situation, and I asked them if they would help me to bury her. It was Erev Pesach, and I had one day. At 10 am I made that call to Neveh Shalom. I called a few people to get a minivan, and I brought a picture so everyone could see this wonderful lady. At 3 pm she was buried."
This experience made Bodie think, "What about everyone else? What do they do? A lot of people are cremated, but that's not the Jewish tradition."Together with Rabbi Ariel Stone, Bodie approached the Oregon Board of Rabbis to establish Hesed Shel Emet in 2010. Since then, services have been provided to 22 Jewish individuals. "All the synagogues, Jewish cemeteries, rabbis have collaborated on this program. A plot is donated by a cemetery on a rotating basis. The funeral homes have given us a discount for funeral services, and rabbis officiate at no cost."
Bodie continues to serve as the program administrator for Hesed Shel Emet. In addition to fundraising, she coordinates burials at a moment's notice. "I can get a call at any time, and I have to get on the phone and find that cemetery and rabbi. I talk to the funeral home, and within 48 hours, it's done. It's one of the most gratifying things that I do." She has plans to take Hesed Shel Emet to other Jewish communities around the country. She hopes the program will serve as a national model.
Bodie encourages those who are interested to visit Hesed Shel Emet's website, cedarsinaipark.org/hesed. She adds, "Or, they can call me (503-423-7845). I'm happy to talk to every- body about this! I am so grateful to our donors and community for their generosity and support. They are helping us ensure that the Jewish elders in our community receive the highest quality of care they deserve."