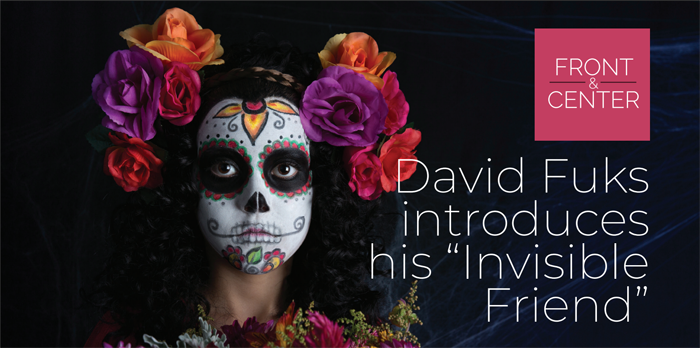 David Fuks began writing short stories and novellas years ago, and he is now about embark on the exciting journey of seeing his latest, and biggest, project come to life as a stage reading during the Fertile Ground Festival of New Work on Feb. 3.
"Since I've stopped working full time, I've been working on more long-form kind of pieces," says David. He retired from his job as CEO of Cedar Sinai Park in 2015, although he still does consulting. "I'm also an actor, so playwriting was a very natural offshoot of that."
His latest project is a play titled "Invisible Friend," inspired by two distinct events.
First, he was involved in a public reading for a fundraiser, and there were a few other writers there who read stories. As he was chatting with one of these writers, she told him an intriguing story about her parents. She explained that they were no longer married but still lived in the house she grew up in together, and that they couldn't leave. David was amazed when he heard the reason why. "Her brother had been killed by a truck right in front of their house, and they were never able to get past the grief and move on," he says. "I told her it's such a tragic story, you should write that story, but she said, 'I can't, it's too close for me.' So I thought this is something I ought to write."
Second, he lived in Mexico for a month in January 2016 and meditated on the disturbing messages portrayed in American media. "We were involved with the electoral process back then, and we had a candidate who was saying some pretty awful stuff about Mexicans," he remembers. "There I was, surrounded by Mexicans, and encountering them as human beings and people, and it was pretty remarkable to me what a contrast that was to what I was hearing said in the news and being reported."
David was challenged by a few new tasks as a writer while creating this piece, which was initially conceived as a novella.
"One, writing in a woman's voice, and two, writing from a different cultural standpoint than my own," he says. "Three, I was interested in that issue of unresolved grief. That's how this story was born."
"Invisible Friend" is a story of a young woman, Luna Gomez, who is Mexican-American. She is haunted by the spirit of her older sister, Alma, who was 9 years old when she prevented 3-year-old Luna from being hit by a car by pulling her out of the way, only to be hit by the car herself and killed.
This story is about the unresolved grief in her family and particularly the relationship that Luna has with her mother, who is hanging on to the grief more than anyone else. Luna is a young adult now, 26 at the beginning of the play, and determined that she needs to intervene somehow to set her sister's spirit free, to set herself free, and to allow her family to move forward.
"Being the child of Holocaust survivors, I know a little bit about unresolved grief," says David. "I've had that understanding, but also I wanted to express some respect and affection for the
Mexican-American neighbors that live in my community and are part of the world we're a part of." He wanted to write a story that showcases a realistic view of struggle and coping with life.
David wrote a play before as an undergraduate student, and wrote a lot of the set pieces for an improvisation comedy group that he was a part of for five years. He also wrote a collection of 10-minute one-act plays that were performed several years ago.
A playwriting class helped him to adapt the novella into "Invisible Friend." "This is a one-act play, but it's 70 minutes long – it's a very different thing," he says.
"I also have to mention that I am working with probably one of the finest directors ever known – Jane Unger," says David.  Jane is probably best known in Portland for having been the creator and artistic director of Profile Theatre for more than 15 years.
David was interviewing Jane for The Oregon Jewish Museum and Center for Holocaust Education archives when the conversation turned to his newest project. She offered to take a look at the play and give him some feedback.
"She looked at it and said, 'I think it's a good piece of work; I think what you need to do is make sure you get a strong group of actors … and that it's well directed,' " says David. When he asked her if she had any suggestions on a director, Jane replied, "I will do this with you."
"I feel confident about the work, and I'm excited to get it out into the world and for people to have a chance to look at it," says David. Being part of this festival legitimates the play, and his hope is that as a result of the reading, someone will see it and want to do a "full-blown" production of "Invisible Friend."
"I can't say enough good stuff about Jane Unger and what she's done to make this show a reality," says David.  "She's a remarkable woman and to be taken seriously by somebody who has made such a big mark in the world of theater, is a big event in my life."
Fertile Ground Festival of New Work presents "Invisible Friend"
When: Feb. 3 at 7 pm
Where: Milagro Theater, 525 SE Stark St., Portland, OR
Tickets: $10
Information: To purchase tickets, visit fertilegroundpdx.org