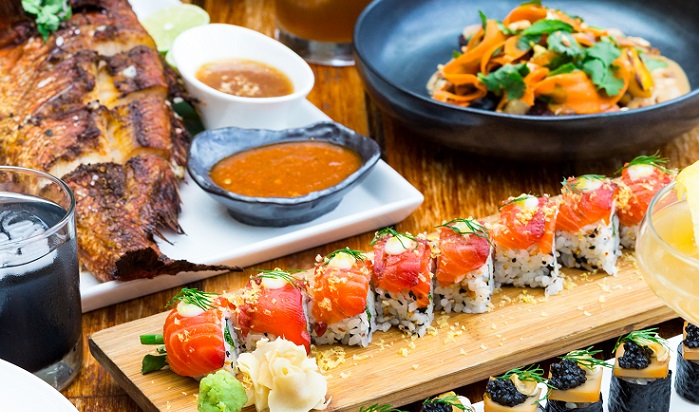 Photo by Drew Tyson
Biting into a creamy chocolate dessert at Departure Restaurant + Lounge, you would have no idea that it was dairy free. You might be even more surprised to find that the absence of dairy extends to the entire pan-Asian menu. Chef Gregory Gourdet, who places a premium on health as well as flavor, has crafted a cuisine that manages to be delicious and virtuous at the same time.
The chef, who took the reins at Departure eight years ago, spent many years experimenting with various techniques and ingredients to get just the right tastes.
"We pride ourselves on using alternative ingredients to recreate flavors," he says. "We use a lot of vegetable oils, and we use coconut cream and coconut fat to recreate the richness of heavy cream. At this point, we have a system that we've created to make the food that we do. But it definitely took some tinkering to be able to get the right textures and flavors."
Gregory is greatly inspired by Pacific Northwestern produce and seafood.
"When I moved here 10 years ago, I was shocked by the bounty; we grow vegetables 12 months a year here," he says. "But this is not an uncommon story, it is the story of a chef working in Oregon."
The chef had an epiphany when representing Oregon at a national seafood competition in Louisiana. "We cooked salmon; for me, growing up on the East Coast and getting very used to farm-raised Atlantic salmon, it was really the first time I truly understood how delicious and amazing real, fresh, wild, just-harvested salmon can be."
A recent visit to Departure included grilled wagyu sirloin steak on a hot stone, ginger fried rice, delicious chunks of bigeye tuna poke, mint-accented brussels sprouts and the aforementioned creamy chocolate torte. One would be hard pressed to find anything lacking in the food. In addition to offering dairy-free cuisine, Departure also features gluten-free and vegan menus. The restaurant can also make any dish shellfish free. Gregory advises diners with dietary restrictions to contact Departure in advance. He says, "If you call ahead and talk to the host, we can get a heads up. By the time you are here, we will be ready to go and well aware of how you'd like to eat."
One dish for which Departure is particularly well known is its Peking duck, which is only available during the month of December. Says the chef, "We wanted to create something really celebratory for the holidays and found that a whole roasted duck was that one dish people from a lot of different backgrounds appreciate and enjoy. The ducks are cured, blanched in honey and Chinese wine, air-dried for days, roasted daily and glazed with a little bit more honey and tamari. They come with pancakes, cucumber and scallions, a house-made cherry sauce, duck fried rice that we make with all the duck trim, and duck ice cream!"
While the Peking duck dinner is definitely something that everyone should have on their holiday calendar, Departure is worth visiting all year long.
Departure Restaurant + Lounge: 525 SW Morrison Street, 503-802-5370, departureportland.com.