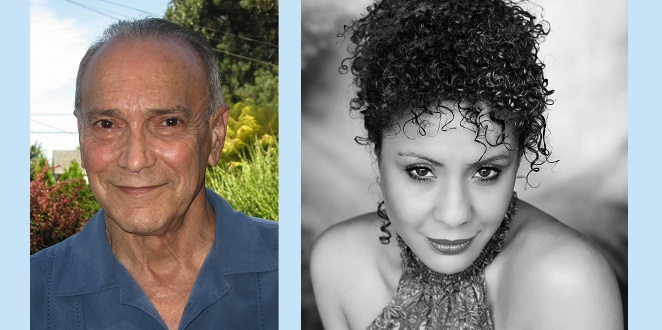 PHOTOS: David Meyers  and Andrea White
Two Jewish actors explore the meaning of tolerance in "The No Play," set in the racially divided world of Halifax, NC, in 1949 during the apex of the Jim Crow era.
PassinArt: A Theatre Company presents this exploration of deep family bonds, profound love and cultural connections. The title is derived from the many "No" signs that dotted the southern landscape at that time. (See play information below)
Andrea White is Mattie Cheeks, an African-American woman struggling to raise her two daughters and protect her marriage – all while surviving the seemingly insurmountable effects of racism and bigotry. She finds an ally in Yaveni Aaronsohn, played by David Meyers. The Jewish scholar must endure and overcome the reality of racial intolerance of the era. Yaveni is researching a book on the similarities and differences between the prejudice and victimization experienced by blacks and Jews.
The topic resonates with Andrea in real life. Andrea shared stories of her dual heritage growing up Jewish and black in Oregon Jewish Life's October 2015 cover story (https://orjewishlife.com/andrea-white-brings-dual-perspective-to-racially-tense-play/). "I have been straddling two worlds all my life," said the Portland native. "I grew up here with my mom's side of the family and was taught to walk into any situation with an open mind and the thought, the gift, that it could be changed. When I'd visit my dad, I tried to understand the way society saw me as a black or brown person."
David is a veteran of many professional repertory theaters, having performed at the Cincinnati Playhouse, La Jolla Playhouse, The Old Globe Theater, San Diego Repertory, North Coast Repertory, Portland Repertory, Portland Center Stage, Portland Playhouse, Artists Repertory, Southwest Repertory, Perseverance Theater and many others.
"This play is looming large in my consciousness right now," says David. "From the time I first read it last summer, it has gripped my heart and my mind. The racist themes examined here, playing out circa 1949, reflect us so accurately as peoples today. Yaveni Aaronsohn, whom I play, embodies so much in common with me as a Jew that I simply cannot disengage."
Founded in 1982 as an African-American theater company, PassinArt's mission is to entertain, educate, and inspire artists and diverse audiences while addressing critical issues facing our community and to celebrate our history and culture.
The play has certainly inspired David. He says that the differences between Black, Jew, Hispanic, Asian, Indigenous American and other peoples have faded away as he reflects on the play and the climate today.
"The drumbeat of hatred, sounding so strongly, creates a day-to-day reality in which all must dwell and find a way to cope and survive," says David.  "This shows me so clearly that hate is indeed color blind. And that past is indeed prologue."
Written by John Henry Redwood III (1942-2003), "The No Play" opened in 2000 in Philadelphia and was nominated for a Barrymore Award for the best new play.
Ticket prices range from $18.50 to $28. Post-show discussions with the cast, director and community thought leaders are scheduled on Sundays, March 24 and April 7.
THE NO PLAY
WHEN: March 14-April 14, 3 pm Sundays; 7:30 pm Fridays and Saturdays
WHERE: Interstate Firehouse Cultural Center, 5340 N Interstate Ave., Portland
DIRECTED BY: William Earl Ray
PRESENTED BY: PassinArt: A Theatre Company
TICKETS: passinart.org