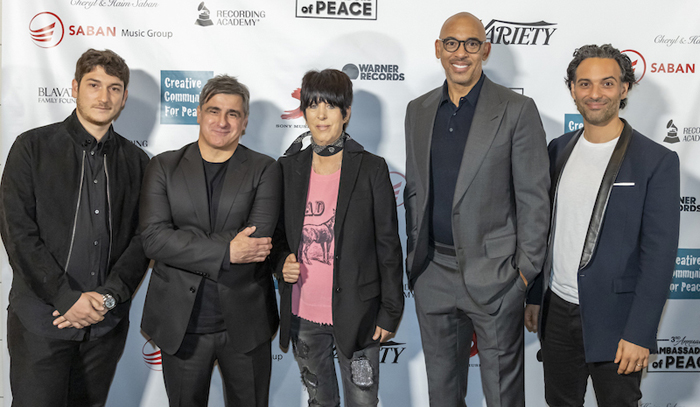 Photo: left to right: Austin Rosen, Afo Verde, Diane Warren, Harvey Mason Jr. and Ben Maddahi
On Thursday, October 7th, Creative Community For Peace (CCFP) held its third annual "Celebrating Ambassadors Of Peace" (AOP) event in Beverly Hills.
This year's honorees were: Harvey Mason jr., (CEO of the Recording Academy/Grammys); Diane Warren (Grammy Award Winning & 12 Time Oscar Nominated Songwriter); Afo Verde (Chairman & CEO Latin America, Spain, and Portugal at Sony Music); Ben Maddahi (Senior VP of A&R at Columbia Records & President of Unrestricted); Tracy Szymanski (President of Co-Star Entertainment); and Austin Rosen (Founder/CEO Electric Feel Entertainment).
Previous Ambassadors of Peace honorees have included: Scooter Braun (Founder, SB Projects); Aaron Bay-Schuck (CEO/Co-Chairman Warner Records); Jacqueline Saturn (President, Virgin Music); Troy Carter (Founder of Q&A and Atom Factory); Walter Kolm (former President of Universal Music Latino and now manages Maluma, Carlos Vives, and Wisin amongst others); Neil Jacobson (Former President, Geffen Records, Founder of Hallwood Media); and special artist honoree, Ziggy Marley (GRAMMY Award-winning artist).
The 2021 honorees were chosen for their commitment to using their platforms to unite people and effect positive change in the world, and to advance CCFP's central belief that the arts and entertainment are a powerful force for building cultural bridges.
Among the many industry professionals attending the CCFP Event were: Artist 24kGoldn, Director Jonathan Jakubowicz, Comedian Elon Gold, Actor Navid Negahban, Singer Mario Domm, Singer Ally Brooke, Artist Draco Rosa, Jazz Artist Dave Koz, Artists Static and Ben El, Songwriter and Producer Omer Fedi, Songwriter and Producer Jimmy Jam, Artist Deborah Cox, Rock Mafia Songwriter and Producer Antonina Armato, CEO of Saban Music Group Gustavo Lopez, Global Vice President of A&R for Warner Music Group Aton Ben-Horin, Recording Academy Co-President Valeisha Butterfield Jones, Co-CEO The Revels Group Jamil Davis, Songwriter Sean Douglas, Artist iann dior, President of Raised In Space Zach Katz, CEO/Co-Chairman Warner Records Aaron Bay-Schuck; President of Virgin Records Jacqueline Saturn, CCO of Atlantic Records Julie Greenwald, and Artist Clinton Kane amongst many others.
Presenting tribute videos for the honorees were: Artist Post Malone, Colombian Recording Artist Maluma, Legendary Label Executive Clive Davis, Artist Gloria Estefan, Artist Belinda Carlisle, Artist Charlie Wilson, Artist Diego Torres, Band Penatonix, Band Air Supply, Artist and Actress Olivia Newton-John, Artist Michael Bolton, Artist Craig David, Latin Artist Chayanne, R&B Artist Deniece Williams, Joey Fatone, Band Human Nature, and Producer DJ Khaled.
"CCFP harnesses the power of music, art and culture to build bridges of peace," veteran music publishing executive and CCFP co-founder David Renzer said, "Now, perhaps more than ever, we need music to inspire the best in humanity. The arts allow us to humanize one another."
Director of CCFP, Ari Ingel spoke about the urgent need to combat hatred and intolerance "There are more people than ever spreading misinformation and outright lies…events like this encourage an open discussion of the issues, and how we can use our voices to effect positive change."
Honoree Harvey Mason jr., spoke about the power of music to unite people at a particularly polarizing time, saying, "My goal is to be productive, make things better rather than dividing and separating us from one another. The power of music can unite us in a time where it's most needed."
The honorees spoke about how music brings communities together, Ben Maddahi, having grown up as an Iranian-American Jew in Los Angeles with many Muslim and Jewish friends said that "Music has the power to heal, to unite people and eliminate divisiveness. The music industry and CCFP do the critical work to sponsor peace and understanding…my mission has always been to make records that uplift and unite people, and have a positive impact."
Honoree Diane Warren mentioned the rise in antisemitism, and why CCFP's work is so important at this moment, "Anti-Semitism always seems to rear its ugly head, and it seems more prevalent than ever…It's really all about using our voices for peace."
Afo Verde reflected on his recognition by CCFP, "It's a real honor for me to be an Ambassador of Peace from a great organization that was created with that focus, peace. It's not a simple thing these days."
AOP Honoree Austin Rosen, who is opening a recording studio for in Tel Aviv, promised his acts (such as iann dior who was in attendance) would perform there and added, "Both my personal and professional values align with CCFP. We're all like-minded creatives hoping to bridge divides. It's important to use your voice, particularly one in entertainment, to unite people around the world."
While honoree Traci Szymanski urged entertainers and fellow entertainment industry professionals to use their influence and speak out against rising antisemitism.
The evening concluded with live performances by Deborah Cox and Clinton Kane.