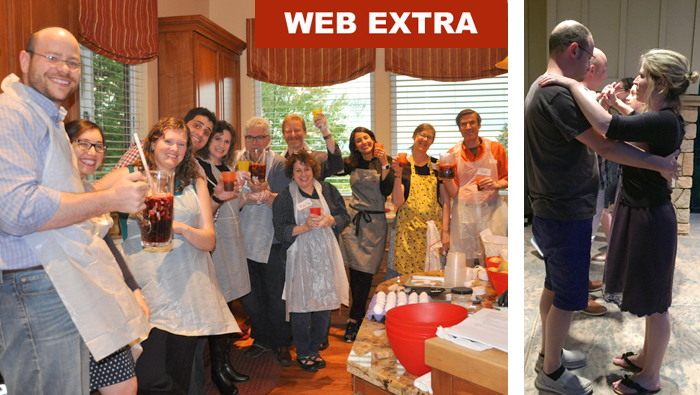 Food, fun and friendship were on the menu at Cooking "Salsa" – Kosher in PDX on June 2 and 5.
Venezuelan Chef Karen Balbas provided step-by-step instructions and tastings of sangria, datiles con marconas, tortillas espanolas, empanadas gallegas, and churros y chocolate. Salsa dance lessons followed the cooking lesson both days.
Held in a private home, Portland Jewish Events and theJODOXgroup presented the hands on cooking courses, with both sessions hitting the cap of 20 registrants. The June 2 class was for couples and the June 5 class drew six couples and eight women. Following the Sunday cooking class, the group split into two sections with the couples dancing in one area and a dance lesson for the women elsewhere
As a volunteer Jodi Berris has been organizing events for young adults in Portland and modern Orthodox Shabbatons in a variety of locations for nearly a decade. In 2008, she launched Portland's original Moishe House, where young adult residents create Jewish experiences for themselves and their peers. Through her Portland Jewish Events website she has offered hundreds of activities and gatherings for the local Jewish community from teens through masters (40+).
She met Karen while planning a Modern Orthodox Shabbaton a few months ago, and as a chef and graduate of Oregon Culinary Institute, Karen was eager to learn the ins and outs of kosher cooking. She and Jodi plan future collaborations.
While Karen provided recipes for four dishes, she said that the Sangria and empanada recipes were adaptable. "The best thing to use is fresh seasonal ingredients," she said. For instance, she suggested replacing the apples in the sangria with fresh Oregon strawberries.
One couple who moved from Israel to Portland last fall found a budding friendship with another couple at the June 2 event for couples only. "My husband (Ari) is Venezuealan," says Emily Silverman. "We met dancing salsa, we love cooking and we have been looking for people with similar interests. When we saw the ad for Jewish cooking and salsa dancing for couples, it was a sign we had to go. … We're bonding with Leah and Joey Katz."
Leah said, "A big reason we came (to the class) was to meet other young people in the community. … I hope to stay in touch with Emily."
Joey said he has known Jodi about 10 years and always enjoys her events.
"Jodi is starting a new business (theJODOXgroup), since there's not so many kosher food and Orthodox social activities in Portland," said Joey, adding he hopes to see more of Jodi's events spicing up the social scene.