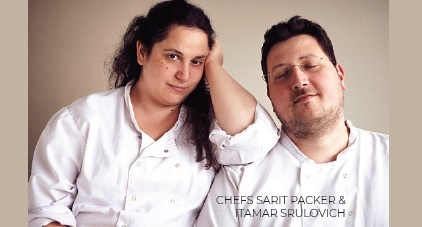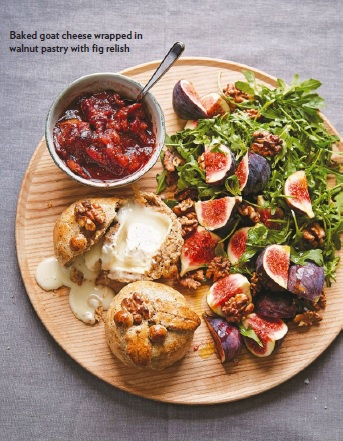 By Mala Blomquist & Deborah Moon
The Israeli husband and wife duo of Chefs Sarit Packer and Itamar Srulovich own two restaurants and a deli in London. Their first restaurant Honey & Co. opened seven years ago in
Fitzrovia, in central London. It is a small, homey place serving Middle Eastern food for breakfast, lunch and dinner.
Their second location features a deli and food store called Honey & Spice, which opened in the summer of 2016. Located across the street from their original site, it offers a selection of take-away foods, pastries, homemade jams and spice mixes, as well as all the essential Middle Eastern produce and a variety of housewares. Their third restaurant Honey & Smoke, is a large Middle Eastern grill in the same neighborhood.
The couple also has published three cookbooks: Honey & Co.: The Cookbook, Golden: Sweet & Savory Baked Delights from the Ovens of London's Honey & Co. and Honey & Co: At Home, due out in the United States this July. They also host a podcast "Honey & Co: The Food Talks" and write a weekly food and recipe column in the Financial Times magazine, FT Weekend.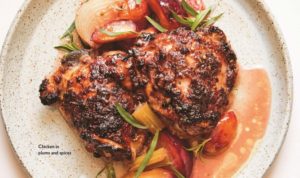 As far as signature dishes go, they both agree, "We make a great plate of falafel and tahini, lamb shawarma, chicken cooked in pomegranate, lamb kofta … but the dish we are most famous for is our cheesecake, which is made with honey and feta and is served on kadaif pastry."
 Although they both started cooking as children, their paths to becoming chefs evolved a little differently. "I started cooking for small events for friends and family from around the age of 18 and at 21 (after the army service) moved to London to study at a chef (culinary) school, then went into fine dining restaurants and have been cooking ever since," says Sarit.
Itamar states, "I kind of fell into the profession, joined a kitchen in the holiday town of Eilat when I was a teenager. After the army, I joined Orna and Ella, which was a Tel Aviv institution, and basically learned on the job."
After culinary school and working at a Michelin-star restaurant, Sarit returned to Israel where she met and married Itamar. The couple moved to London 15 years ago, but the influence of living in Israel is still apparent in their use of fresh fruit, vegetables and herbs. "Israel as a new country is still exploring its cuisine. It's still changing and evolving, which allows us the freedom to play with dishes and change them according to what we think is suitable rather than what is traditional. For example, we cook our stuffed vine leaves with plenty of fresh grapes, it gives them a sweetness and richness, but it is also very controversial for traditional cooks from the region."
Jewish tradition also influences items their menus. They serve chocolate and cinnamon babka, and holiday specialties like honey cakes, sufganiyot and hamantaschen. They don't serve pork dishes in their restaurants (also because it is not acceptable in the Muslim faith).
When asked what inspires their cooking today, their passion is evident in their reply. "Everything! We love food, and we still love cooking even after more than 20 years. We love Japanese food and ethnic cooking and always find that inspiring. It is always great to meet a new producer or a grower who is doing something spectacular."