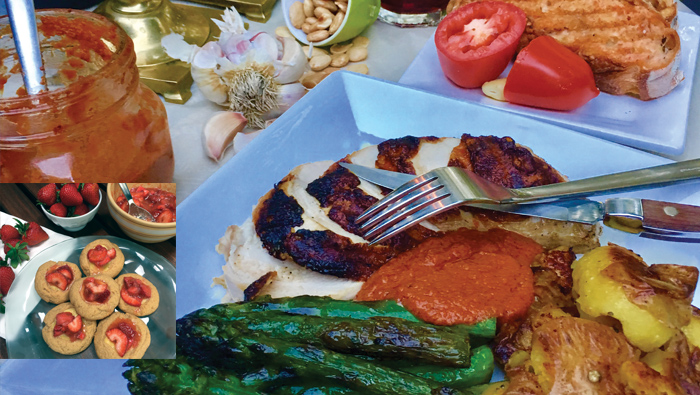 As a columnist, my deadline runs about a month before this magazine goes to print. As I begin to pen this article about the warm days of summer, I am sitting in front of my computer wearing a fleecy sweatshirt and sweat pants with a comfy blanket wrapped around my legs. It's a damp and chilly Tuesday, and the weather forecast for the rest of the week is rain. Rain, rain and MORE rain.
I am an Oregonian. I can handle the rain. I am therefore, by nature, accustomed to the rainy months of April and May. I am equipped with several pairs of waterproof shoes, one compulsory umbrella (mostly for special occasions or out-of-state guests) and a few hooded raincoats. I always prepare for the baseball game to be a washout and the backyard party to be spontaneously moved indoors during Oregon's springs.
As you are reading this, I trust those days are well behind us. I have faith that the warm sun will soon reveal itself (for more than an hour or two between incessant rain showers), and before long we will be enjoying what promises to be yet another spectacular Oregon summer.
The Pacific Northwest has the uncanny ability to soak up all that spring rain and turn it into magnificent roses, glorious grapes and succulent strawberries. Downtown Portland's grand elms line the park blocks where the farmer's markets will boast a bounty of produce and products made and grown in our own backyard. There are weekly concerts at the zoo.  First Thursday art fairs, and food and wine festivals spring up all over town. Restaurants move tables and chairs outside for al fresco diners to enjoy warm evenings with a pint from our endless list of Oregon-inspired microbrews.
In less than a 90-minute car ride from Portland, one can sample award-winning pinot noir in Yamhill County, enjoy fish and chips with a Pacific Ocean view at Mo's in Lincoln City or camp under the stars at Timothy Lake below the majestic Mount Hood. With such an embarrassment of riches, why would we ever need to seek a vacation anywhere else?
During the summer, Oregon gives us many more reasons to stay than leave. I've lived here long enough to know that soon I'll be able to put away those sweatshirts and raincoats. Oregon may own its reputation for an abundance of "liquid sunshine," but during the summer I'm happy to stay right here and enjoy the real thing!
Romesco Sauce
Firing up the outdoor grill is a daily occurrence during an Oregon summer. This romesco sauce adds exciting Spanish flair to any simply grilled meat, fish, chicken or veggies.
4 dried ancho chilies
2 cups boiling-hot water
1 large red onion, halved and thinly sliced
3 garlic cloves, peeled
1 tablespoon olive oil
⅓ cup Marcona almonds (raw, about 2 ounces)
1 cup bread cubes from Italian or French loaf
4 bottled piquillo peppers
1 teaspoon Spanish paprika
¼ cup Sherry vinegar
½ cup extra-virgin olive oil
⅛ teaspoon salt
Cover chilies with boiling water and soak until softened, about 30 minutes. Preheat oven to 400°F. While chilies soak, toss onion and garlic with 1 tablespoon olive oil in a medium bowl, then spread out evenly on a baking sheet. Roast until golden, 15 to 20 minutes. Stir in almonds and bread cubes and roast until almonds and bread are golden, about 10 minutes more. Drain soaked chilies over a small bowl and reserve soaking water. Discard stems and seeds. Use a food processor to blend soaked chilies, roasted bread mixture, piquillo peppers, paprika, vinegar, extra-virgin olive oil and salt until smooth, adding reserved chili water, 1 tablespoon at a time, to thin to desired consistency.
Oregon Strawberry Cheesecake Cookies
1¼ cups crushed graham crackers (about one sleeve)
1 cup all-purpose flour
1½ teaspoons baking powder
1½ sticks (12 tablespoons) unsalted butter, softened
½ cup packed light brown sugar
1 egg, separated
4 ounces cream cheese, softened
1/4 cup granulated sugar
½ teaspoon vanilla extract
2 cups sliced strawberries (Oregon grown)
Sugar to taste (if even necessary)
Preheat the oven to 350°F. Line baking sheets with parchment paper or silicone baking mats. In a large bowl, whisk together the graham cracker crumbs, flour and baking powder.
In a medium bowl, with an electric mixer, beat together the butter and brown sugar until light and fluffy, about 2 minutes. Add the egg white and beat until well combined. Stir graham cracker mixture into butter mixture until just combined. In another medium bowl, beat together the cream cheese and granulated sugar until combined. Add in egg yolk and vanilla and mix until smooth.
Using a medium cookie scoop (about 2 tablespoons), scoop out the cookie dough and place on prepared baking sheets. Flatten slightly, pressing your thumb or a round measuring teaspoon into the center of the ball to create a small bowl shape. Repeat with the remaining dough. Spoon or pipe the cream cheese mixture into the indents of the cookies.
Bake in preheated oven for 12 minutes or until the filling is barely set and the cookies are lightly golden.
Allow to cool 5 minutes on the baking sheets before removing them and cooling completely on a wire rack. Spoon sliced strawberries on top just before serving.
Lisa Glickman is a private chef and teacher who lives in Portland. She has made
TV appearances on COTV in Central Oregon and appeared on the Cooking Channel's
"The Perfect Three." She can be reached at lisa@lisaglickman.com.