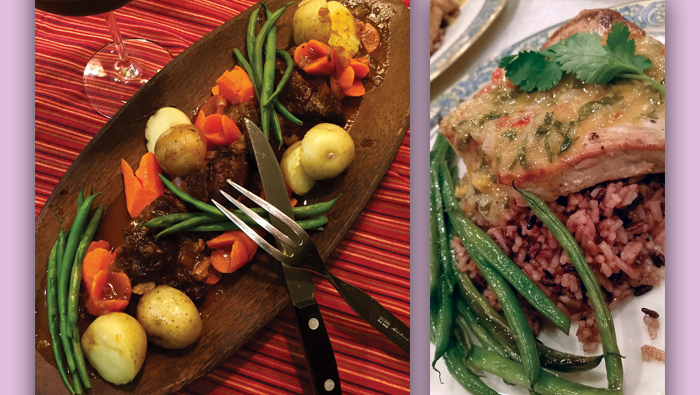 Before I was paid to cook, my occupation had absolutely nothing to do with food. To make food my profession, I spent several years watching and learning from some highly regarded chefs and professionals, who taught me plenty. Occasionally, I lament that I should have enrolled in an accredited culinary program, graduated with honors and perhaps spent a summer abroad studying culinary arts at the hands of a master chef in a Michelin-starred restaurant. Shoulda, woulda, coulda … at the end of the day, I am doing what I love.
Surprisingly, some of the world's most famous chefs never attended culinary school. The Barefoot Contessa, Ina Garten, made a career as a White House staff member before she purchased the small food boutique with the aforementioned name in Westhampton Beach, NY. At that time she had virtually no restaurant or catering experience. She cultivated her culinary abilities by studying the volumes of Julia Child's seminal cookbook, Mastering the Art of French Cooking. After relocation and expansion of her specialty store, she cashed in on her wild success and went on to become one of our most beloved and well-known TV chefs and cookbook authors.
Any foodie's bucket list likely has a visit to Napa Valley's French Laundry near the top. Executive Chef Thomas Keller sets the standard in his Michelin 3-star magnet for culinary enthusiasts and budding young chefs. Keller is completely self-taught. He learned his trade working as a prep cook and apprenticing at various Michelin-starred restaurants in New York and Paris.
My dear friend, Joe Kim, executive chef and part owner of Five Fusion and Sushi Bar in Bend, creates some of the most beautiful and inventive food imaginable. Despite no culinary school diploma, he has earned two well-deserved "Best Chef in the West" James Beard nominations. Chef Kim learned his trade from his restaurateur father in San Francisco and apprenticing in the kitchens of Thomas Keller and his protégé, Grant Achatz. Chef Achatz, a Culinary Institute of America graduate, is considered a master of molecular gastronomy, which was invented and made famous by Chef Ferran Adrià of Spain's world-renowned (sadly now defunct) Michelin 3-star restaurant El Bulli. Adria, the maestro, also never attended culinary school.
Professional bakers and pastry chefs have culinary school backgrounds, yet the art of combining flour, yeast, sugar and eggs into spectacular works of delectable art is a God-given talent. Some of the best in the business learned at their grandmother's knee, not Johnson and Wales.
It is never too late to do what you love. It may not require years of school, but it will require practice and persistence. Cooking is a practice, just like yoga, constantly reaching and stretching to become better. For some it's instinct, for others trial and error. Start at the beginning; learn the basics and the sky is the limit!
Chef Julia Child didn't attend culinary school until age 50, and by all accounts it was far from easy for her. This is an adaptation of her Boeuf Bourguignon, one of her most famous recipes. It demonstrates the classic braise. When made a day in advance, it only gets better.
The method of using a searing hot pan to sauté protein, and then using the same pan to create the sauce is the basic way to create many quick and delicious recipes. This one involves marinating the fish, searing it and then developing an exciting sauce with yellow miso paste, ginger and a touch of orange.
Boeuf Bourguignon
2-3 tablespoons olive oil
3- to 4-pound boneless chuck roast, trimmed of major fat and cut into tennis ball-sized chunks
Kosher salt
Freshly ground pepper
1 large onion, coarsely chopped
2 large carrots, peeled and coarsely chopped
3 large cloves garlic, coarsely chopped
3-4 sprigs fresh thyme
2 bay leaves
1 tablespoon tomato paste
2 tablespoons all-purpose flour
3 cups Burgundy-style red wine, Pinot Noir or Cotes du Rhone
2-3 cups beef stock
For serving:
1 pound small new potatoes
2-3 large carrots
Heat olive oil in a large Dutch oven. Use a paper towel to dab any moisture from meat. Generously season meat with salt and pepper. Brown meat on all sides in batches so that pan is not crowded and set aside. Preheat oven to 325º. Add onion to pan and scrape up any browned bits. Cook onion until translucent, 3-5 minutes. Add chopped carrots, garlic, thyme, bay leaves and tomato paste. Toss to coat in oil. Add flour to pan and allow to cook for 1-2 minutes. Add wine to pan and bring to boil. Allow wine to reduce slightly for 3-5 minutes. Return beef to pan and add beef stock. Liquid should almost cover meat, but not quite. Add more liquid if necessary. Bring liquid to a boil. Turn off heat, cover and place in oven for 2 to 2½ hours until meat is very tender.
While meat is cooking, prepare carrots and potatoes. Fill a medium pan with cold water and season with salt. Wash potatoes and cut in half. Slice carrots into 2-inch diagonal slices (or flower design, see picture). Add vegetables to water and cook over high heat. When water boils, reduce heat and simmer until vegetables are very tender. Remove beef from oven and uncover pan. Use a slotted spoon to remove meat from pan. Carefully strain the braising liquid into another pan; push on solids with the back of a large spoon. Discard solids. Place beef back in pan with strained sauce along with cooked carrots and potatoes.
Seared Tuna with Miso Ginger Cilantro Sauce
6 5-ounce tuna steaks, about 1-1¼ inch thick
2 tablespoons fresh lemon juice
2 tablespoons sesame oil
2 tablespoons soy sauce
½ teaspoon white pepper
1 tablespoon vegetable or peanut oil
Whisk lemon juice, sesame oil, soy sauce and pepper in a shallow dish. Add tuna steaks and turn to coat. Cover and refrigerate for 1 to 2 hours.
Ginger Miso Cilantro Sauce
2 teaspoons sesame oil
½ cup chopped shallot
1 tablespoon minced, peeled fresh ginger
1 cup low-salt chicken broth
Juice and grated rind of 1 large orange
3 tablespoons rice vinegar
2 tablespoons yellow miso paste
2 tablespoons fresh chopped cilantro
Whisk sauce ingredients together in a small bowl and set aside.
Heat a large nonstick skillet to high. Remove tuna from marinade and blot excess marinade from fish. Quickly sear fish  in vegetable or peanut oil to desired doneness (I like mine medium rare) on both sides and set aside to keep warm. Turn pan to medium high heat and add sauce ingredients. Allow sauce to reduce by a third. Plate fish and spoon sauce over. Garnish with additional cilantro and serve immediately.