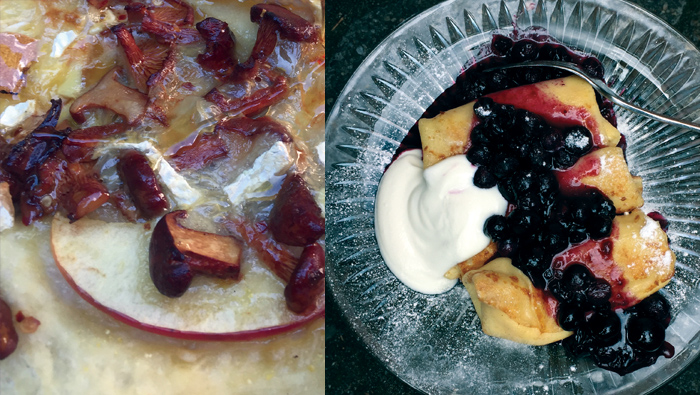 As summer draws to a close and we approach the holiest week of the year, it's time again to reflect on the blessings we have received. Our summer included settling in to a new home, outdoor concerts, major league baseball games, Fourth of July fireworks and toasting s'mores. My husband and I logged countless miles in the car shuttling our 15-year-old son, Laz, almost daily to baseball games, football workouts, ski training and piano lessons. Laz will begin his final two years of high school this fall, and I am tremendously proud of the young man he has become.
As we celebrate the New Year on Rosh Hashanah, we recognize that we have much to be grateful for. Ten days later on Yom Kippur, we will be called to ask for forgiveness from others and for ourselves. We make an effort to scrutinize who we are, who we wish to be, how others see us and how we would like to see ourselves. These are deep thoughts for most grown-ups, let alone a teenager on the verge of becoming a man. It does, however, create a great teaching opportunity.
Our world has become a pretty scary place. It seems every other day we are forced to witness another human calamity resulting in the loss of precious lives. Colliding opinions have led to demonstrations of anger and hostility, dividing us into a country of red and blue, black and white, and, most disturbingly, good and evil. The upcoming election of a new president has turned political opinions into judgments of character instead of a vote for the candidate who champions an issue. These are all hard things for our young people to absorb. As his mom, it is my job to feed him, clothe him, keep him safe and help him navigate his journey into becoming the man he wants to be.
On this Day of Atonement my hope for him is to reach a little deeper into his heart and hear the meaning of Yom Kippur. I hope he strives to take responsibility for his actions and realize how they reflect on his character. These are lofty goals to expect from a teenager who spends most of his time preoccupied with Snapchat, sports scores and his reflection in the mirror! I'm pretty certain that I am not the only parent of a teenager who can make this same observation! He is the best part of this family and I love him.
My hope for this family, and yours, is a safe, happy and healthy New Year, a comfortable fast, and, best of all, a joyful and abundant break fast! L'shana Tovah.
Apple, Brie and Chanterelle Mushroom Pizza with White Truffle Honey
Apples and honey are the theme for this tasty Rosh Hashanah-inspired pizza. Truffle honey can be found in some specialty stores or ordered online. It adds an amazing earthy flavor and highlights the seasonal chanterelle mushrooms.
Pizza Dough:
1 teaspoon active dry yeast
2 teaspoons sugar
1 tablespoon extra virgin olive oil, plus a bit more for coating
2/3 cup warm water (105-110º)
1½ cups all-purpose flour
1 teaspoon kosher salt
Dissolve yeast, sugar and oil in warm water in the bowl of a stand mixer. Cover bowl and set in a warm place and allow mixture to bloom for about 20 minutes to become foamy. Place bowl on mixer stand and use the paddle attachment. Add flour and salt and mix on slow speed for two to three minutes until smooth dough develops. Gather dough into a ball and place in another bowl. Coat dough with a bit more olive oil, cover and allow to double in size (about 1½ to 2 hours). Punch down dough. (The dough can be used now or stored in the refrigerator for up to 24 hours)
Pizza Toppings:
6-8 ounces chanterelle mushrooms, cleaned and sliced
5 tablespoons extra-virgin olive oil (divided)
Pinch of salt
½ teaspoon red chili flakes
2 tablespoons white or yellow cornmeal
1 Granny Smith apple, cored and sliced very thin
6 ounces Brie cheese cut into bite-sized hunks
1-2 tablespoons white truffle honey
Preheat oven to 450º. Sauté sliced mushrooms in 2 tablespoons olive oil, salt and red chili flakes until most of the liquid has evaporated; set aside. Place dough on a lightly floured surface and stretch and form your pizza shape. Place dough on a baking sheet dusted with the cornmeal. Brush remaining olive oil all over the surface of the dough. Scatter sliced apple, Brie and mushrooms evenly onto the dough. Bake pizza until edges are golden and cheese is melted and bubbly. Remove from oven and drizzle with honey.
Blueberry Blintzes
After a long fast it is customary to feature dairy in the break-the-fast meal. Blintzes are a favorite in my family and a perfect way to use that bumper crop of blueberries you were smart enough to freeze in late July! And most of the prep can be done ahead of time.
Crepe Batter:
1 cup milk
¼ cup cold water
2 eggs
1 cup all-purpose flour
Pinch salt
1 tablespoon sugar
3 tablespoons unsalted butter, melted, plus
more for sautéing the crepes
Cheese Filling:
1½ cups ricotta cheese
4 ounces cream cheese
3 tablespoons confectioners' sugar
1 teaspoon grated lemon zest
1 egg
Blueberry Sauce:
2 pints blueberries
2 tablespoons butter
¾ cup sugar
1 teaspoon cornstarch
Melted unsalted butter, for sautéing blintzes
Confectioners' sugar, for dusting
Combine milk, water and eggs in a blender. Mix to combine. Add flour, salt and sugar. Mix to combine. Add melted butter and mix a few seconds more. Set batter aside for about an hour to rest. Meanwhile, using a hand mixer, mix together ingredients for cheese filling. Set in refrigerator to chill. Next, place berries, butter, sugar and cornstarch in a medium saucepan over medium high heat. Stir berries, sugar and cornstarch to combine and bring mixture to a boil and cook for 3-5 minutes. Remove from heat and set aside.
Heat an 8-inch nonstick skillet to medium high. Pour about ¼ cup of the crepe batter into the skillet and swirl skillet to create a thin pancake. When edges begin to brown, flip crepe and cook for about one minute more. Remove crepes to a baking sheet and let cool. When all crepes are finished, begin to fill with cheese filling. Place about ¼ cup of filling in the middle of each crepe and fold bottom edge toward the middle. Fold in sides of crepe and roll like a burrito toward the top. Set blintzes on another baking sheet lined with parchment paper. (At this point, blintzes can be refrigerated or frozen until ready to continue).
To serve, sauté blintzes in a small amount of butter until lightly browned on both sides. Place in ovenproof serving dish and keep warm in a 300º oven until all blintzes are sautéed. Serve hot blintzes with blueberry sauce and a dusting of confectioners' sugar.
Lisa Glickman is a private chef and teacher who lives in Portland. She has made TV appearances on COTV in Central Oregon and appeared on the Cooking Channel's "The Perfect Three." She can be reached at lisa@lisaglickman.com.