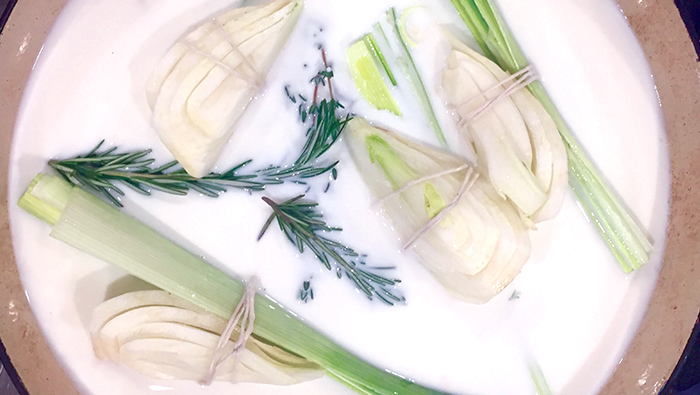 As we enter into a new calendar year we instinctively feel that it is time again for us to make a mental list of New Year's resolutions. Unfortunately, we may spend only a couple of months adhering to them.
It's funny to me that the ringing in of the New Year seems to give some of us the notion that we can magically let go of habits that may not serve us. Some vow to lose that handful of extra pounds and take better care of their health. Others pledge to participate in a cause that is important to them. We generally promise that come January 1st, this year will be different.
The one thing we can all agree on is that this year will, in fact, be different. We must face the reality that change will happen. None of us has control over everything that goes on around us. We do, however, have control over how we choose to react to it.
With age comes the wisdom that there is more than one way to look at things. Opinions will always vary.
In the kitchen, some people insist there is only one way to prepare a dish. But unlike baking, which has pretty much hard and fast rules to achieve reliable results, cookery can adapt according to many variables. If a certain item is not available, we substitute with another that we have on hand. Some of the best recipes have come about because of mistakes made in a recipe or dislike of a listed ingredient. For example, my family hates celery. I don't mind celery. In fact, I really like celery. Celery is a common and necessary component in the mirepoix of almost any soup, stew or braise. As a compromise, I substitute fennel for the celery in many of my recipes, and often find I can tolerate the result. I may find that I like it even better.
There is always more than one way to look at things – in life and in the kitchen. Just because it has never been done that way before doesn't necessarily mean it will turn out a disaster. And if it does, we can always look forward to the opportunity to try again to get it right. I believe we all just need to keep trying. That's what resolutions are for. Happy New Year!
Poached Halibut with Leeks and Fennel Served with Crispy Fingerling Potatoes and Sauce Gribiche  Serves 4
One may look at this recipe and think that it sounds very strange. Whole milk has a very high fat content and absorbs the flavor of the herbs and garlic even better than water or stock. I use it here not only as the poaching liquid, but also added to the bowl as a wonderful finishing sauce.
1 pound halibut (or cod) fillet, skin and bones removed and cut into 4 portions
6 cups whole milk
1 sprig fresh rosemary
2 large cloves garlic, smashed
3 sprigs fresh thyme
1 bay leaf
½ teaspoon kosher salt
A few grinds of pepper
2 large leeks, white and light green part only
1 large bulb of fresh fennel
1 pound fingerling potatoes cut in half lengthwise and boiled in salted water until just tender
¼ cup olive oil
Add milk, rosemary, garlic, thyme, bay leaf, salt and pepper to a large pan with straight sides. Turn heat to medium high and allow milk to just come to a boil. Reduce heat to low. Cut leeks lengthwise into 4 pieces and rinse well under running water. Cut the fennel vertically into four pieces and trim center core out of each piece. Bundle a piece of fennel and a piece of leek together and tie with kitchen string. Place bundles into simmering milk, cover pan and allow to braise for 30 to 40 minutes until very soft. Carefully remove bundles from milk to a plate. Cover and keep warm. Add fish to simmering milk; cover and cook for about 10-15 minutes. Meanwhile, heat another large saute pan to medium high and add olive oil to completely cover bottom. When hot, lay fingerling potatoes cut side down and allow to fry until nicely browned. Season potatoes with salt and pepper. Carefully place fish into individual bowls. Remove string from bundles and tuck a piece of leek and fennel alongside each piece of fish. Ladle with a bit of the still hot milk, avoiding the herbs and garlic. Top each piece of fish with sauce gribiche and serve with the crispy fingerlings.
Sauce Gribiche
Sauce gribiche is a classic French-style tarter type sauce that is delicious with hot or cold fish, chicken or vegetables.
1 hard-boiled egg, finely chopped
4 cornichons, finely chopped
1 tablespoon capers, finely chopped
1 sprig flat leaf parsley
2 tablespoons flavorless oil such as grapeseed or canola
1 tablespoon red wine vinegar
Salt and pepper to taste
In a small bowl add the chopped egg, cornichon, capers and parsley. Mix well. Fold in the oil and vinegar and season with salt and pepper.
Lisa Glickman is a private chef and teacher who lives in Portland. She has made TV appearances on COTV in Central Oregon and appeared on the Cooking Channel's "The Perfect Three." She can be reached at lisa@lisaglickman.com.