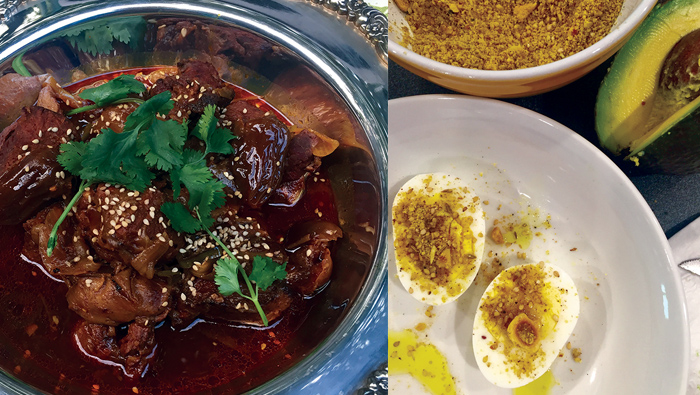 Ginger and garlic crushed into a fine paste are used liberally in main dishes of China, Thailand and India. Garlic contains high levels of vitamin C and is great for boosting the immune system. Fresh ginger has beneficial anti-inflammatory properties and is often recommended for nausea. Spicy peppers like cayenne, habanero and serrano chilies are integral to many styles of cookery from central Mexico to Jamaica. Chilies contain high amounts of capsaicin, which has been shown to increase circulation and even contribute to weight loss. The everyday black peppercorn used to be one of the most sought after and expensive spices during the spice trade era. Is has been proven to lower blood lipids and inhibit cholesterol absorption.
Cumin, coriander and turmeric are familiar ingredients used in foods from the Middle East, Egypt and Morocco. Cumin has been said to aid in digestion and has been shown recently to have antibacterial qualities. Coriander, the small round seed of the cilantro plant, contains carotenoids that have high levels of beta-carotene well known as a super antioxidant. Bright yellow turmeric, often claimed to be one of the world's healthiest foods, boasts large levels of curcumin, a substance with documented health benefits that include promoting a balanced mood and improved cognitive function.
Exploring cuisines of the world is a great excuse to add a whole lot of spice to your life. It's an opportunity to bump up the flavor and boost your health – all at the same time!
Lamb Tagine with Honey and Dates
A recent birthday party's theme was "A Romantic Night in Morocco." This lamb tagine was served as one of the main courses. The meat marinates overnight in the spices, so plan ahead to make this dish that takes you straight to Casablanca!
4 pounds boneless leg of lamb, trimmed and cut into golf-ball size pieces
Kosher salt and freshly ground black pepper
6 cloves garlic, minced
1 tablespoon grated fresh ginger
1 tablespoon paprika
2 teaspoons ground cumin
2 tablespoons margarine or olive oil
1 large onion, sliced, about 2 cups
1 serrano chili, sliced thinly with seeds
1 tablespoon tomato paste
1 2-inch piece of cinnamon stick
2 teaspoons dried ginger
1 teaspoon ground turmeric
¼ cup honey
1½ cups pitted whole dates
Fresh cilantro sprigs and sesame seeds for garnish
Season lamb generously with salt and pepper. In a large bowl, combine garlic, fresh ginger, paprika and cumin to form a paste. Add meat and coat with paste. Cover and refrigerate overnight. Return meat to room temperature before proceeding. In a Dutch oven (or an Indian tagine if you are lucky enough to have one) melt margarine over medium high heat. Add onion and sliced serrano pepper and sprinkle with salt. Cook for 5 minutes until softened. Stir in tomato paste and cook one minute. Add seasoned meat and cook until meat and onions are lightly browned, about 10 minutes. Heat oven to 325º. Add cinnamon stick, dried ginger, turmeric and honey along with enough water to submerge the meat. Bring to a boil. Cover and place in oven. Cook for 1½ to 2 hours until meat is very tender. Remove dish from oven and add pitted dates. Cover pot and allow dates to soften for about 30 minutes. Garnish with fresh cilantro and sesame seeds and serve with basmati rice.
Egyptian Dukkah
The first time I tasted this addictive blend of spices and nuts was at the Kokanee Café in Camp Sherman. The chef serves this as you arrive with crusty bread and olive oil for dipping. I discovered that it is also perfect to sprinkle on a hard-boiled egg, add to mayonnaise for a flavorful spread or dip, or add spice to simply grilled meat or fish.
1 cup hazelnuts, roasted, peeled and finely chopped
½ cup sesame seeds
2 tablespoons whole cumin seeds
2 tablespoons whole coriander seeds
1 teaspoon kosher salt
1 tablespoon ground black pepper
½ teaspoon ground turmeric
Pinch of brown sugar (optional, but I like just a touch of sweet)
Place hazelnuts in a bowl. In a dry sauté pan, toast sesame seeds until fragrant and add to nuts. In the same pan, toast cumin and coriander until seeds just begin to pop. Coarsely grind in spice mill and add to nut mixture. Add salt, pepper, turmeric and sugar if using. Store in airtight container for up to a week.
Lisa Glickman is a private chef and teacher who lives in Portland. She has made TV appearances on COTV
in Central Oregon and appeared on the Cooking Channel's "The Perfect Three."
She can be reached at lisa@lisaglickman.com.