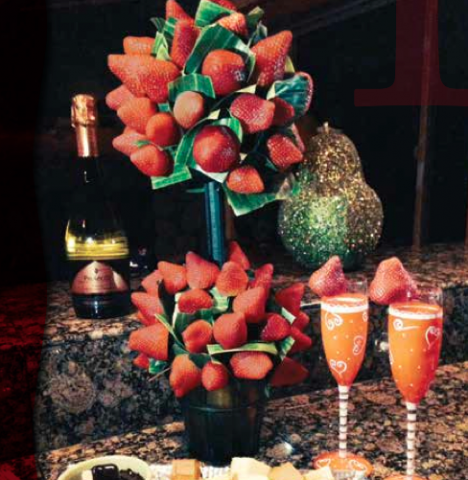 Your wedding day is a day you remember for a lifetime. This spring, my husband and I will celebrate our 20th anniversary. We were married in sunny Palm Springs, CA, at a beautiful French restaurant that still exists. We have returned many times over the last 20 years to celebrate our anniversary. Le Vallauris remains just as beautiful, and the food is just as delicious as it was that day almost 20 years ago.
Held outside in the courtyard adjacent to the restaurant, our wedding day was not without its fair share of snafus. Due to a mix-up by the airline, the rabbi arrived an hour late while our guests patiently waited in the late afternoon sun. My sister, the matron of honor, failed to remember my groom's ring back in the hotel safe and had to drive a 20-mile round-trip to retrieve it. A much more than gentle breeze threatened to topple the gardenia-laden chup- pah. Even with the hiccups, the day was perfect and we now look back on those not-so-ideal memories with laughter. Prior to the ceremony, our guests were offered beautiful hors d'oeuvres and champagne as the sun was setting. After the nuptials, we enjoyed a spectacular French- inspired meal followed by dancing well into the evening. The entire day was magical and most importantly, the food was exquisite.
Brides and grooms spend months finding just the right theme for their wedding. Color palettes are chosen, locations are scouted and menus are sampled to find just the right atmosphere for their special day. Brides and grooms also have a lot of celebrating to do for weeks leading up to the wedding day. Couples attend showers and engagement parties that all include plenty of great food. Menus should reflect the couple and celebrate their style and taste. A planned honeymoon to Mexico might inspire a rehearsal dinner of Mexican cuisine, margaritas and a mariachi band. An environmentally conscious couple might enjoy a farm-to-table theme for an engagement celebration. My nephew's wedding took place on the sand in Pacific City. The night before the wedding, we dined on casual local seafood and craft beers followed by a giant bon- fire on the beach. Helpful websites like oncewed. com, TheKnot.com and pinterest.com are full of great menu ideas for planning the perfect wed- ding to suit any couple's particular style.
Signature cocktails are also a great way to celebrate his and her style and taste. Large drink containers filled with sangria, fruit-permeated vodka or specialty cocktails make attractive fo- cal points on a buffet and allow guests to serve themselves.
This strawberry topiary makes a beautiful table centerpiece or adds a bright pop of color as part of a post-nuptial brunch. Your local craft store has everything you will need for creating this edible masterpiece. Rather than flowers that are discarded, this centerpiece is not only decorative, it also serves as a fresh, simple and tasty dessert served along with squares of buttery pound cake and a creamy chocolate fondue for dipping.
STRAWBERRY TOPIARY
Two 8-inch Styrofoam balls (preferably green)
Six 24-inch plant stakes secured together at end with flower tape
1 package banana leaves (see note)
4-5 pounds strawberries, rinsed and stems trimmed
Any attractive container that holds Styrofoam balls securely About 50-60 toothpicks
Place first Styrofoam ball in container. Secure plant stakes together with flower tape and push through first ball to reach to bottom of container. Place the second Styrofoam ball on top of stake to create topiary base. Remove banana leaves from package and lay flat. Cut about a 2-foot piece of leaf and gently glide both sides of leaf evenly over open flame on gas range. Continue to flip leaf until the leaf begins to blanch and turn from dusty green to shiny green on both sides. Cut leaf into 3-inch squares; discard the center stem and any frayed ends. Push a toothpick through each leaf and into a strawberry. Arrange strawberries on Styrofoam balls until both balls are completely covered with strawberries.
CHOCOLATE FONDUE
12 ounces of best-quality dark chocolate, roughly chopped
8 ounces heavy cream
Pinch of salt
1 tablespoon favorite liquor such as Kahlua, Grand Marnier or Frangelico (optional)
Place chocolate in a medium bowl. In a saucepan, heat heavy cream to boiling. Watch carefully so it doesn't boil over! Pour hot cream over chocolate and wait about a minute before stirring. Add liquor if using. Serve immediately or pour into flame- resistant bowl over a tea-light base to keep warm.