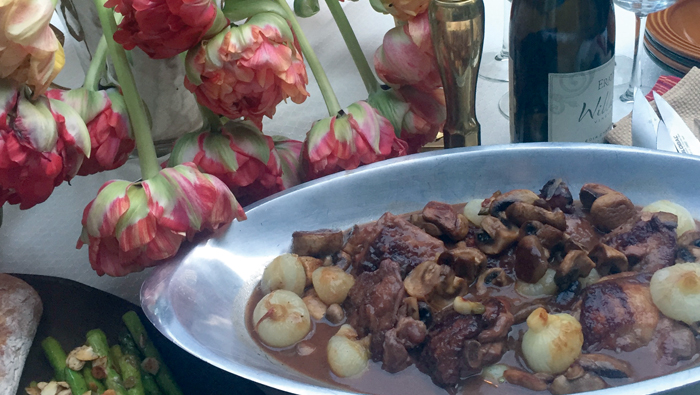 On a recent trip to the Oregon coast, my husband and I decided to explore a bit of the Oregon wine country along the way. We were surprised to discover that the once sleepy towns of McMinnville and Dundee have metamorphosed into a wine lover's paradise. It seemed as though there were signs pointing to wineries and tasting rooms on every corner.
The Oregon wine industry has come a long way since the early '60s. Oregon's wine country is now more than 100 miles long and spans 60 miles at its widest point. There are over 19,000 acres of grapes planted in our state, 14,000 of which are dedicated to the coveted pinot noir. There are 694 wineries from the Willamette Valley to Southern Oregon. Vineyards also stretch into the Umpqua and Rogue Valleys, the Columbia Gorge, and the Walla Walla and Snake River Valleys. With Oregon's ideal growing conditions, it's no surprise that recent studies say this number increases every year. It's no wonder Oregon has become world renowned for fine wine. Personally, I have enjoyed plenty!
A friend once gave me a plaque that reads: "I cook with wine … sometimes I even add it to the food." When wine is incorporated into a sauce or braise, it lends both sweetness and acidity along with all the delicious flavor nuances of any particular varietal. Chardonnay grapes produce bright flavors of lemon, melon, grass and vanilla, while pinot gris evokes orange and pear. Merlot has characteristics of black cherry, plum or chocolate, and Oregon pinot noir hints of roses, fruits, berries and currants. Added in small amounts or as the star of the dish as in this coq au vin, wine plays a large part in adding spectacular flavor.
The most difficult thing about making coq au vin is parting with an entire bottle of precious Oregon pinot noir just to create the dish. I buy a much less expensive bottle for braising and serve the finished dish with the best I can afford. In French "coq" is actually a rooster or a tough old bird that benefits greatly from a long, slow braise in wine and vegetables. I like to use chicken thighs and legs, only because breasts have a tendency to become dry. Traditional coq au vin calls for bacon in the recipe, but I have left it out. The chicken and vegetables marinate in the wine and herbs overnight, and the mushrooms and caramelized onions are added in the last few minutes of cooking. Plan ahead and serve this perfect-for-entertaining dish with wide egg noodles and plenty of crusty bread to sop up the sauce.
Oregon Coq au Vin
1 bottle plus one cup Oregon pinot noir
1 onion cut in ½-inch dice
2 carrots cut in ½-inch dice
2 celery ribs cut in ½-inch dice
4 whole cloves
1 tablespoon whole black peppercorns
1 bouquet garni*
4-6 chicken thighs, bone in
4-6 chicken legs, bone in
Kosher salt and freshly ground pepper
2 tablespoons olive oil
4 tablespoons margarine or chicken or duck fat
1 cup flour
½ pound white mushrooms
20 pearl or cipollini onions, blanched in boiling water then peeled
* Bouquet garni is a few sprigs of flat leaf parsley, a few sprigs of fresh thyme and a couple of bay leaves tied together with kitchen twine.
One day ahead:
Combine the bottle of pinot noir with the onion, carrots, celery, cloves, peppercorns and bouquet garni in a large, deep bowl. Add the chicken and submerge it in the liquid so that all of it is covered. Cover the bowl with plastic wrap and refrigerate overnight.
Day of:
Remove the chicken from the marinade and pat it dry. Put it aside. Strain the marinade through a fine strainer, reserving the liquids and solids separately.
Season the chicken with salt and pepper and dredge in flour. In a large Dutch oven, heat the oil and two tablespoons of the margarine or fat to medium high. Sear the chicken on all sides to brown the skin evenly. Once browned, remove it from the pot and set it aside again. Add the reserved onions, celery and carrots to the pan and cook over medium-high heat, stirring occasionally, until the vegetables are soft and golden brown, about 10 minutes. Stir in the reserved strained marinade. Put the chicken back in the pot along with the bouquet garni. Bring to a boil, turn to low and cook for about one and a half hours over low heat.
Sauté the mushrooms in a bit of margarine or fat until golden brown. Set aside.
In a medium saucepan, combine the pearl onions, two more tablespoons of margarine or fat, a pinch of sugar, a pinch of salt and enough water to just cover the onions. Cut a small round of parchment paper to fit inside the pan and place on top of the onions. Bring to a boil, reduce to a simmer and cook until the water has evaporated. Remove the paper cover and continue to cook until the onions are golden brown. Set the onions aside and add the remaining cup of pinot noir, scraping up all the brown bits on the bottom of the pan. Reduce by half over medium heat.
When the chicken is done, carefully remove it to a deep serving platter and tent with foil to keep warm. Strain the cooking liquid (discard the vegetables and bouquet garni) into the reduced pinot noir. Add mushrooms and pearl onions to the wine sauce, adjust the seasoning with salt and pepper, pour the sauce over the chicken and serve.
Lisa Glickman is a private chef and teacher who lives in Portland. She has made TV appearances on COTV in Central Oregon and appeared on the Cooking Channel's "The Perfect Three."
She can be reached at lisa@lisaglickman.com.