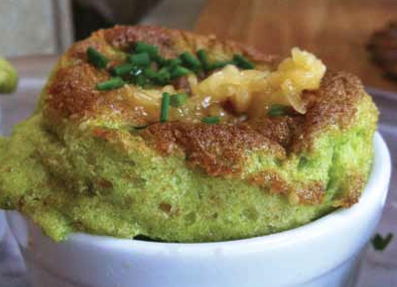 As I look outside I can see that a change is about to happen. Small buds have formed on the trees, and the bright yellow daffodils of spring are emerging from the ground. Spring break is over, Passover is behind us and baseball's first pitch has been thrown. these are all signs that warmer days lie ahead, and for me that means things will change in my kitchen, too. During cold winter months we enjoy the comfort of soups, stews and braises, but now it's time to take pleasure in a few of spring's once-a-year vegetables. delicate english peas, fiddlehead ferns, an abundance of pencil-thin asparagus, spicy garlic shoots, baby artichokes and tender fava beans make a short-lived appearance in the produce section to mark the spring harvest.
The Bible contains several references to the holiday Shavuot, which is celebrated on the sixth day of the Hebrew month of Sivan (which falls in May or June on the secular calendar). The Israelites are commanded to observe the "Feast of the harvest, the first fruits of your labors which thou sowest in the field." During this time we see the first "baby" vegetables and lettuces become available, if only for a short time. Fiddlehead ferns are a curious little vegetable that appears only in the early spring. They are generally harvested in the northeastern United States and are at hand for only a few weeks. The fiddlehead resembles the curled ornamentation on the end of a stringed instrument such as a violin. Though accessible regionally in some supermarkets and restaurants, fiddleheads are not cultivated and are available only seasonally.
For a light dinner or elegant lunch, try this asparagus and smoked gouda soufflé. Asparagus is high is folic acid and is an excellent source of vitamins A and C. Although asparagus is available most of the year, now is the time to find it for a fraction of the price you pay during the winter months. I blend blanched asparagus with egg yolks and a creamy tarragon scented béchamel sauce and fold it together with fluffy egg whites and creamy smoked gouda cheese to make this feathery light soufflé. Although making a soufflé may sound intimidating, it is really quite easy and an exceptional way to serve these tender spears. Don't be discouraged when the soufflés fall a bit shortly after baking. Due to the extra water in the vegetables, it is inevitable. This soufflé needs to be served after it cools a bit to appreciate all of its bright flavors. Just have your guests in the kitchen when you take them out of the oven to see them in all their puffy glory!
ASPARAGUS AND SMOKED GOUDA SOUFFLE
Makes six 8-ounce soufflés
1 bunch asparagus, cut into 1⁄2 inch pieces (about 2 cups)
2 tablespoons unsalted butter
2 tablespoons all-purpose flour
1 cup whole milk
1 teaspoon kosher salt
1/8 teaspoon sweet paprika
1 tablespoon chopped fresh tarragon
4 eggs,separated
Pinch of cream of tarter (optional)
1⁄2 cup shredded smoked gouda cheese, plus more for garnish
3 tablespoons butter for ramekins
1/3 cup fine dry bread crumbs for ramekins
Cook asparagus in a pan of boiling, salted water until bright green but still crisp, about two minutes. Transfer asparagus to cold water to stop cooking. Drain and set aside. Melt butter in a small sauce pan over medium-low heat. Add flour and whisk until mixture becomes a paste and begins to brown slightly. Whisk milk into butter/flour mixture. Bring to a simmer and cook until thick, two to three minutes. Season with salt and paprika. Place mixture and asparagus in blender or food processor. Puree until very smooth. Pour asparagus mixture into a large bowl and add egg yolks and 1⁄2 cup shredded cheese. Preheat oven to 375 degrees. Generously butter six 8-ounce ramekins and dust with fine bread crumbs. Beat egg whites (and cream of tarter if using) until soft peaks form. Do not overbeat. Stir half of the egg whites into the asparagus mixture to lighten. Fold in remaining egg whites gently until just mixed in. Fill ramekins almost to the top and place on baking sheet. Bake until puffed and golden brown on top, about 20-25 minutes. Remove from oven and garnish with extra cheese. Allow to cool slightly (soufflés will fall) and serve warm.
Serves two as an entrée, four as a side dish
Tangerine Béarnaise Sauce:
1-2 tablespoons unsalted butter
1 medium shallot
2 tablespoons sherry vinegar
1/3 cup tangerine juice
1 tablespoon chopped fresh tarragon
2 large egg yolks
Dash of white pepper Melt butter in a small saucepan and set aside. Boil shallots, tarragon, vinegar and tangerine juice in another saucepan and reduce to three tablespoons of liquid. Strain liquid into the top of a double boiler over simmering water. Whisk in egg yolks. The second the yolk mixture begins to thicken, remove pan from heat (this will happen quickly, just a minute or two). Whisk in melted butter in a slow steady stream stirring constantly. Taste and add a pinch of salt if necessary.
FIDDLEHEADS AND PEAS:
2 big handfuls fiddlehead ferns (about 1⁄2 pound), rinsed and brown ends trimmed
1 pound English peas, shelled (about 1 cup)
2 tablespoons unsalted butter
Kosher salt to taste
1⁄4 cup sliced or slivered almonds, toasted
Fill a large pan with cold water and add a good amount of salt. Bring to a boil. Blanch fiddleheads for about a minute and remove to a bowl of cold water to stop cooking. Do the same with the peas. Strain and set aside. Melt butter in a sauté pan and allow to brown slightly being careful not to burn. Add peas and fiddleheads and toss to coat. Sauté vegetables for one to three minutes until heated through. Remove to serving plate, drizzle with béarnaise sauce and garnish with toasted almonds.