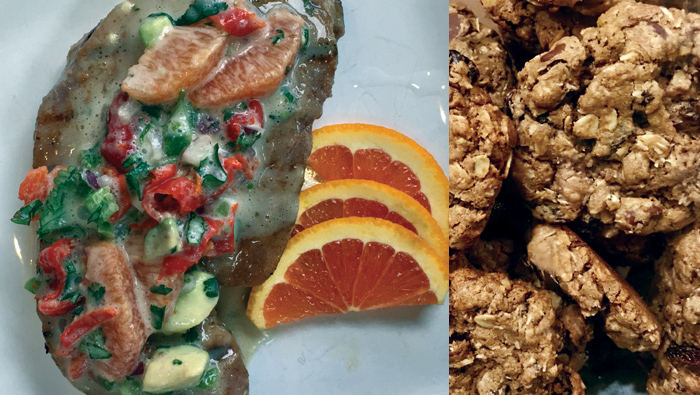 Lately, I have become a little obsessed with a TV show on HGTV called "Fixer Upper." The hosts of the show are funny man and veteran home builder Chip Gaines and his extraordinarily talented designer and "straight man" wife, Joanna. In each episode the pair selects three properties for their potential buyers to choose from. Each of the properties, while still having key features the couples are ultimately looking for, are in various states of disrepair. Some homes are in need of just a little TLC and updating, and others are complete disasters that look like their only hope would be at the blade end of a bulldozer. The couples proceed to buy one of the dilapidated homes and, after handing over the money left in their budget for improvements, they leave the restoration process to Chip and Joanna.
Chip demolishes unnecessary walls and conceives new floor plans. He installs new floors, cabinets and appliances. He transforms tiny dorm-sized bedrooms and broom closets into colossal en suite master bedrooms and cavernous walk-in closets. A kitchen that had been cramped and closed off now spills into a great room complete with new windows, French doors and repurposed wood accent beams on the ceiling. Joanna masterfully cherry-picks the interior design, colors and textures for the couple's personal taste and style. Between the two of them, they repair everything that's broken while they illuminate the original beauty of each home. At the end of the show, they unveil the finished home and ask: "Are you ready to see your fixer upper?"
A custom-built home is new from the ground up. Every space is planned. Everything is brand new. On the other hand, breathing new life into an older home is pretty magical. Outdated appliances can be replaced and original hardwood floors and crown moldings can be restored to their original beauty. Rooms can be repurposed and a home's treasures of original brick and stone can be uncovered and polished. Skilled craftsmen can recreate old world charm and character to make a new house look timeworn, but it can't compare to the original.
It's no surprise that a super-sized kitchen with a huge pantry would be at the top of my fixer upper wish list – a mature home with an old-style butler's pantry and more than enough storage for all of my bottles, jars, cans and dry goods. I would also wish for a sunny breakfast nook and a proper dining room with ample space for big family gatherings. Somehow knowing that a home has memories to share makes it more of a home worth saving. Just because it's out of date doesn't mean there aren't plenty of little pieces that remain timeless.
Seared Rare Ahi Tuna with Coconut and Peppadew Pepper Salsa
I always have cans of unsweetened coconut milk for a quick curry and a jar of sweet spicy peppadew peppers for an impromptu cheese platter in my pantry. This sweet and spicy peppadew pepper, coconut, avocado and citrus salsa is perfect for a simply seared piece of fresh fish.
4 portions sushi-grade ahi tuna, about 6 ounces each
1 tablespoon canola oil
Kosher salt and freshly ground pepper
For the salsa:
2 tablespoons finely minced purple onion
1 half firm ripe avocado, cut into ½-inch dice
1 large orange, segmented into supremes
About 12 jarred peppadew peppers, finely minced
½-1 jalapeno pepper, finely minced
2 tablespoons chopped cilantro
1 cup unsweetened coconut milk
2 teaspoons Thai sweet chili sauce
Pinch of kosher salt
Mix all salsa ingredients together in a medium bowl and set aside.
Heat saute pan to medium high and add canola oil. Season fish with salt and pepper. Sear both sides of fish for just a minute or two on each side to desired doneness.
Plate fish and top with salsa.
Tarheel Cookies
Another thing I need in my fixer upper is a place for all my cookbooks. Although I get many recipes from magazines, the internet and my own inspiration, I still love to thumb through my tried and true recipes. I found this recipe in one of my favorite old cookbooks. It uses many ingredients that I always have on hand.
Makes about 2½ dozen cookies
¾ cup raisins
¼ cup rum or brandy
1 stick unsalted butter, softened
1 cup firmly packed brown sugar
1 large egg
3 ounces semisweet chocolate, melted and cooled
1 teaspoon vanilla extract
1 cup all-purpose flour
½ teaspoon baking powder
½ teaspoon baking soda
½ teaspoon salt
1 cup semisweet chocolate chips
1 cup shredded coconut
1½ cups quick-cooking oats
Preheat oven to 325 degrees. Line baking sheets with Silpat mat or parchment paper. Place raisins and rum or brandy in a bowl and set aside while making batter. In a mixing bowl beat together butter and sugar until light and fluffy. Beat in egg and then beat in melted chocolate and vanilla. In a separate bowl, stir the flour, baking powder, baking soda and salt until well blended. Gradually beat this mixture into the butter/sugar mixture until well blended. Stir in the raisins, coconut, chocolate chips and oatmeal. Using your fingers roll tablespoons of dough into balls and place about two inches apart on cookie sheets. Flatten each ball slightly with the back of a spoon. Bake until the edges just begin to turn brown, about 12-14 minutes. Remove to wire racks to cool and store in a tightly covered container.
Lisa Glickman is a private chef and teacher who lives in Portland. She has made TV appearances on COTV in Central Oregon and appeared on the Cooking Channel's "The Perfect Three." She can be reached at lisa@lisaglickman.com.