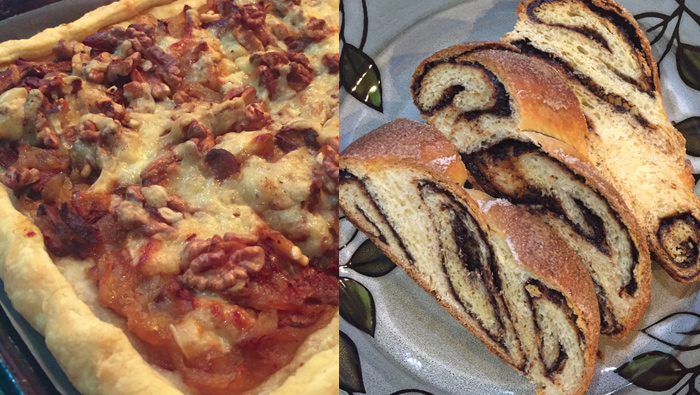 Winter's chill is in the air and changing leaves have mostly fallen from the trees. Soon it will be time to usher in another holiday season. Shortly after we roast the Thanksgiving turkey, it will be time again to light candles for Hanukkah. Entertaining will be in full swing as we invite family and friends into our home for open-house style gatherings to light the menorah, spin the dreidel and feast on all the traditional foods of Hanukkah.
At this time of the year we give ourselves the go-ahead and splurge on those fried potato latkes we love so much. My family can't get enough of these crispy treats adorned with sweet applesauce and cool sour cream. It is customary for our family to come together for an evening meal to share gifts and light the candles on the menorah. Occasionally, we have deviated from this tradition by treating ourselves to a midday brunch.
Somewhere between the rise-and-shine two-egg breakfast and the half-sandwich and cup of soup special lies the magical hour of brunch. Typically saved for Sundays, this homage to all things sweet and savory invites us to indulge in both breakfast and lunch favorites. Not only can many brunch recipes be prepared ahead of time, most require preparation a day or so ahead in order for their flavors to marry. Brunch salads and casseroles are at their best when made ahead and then gently warmed or brought up to room temperature. A main dish brunch centerpiece is always a good place to start. Begin with a whole side of smoked fish and build from there. Hearty side dishes made with sturdy grains, green peas or even baby spinach or kale will happily remain at room temperature for a few hours without looking tired and wilted, while casseroles and those tasty latkes can be placed in chafing dishes to keep them hot. A crockpot lined with colorful tea towels and set on low will keep muffins and rolls soft and warm while your guests mingle.
The beauty of the brunch buffet is that there is something for every taste. Surround main dishes with substantial sides and platters filled with nut-studded sweet bread, bagels with lox and cream cheese, muffins or cakes. Add creamy scrambled eggs, delectable tarts (like this one with caramelized onions and chanterelle mushrooms), or a tender vegetable quiche or frittata. Invite your guests to add to the cornucopia of great food!
The cocktail is optional but always welcome in the form of the spicy Bloody Mary, bubbly mimosa or frothy Ramos Gin Fizz. Hybrid versions of these classic cocktails can be made using local spirits, handcrafted preparations of juices, flavorings and tinctures. Clever mixologists everywhere are happy to share their latest version of hair-of-the-dog brunch specialties. Who wouldn't be happy with everything the midday brunch has to offer? With its civilized hour and diverse menu, brunch invites itself to become the perfect setting for holiday entertaining.
Caramelized Onion Chanterelle Mushroom and Walnut Tart
For the crust:
1½ cups (plus a little more for dusting) all-purpose flour
½ teaspoon salt
10 tablespoon (1¼ sticks) cold butter or margarine,
cut into 1-inch cubes
1 egg yolk
About 4 tablespoons ice cold water
For the topping:
2 large sweet onions, slicked thin
½ pound fresh chanterelle mushroom, cleaned and
coarsely chopped
4 tablespoons butter or margarine
3 tablespoons extra virgin olive oil
½ teaspoon salt
1 teaspoon sugar
Freshly ground black pepper
1 cup grated Gruyere cheese
½ cup toasted walnuts
Add flour and salt to the bowl of a food processor. Pulse to mix. Add butter to flour and pulse until mixture looks like cornmeal. Add egg and water and pulse a few more times until mixture comes together. Add more water if necessary. Turn dough out onto plastic wrap and form into a rectangular shape. Wrap and chill until ready to use.
Heat 3 tablespoons butter and 2 tablespoons olive oil to medium high in a large skillet. Add onions and cover. Cook until onions are soft. Remove cover and continue to cook, stirring often until onions are caramel colored and very soft. Add salt and sugar and cook about 3-5 minutes longer. Remove onions to bowl and set aside.
Add remaining 1 tablespoon butter and 1 tablespoon olive oil to pan. Add mushrooms and cook on medium high until lightly browned and liquid evaporates. Add salt and pepper to taste. Add to bowl with onions and allow to cool.
Place chilled dough on a floured board. Roll to a 1/8-inch-thick and place on12x15-inch baking sheet. Trim edges. Roll edges about ½ inch and pinch in a pie crust fashion. Spread onions and mushrooms evenly onto crust up to edges. Sprinkle with grated cheese and toasted walnuts. Bake at 375º until cheese is melted and edges are golden brown, about 30-35 minutes. Can be made up to one day in advance and re-warmed in 400º oven for about 10 minutes.
Chocolate Cardamom Babka-Challah
For the dough:
½ cup whole milk
1¼ envelope active dry yeast
4 large egg yolks, at room temperature
1 teaspoon vanilla extract
½ cup (one stick) unsalted butter, melted and cooled
1/3 cup granulated sugar
1 teaspoon kosher salt
3 cups all-purpose flour, plus more for dusting
For the filling:
1 cup chocolate hazelnut spread, such as Nutella
1½ teaspoons ground cardamom, plus more for topping
½ teaspoon ground cinnamon
1 egg yolk
Granulated sugar
Dough:
Heat milk in a small saucepan until warm. Transfer to bowl of standing mixer fitted with a whisk attachment and whisk in yeast; let sit until foamy about 10 minutes. Whisk in egg yolks, vanilla and ½ cup butter. Change attachment to dough hook and add sugar, salt and 3 cups flour. Mix until dough is mixed thoroughly and pulls away from bowl.  Remove dough from bowl and knead on a lightly floured surface until supple and smoothand no longer shiny, about 5 minutes. Transfer to a large buttered bowl. Cover and let sit in a warm place until doubled in size, 1½ to 2½ hours.
Filling and assembly:
Turn dough out onto a lightly floured surface. Divide into 3 portions. Shape each into a 12-inch-long rope. Roll out each rope to a 12×6-inch rectangle about 1/8 inch thick. Spread to edges with Nutella, and sprinkle with cinnamon and cardamom. Roll each piece jelly roll style. Pinch seam to seal. Place logs, seam side down side by side on a parchment-lined baking sheet. Pinch ends together at one end. Braid, then pinch ends together and tuck under. Cover loosely and let sit in a warm place until 1½ times larger, 1-2 hours.
Preheat oven to 350º. Beat egg yolk with 1 tablespoon water in a small bowl. Brush dough with egg wash and sprinkle with sugar and more cardamom. Bake until top is golden brown, 35-45 minutes. Let cool on a wire rack before slicing.