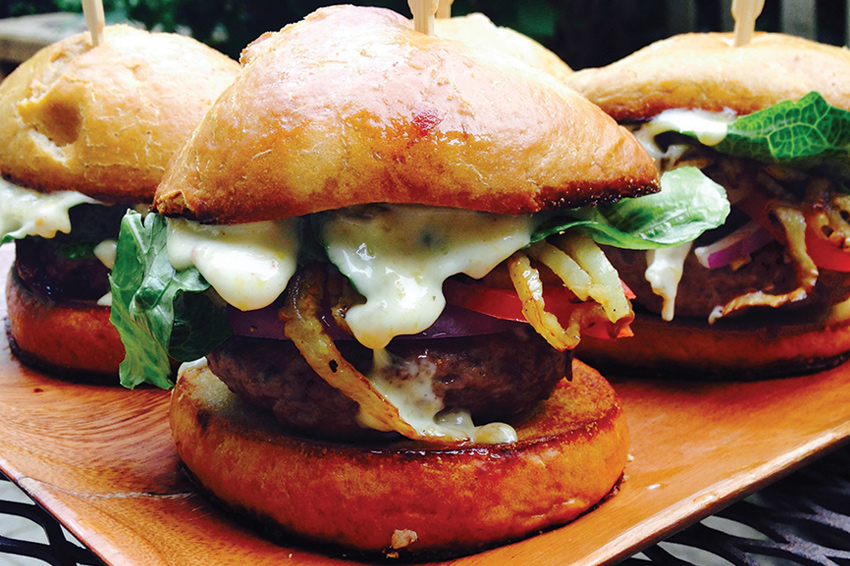 I am obsessed with a great burger. The classic hamburger remains a standard and beloved menu item served everywhere from backyard barbeques to some of the country's finest restaurants. Deceptively simple ingredients including the patty (medium rare please…), lettuce, pickle, sauce, and maybe a thick slice of ripe tomato and sweet onion are sandwiched on a bun and served hot off seasoned griddles or grills far and wide.
Choices range from the unadorned 99-cent Mickey D's hamburger to star chef Daniel Boulud's $120 "DB Burger" boasting ground Kobe beef, red wine-braised short ribs, foie gras and a pile of shaved black truffle! Whether you're 9 or 90, devouring a juicy satisfying burger will always remain one of life's great pleasures. Some think of beef exclusively when a hamburger comes to mind, but there are many equally satisfying alternatives that lie just outside the "all-beef patty" box.
While some might consider a meatless burger the equivalent of consuming yard trimmings between a bun, vegans and vegetarians are flocking to "Next Level Burger," a new and alternative chain opening soon here in Portland. Next Level's "burgers" use black beans, soy protein, quinoa or tempeh and everything (including the condiments) is completely meat and dairy free. I was blown away by the flavor and texture of Next Level's signature burger. This meat-free masterpiece was delivered hot and delicious with all the trimmings. Creamy vegan "mayo" lined the soft sprouted whole-grain bun, and the crisp lettuce, pickles and ripe tomato made me almost forget I was a carnivore! I tucked into this heart-healthy burger and a side of sweet potato fries and found myself in sheer burger bliss … sans the "moo!"
Ground fish, turkey or chicken are also great alternatives to ground beef. They often need a little help with a binder to hold the lean mixture together. Egg, breadcrumbs or potato (such as in this salmon burger recipe) help bind the ingredients, making patties easier to flip on the grill. Alternatively, a well-oiled griddle or frying pan may be a better choice for softer mixtures. Dark meat ground turkey and chicken can also be used to add a bit more fat and flavor. Make sure to cook these thoroughly to avoid any health risks.
Ground lamb contains plenty of fat to keep your patty juicy, and it also fares well on the grill. Season with strong bold flavors such as mint, cumin, coriander, turmeric and a touch of allspice or cinnamon for a Moroccan flavor or Mediterranean spices like fresh thyme, rosemary, grated onion, minced garlic and a dollop of Dijon mustard for a Greek flair.
The All-American hamburger will never go out of style, but changing it up every now and again is a great alternative. So fire up the grill and enjoy these two out-of-the-ordinary options!
Moroccan Lamb Burgers with Caramelized Fennel and Mango Chutney Aioli
1 pound ground lamb
½ teaspoon whole coriander
1 teaspoon whole cumin seeds
2 cloves garlic, minced
2 tablespoons freshly chopped mint
1 teaspoon powdered ginger
¼ teaspoon cayenne pepper
Several grinds of black pepper
¼ teaspoon ground allspice
½ teaspoon salt
1 bulb fennel, cored and thinly sliced
Romaine lettuce leaves, sliced tomato and red onion for garnish
1/3 cup mayonnaise
2 tablespoons prepared mango chutney (such as Major Grey's)
4 pretzel buns
Aioli
Place lamb in a medium bowl. In a small dry sauté pan, toast coriander and cumin. Grind in a spice mill and add to lamb. Add garlic, mint, ginger, cayenne, black pepper, allspice and salt. Mix gently but thoroughly. Shape into patties and fire up grill. Place sliced fennel in a medium sauté pan with a bit of olive oil. Cover pan and allow fennel to steam until just softened, about 5-6 minutes. Uncover pan and reduce heat. Continue to cook fennel until caramelized and browned, another 10-15 minutes. Season fennel with a touch of salt and pepper if desired. Prepare garnishes and in a small bowl mix together mayonnaise and chutney. Cook burgers to desired doneness and grill buns if desired. Serve burger with a portion of fennel and desired toppings. Top with bun spread with aioli.
Spicy Ginger and Coriander Salmon Burgers with Avocado, Baby Arugula, Cucumber and Gochujang Mayo
1 pound fresh wild salmon, skin removed and cut into 2-inch cubes
1 small potato, peeled, cubed, cooked and cooled
½ yellow onion, minced
2 serrano chilies, minced (with or without seeds depending on
desired heat)
1 tablespoon grated fresh ginger
1 teaspoon ground coriander
½ teaspoon cayenne pepper
½ teaspoon turmeric
1 egg
6 brioche hamburger buns
3 cups fresh baby arugula
1 avocado, peeled and sliced
½ seedless cucumber, thinly sliced
Sliced red onion (if desired)
½ cup prepared mayonnaise
2 tablespoons Gochujang*
Heat about a tablespoon of oil in a small skillet over medium heat and lightly sauté onion, chilis and ginger until soft. Add coriander, cayenne and turmeric and season with a bit of salt. Place cooked potato and onion mixture in the bowl of a food processor and pulse GENTLY until just combined. Remove to a medium bowl and set aside. Place salmon in bowl of food processor and pulse-grind until lightly chopped. Add potato mixture and egg to processor and pulse just to combine. Season with a bit more salt. Spray a baking sheet with nonstick spray. Form mixture into patties and place on baking sheet. Refrigerate patties for about 1 hour. Heat 2-3 tablespoons oil in a large nonstick pan. Fry patties in oil until golden brown on both sides. Prepare garnishes and mix Gochujang with mayonnaise in a small bowl. Toast buns if desired. Spread both halves of the buns with mayonnaise mix. Top salmon burgers with avocado, cucumbers, arugula and red onion if desired.
*Gochujang is a savory and pungent fermented Korean condiment made from red chili, glutinous rice, fermented soybeans and salt; it is found in Asian markets and some specialty stores. Substitute Sriracha if unavailable.
Lisa Glickman is a private chef and teacher who lives in Portland. She has made TV appearances on COTV in Central Oregon and appeared on the Cooking Channel's "The Perfect Three." She can be reached at
lisa@lisaglickman.com.