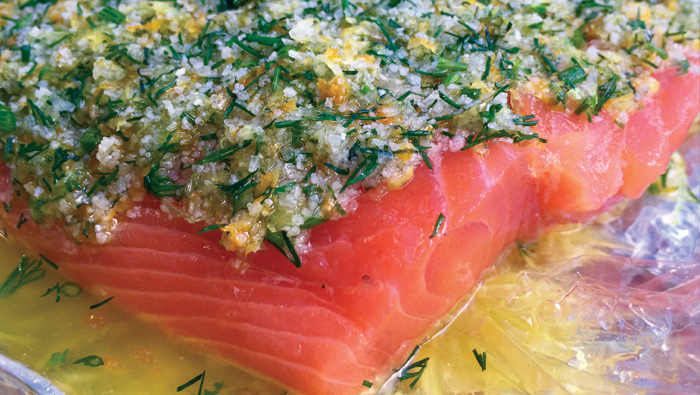 When I stepped outside today, I began to recognize signs that spring will soon be here. I noticed tiny buds on the trees and fragile flowers beginning to pop from the ground – and the sun felt just a bit warmer as it peeked from behind the clouds between early spring's perpetual rain showers. Soon it will be time to open the windows, plant the flowerpots and begin to invite the outside in. Winter homes will soon need a good spring cleaning. Spring is the season to clear the clutter and start fresh.
I have a confession to make: I don't like to clean. Don't get me wrong. I love a clean house. I love to see beds thoughtfully made, no dishes in the sink and everything put in its proper place. I feel happy inside when the sun shining through the window doesn't illuminate a thin layer of dust and dog hair on the furniture. Unfortunately, our busy lives don't always allow for the perpetuation of perfect order. In the days of black and white TV, apron-clad moms stayed at home and spent their days dusting, vacuuming and ironing freshly laundered sheets while dinner simmered slowly on the stove.
At my house, I can barely keep the laundry from piling up, the clutter contained and the dust bunnies at bay while checking my I-cal to see when my housekeeper will arrive to save me from complete chaos. Now is the time to reorganize and renew the place in my house that over time tends to need it the most: the pantry and spice drawers.
I begin by throwing out all those old spices that have been lying in my spice drawer far too long. Ground spices should be kept for no longer than six months in order to retain their full fresh flavor. Whole spices such as coriander, cumin and fennel seed can last up to a year. Peppercorns, nutmeg and allspice berries will last almost indefinitely and taste much better than pre-ground. Gently toast seeds in a dry sauté pan and use a coffee grinder to pulverize as needed.
Partial bottles of ground spices, honey, vinegars or maple syrup can be combined to save room and confusion in the spice cabinet shelves. Partially used boxes of pasta, polenta, quinoa and rice can be stored in handy clip top containers to declutter and organize bulging pantry space. Vow to buy these items in bulk along with sugars, flours, nuts and seeds to save waste and time searching for that half-empty bag or box. Empty and wipe down all shelves and drawers to avoid those nasty critters that love to hide in dark corners waiting for the chance to infest … yuck!
Spring is the time to start fresh, and I love the way my pantry looks when everything is in order and right where I need it. While I manage to find time to round up the dust bunnies and keep things tidy with a routine cleaning, a true spring cleaning requires far more dedication to detail. A fresh start in the pantry and spice cabinet takes only a couple of hours and makes my whole house feel renewed. The rest I'll leave to the pros!
Salt, sugar, citrus zest and fresh dill transform a fresh piece of salmon into this delectable treat that is delicious when served with a freshly toasted bagel and cream cheese. It takes a day or so to cure, so plan ahead. I serve it tossed into the following pasta main dish made from the partial boxes of cavatappi I found taking up too much space in the pantry!
House-Cured Salmon with Citrus, Dill and Vodka
1 2-pound salmon fillet, with skin
½ cup kosher salt
3 tablespoons sugar
¼ cup chopped fresh dill
¼ cup vodka
2 tablespoons each lemon, lime and orange zest
Remove any tiny pin bones from the salmon with a pair of tweezers. Place the salmon skin side down on several large sheets of plastic wrap. In a small mixing bowl, combine the salt, sugar, zests, dill and vodka. Spread paste evenly on fish and wrap tightly with plastic wrap. Place in refrigerator on a small baking sheet and top with another small baking sheet. Weigh down the top with a heavy cast iron pan, several cans from the pantry or a heavy brick. Allow salmon to cure for at least 24 hours, but no more than 48 hours. Unwrap the salmon and rinse under cold water. Pat dry and slice diagonally into paper-thin slices
Cavatappi Pasta with Asparagus, Yellow Tomatoes, Lemon and Parsley
3 tablespoons olive oil
3 cloves garlic, thinly sliced
4-5 anchovy fillets
¼ teaspoon red chili flakes
1 pound asparagus, rinsed and cut into 1-inch pieces
1 pint yellow tomatoes (or red grape or
cherry tomatoes)
Kosher salt
½ pound cavatappi pasta (or other medium-size shape like penne)
Grated zest and juice of 1 lemon
12 ounces cured salmon
Grated Parmesan cheese to garnish
Heat a large pot of salted water for the pasta. In a large sauté pan, heat oil to medium heat. Add garlic, anchovies and chili flakes. Sauté until garlic begins to soften and anchovies melt. Add asparagus and sauté for a couple of minutes until crisp tender. Add tomatoes and toss to warm through. Add lemon zest and juice and toss to coat. Season with salt. Cook pasta until tender. Add pasta to pan and toss to coat. Serve immediately on individual plates topped with slices of salmon and Parmesan cheese.