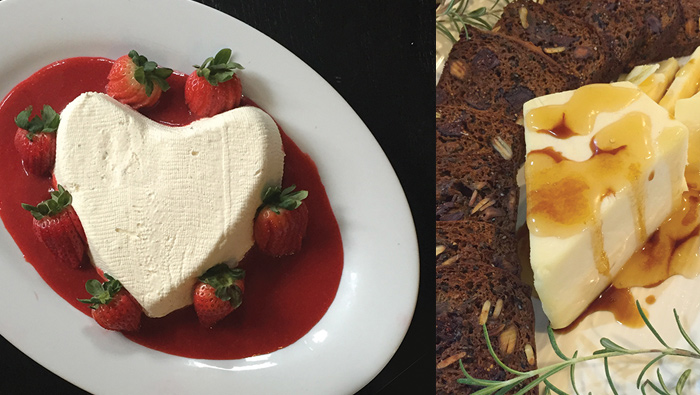 The year is 1967 and I am in the back seat of my parent's Pontiac Bonneville. KISN radio is spinning the latest Dionne Warwick tune. Her silky voice sings the lyrics: "What the world needs now is love sweet love. It's the only thing that there's just too little of."
In light of current events, it's easy to see that love is something the world could still use a whole lot more of. It was a different world in 1967, but many things, sadly, remain familiar. Our world continues to struggle with wars, hunger and oppression. Political polarization, racial inequality and subjugation persist, and we become acutely aware of it instantaneously thanks to the electronic devices we can no longer live without. We may feel helpless to change the strife in our world, but we still have control over what happens in the comfort of our homes, where we can choose to turn off the devices and share a little love in the way of a thoughtfully prepared meal.
Many families have begun to choose to be present at the dinner table. Busy schedules are making way for the awareness of how important it is to come together, take pleasure in a meal and share the happenings of the day. Meal preparation is moving away from frozen, prepared and additive-laden, one-box meals or calorie-crushing fast food or takeout. Today it has become easier than ever to locate fresh, healthy, seasonal and local ingredients if we are willing to show a little love by caring about the choices we make.
Show some love to the farmers who care enough not to use pesticides or genetically modified seed to grow their produce. Purchase meats from the ranchers who care for livestock naturally by feeding their animals grasses and grains and not loading them up with unnecessary antibiotics. Show some love to the local cheesemaker, winemaker and artisanal food manufacturer, who hold true to their standards by producing products that don't use artificial colors or preservatives. Patronize restaurants that boast local and seasonal fare and choose establishments that take pride in the food they prepare and serve. These are the individuals who show their love every day by making a choice to take pride in what they do.
This Valentine's Day go ahead and give your sweetie that box of chocolates, mushy card or colorful bouquet. Then show some real affection by turning off the distractions and being present with your Valentine. Share a delicious, romantic meal together and spread some love because it's a good thing to do … no not just for some, but for everyone.
Coeur a la Creme is a classic recipe that uses very few ingredients, yet results in an impossibly creamy and light dessert. It requires no cooking, but in order to make it into its definitive heart shape, you will need to buy a special ceramic mold with holes in the bottom to drain out a small amount of the liquid. The mold may seem like a one-trick pony, but it works beautifully as a Valentine's Day vessel to serve candy, cookies or fresh berries. I located flash-frozen Oregon strawberries to make the sauce for an amazing taste of a warm summer day, even in frosty February.
Coeur a la Creme
12 ounces cream cheese, at room temperature
1¼ cup confectioner's sugar
2½ cups cold heavy cream
Seeds scraped from 1 vanilla bean
¼ teaspoon grated lemon zest
1 bag Sturms Berry Farm frozen Oregon strawberries, thawed
Sugar to taste
Fresh strawberries for garnish (optional)
You'll also need:
Cheesecloth
7-inch, heart-shaped Coeur a la Creme mold or strainer
Place cream cheese and confectioner's sugar in the bowl of a stand mixer. Beat on high for 2 minutes until well blended. Turn mixer to low and add chilled cream, vanilla seeds and lemon zest. Beat mixture on high until cream is whipped and mixture is thick like whipped cream. Line the Coeur a la Creme mold with cheesecloth, leaving enough overhang to cover completely. Pour mixture into mold and fold cheesecloth edges over top. Place on a plate or over a bowl to catch liquid (there won't be very much) and refrigerate overnight. To serve place about 2-3 cups berries in a blender or food processor. Puree berries until smooth. Place puree in a saucepan over medium heat and add sugar to taste, about ¼ cup. Heat mixture until sugar dissolves. Remove from heat and allow to cool. Chill until needed.
To serve, pour a puddle of the puree on a serving plate. Carefully unwrap Coeur a la Creme onto center of plate and garnish with fresh strawberries if desired.
These crispy crackers are very similar to some that I have seen in the gourmet section of my local grocery store. The batter is baked in small loaf pans, allowed to cool and then sliced thin and baked into a crispy, chewy, sweet and savory cracker. It pairs beautifully with Beecher's Flagship sharp cheddar and a drizzle of Mickelberry Gardens' local wildflower honey. The loaves can be frozen and then partially thawed before slicing and re-baking into crisps.
Dried Fig and Pistachio Crisps
1 cup organic whole wheat flour
1 cup all-purpose flour
2 teaspoons baking soda
½ teaspoon kosher salt
¼ teaspoon freshly ground black pepper
2 cups whole-milk yogurt
¼ cup brown sugar
¼ cup honey
½ cup roasted pumpkin seeds
¼ cup black sesame seeds (substitute toasted white sesame seeds if preferred)
½ cup chopped dried figs
½ cup chopped pistachios
1 tablespoon chopped fresh rosemary
Preheat oven to 350º. In a large bowl, stir together the flours, baking soda, salt and pepper. Add the yogurt, brown sugar and honey and mix until just blended. Fold in the pumpkin and sesame seeds, figs, pistachios and rosemary. Spoon batter into three mini loaf pans that have been sprayed with nonstick spray. Bake for about 25 minutes until golden and springy to the touch. Wrap tightly and freeze slightly before slicing. Slice thinly and place on a baking sheet. Bake slices in a 350º oven for about 15 minutes or until slightly crisp.