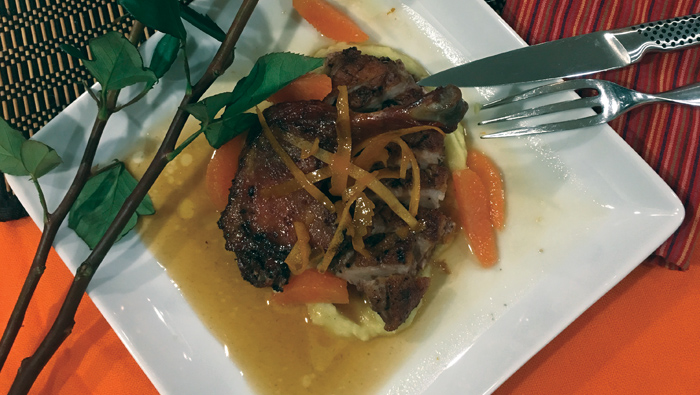 First comes love, then comes marriage. I have often said, tongue in cheek of course, that GETTING married is a lot more fun than BEING married. The excitement of planning a wedding is intoxicating. Newlyweds are bathed in the bliss of anticipating their new lives together. Marriage is what comes after the party is over. It can't be planned or promised. It requires two people willing to compromise and support each other during the good times and the inevitable bad times, as well.
When couples are asked for their secret to a long and loving marriage, we mostly hear that mutual respect, kindness and a good sense of humor are at the top of the list. The ability to make an effort to laugh and be kind to each other can be hard when the going gets tough. When disagreements do occur, having the gift of negotiation is required and a knack for knowing what always brings a smile to your partner's face goes a long way.
My husband and I have been through many changes during our 22 years of marriage. There have been highs and there have been lows, but through it all we still look forward to what the future will bring. Our son will leave for college in just a couple of short years, and that will start a new chapter in our ever-changing lives. We still manage to have a lot of fun together.
We both enjoy beautiful food, and my husband has an uncanny ability to discover new restaurants wherever we go. He gathers recommendations and studies reviews like a food critic, enabling him to home in on some really amazing places to eat. When reservations need to be made, he is usually the one in charge; thanks to his efforts, we can usually count on an exceptional meal.
Sometimes just making an effort to do something special is all it takes to make someone feel loved and appreciated. Nothing makes me happier than having a special meal prepared just for me. Unfortunately, although he certainly knows what makes me happy, my husband was not gifted with my skill in the kitchen. However, he DOES do the dishes and that always brings a smile to my face.
Whenever duck is on the menu, it's my first choice. When cooked correctly it is delicious, and because it is usually accompanied with a sweet/savory sauce, it is always my favorite. This deconstructed Duck L'Orange recipe requires some patience and skill, but it is definitely worth the effort. Plan ahead because store-bought duck usually comes frozen and will need time to defrost.
Duck l'Orange Two Ways
Serves 4
For the duck
2 whole ducks or 4 breast and 4 leg portions*
Zest of 2 oranges
Zest of 2 lemons
1-2 cups duck fat
Salt and pepper
For the sauce
½ cup red wine vinegar
3 tablespoons sugar
2 cups duck or chicken stock
3 tablespoons Grand Marnier liqueur
Zest of 2 oranges candied (see accompanying recipe)
2 tablespoons margarine
Juice of 1 lemon
Juice of 1 orange
2 oranges peeled and segmented for garnish
Place duck legs in a baking dish large enough to hold them snuggly. Season with salt and pepper and grate zest of 1 lemon and 1 orange over all. Melt duck fat on the stove and pour over legs. Heat oven to 400 degrees. Cover pan with foil and place in oven for 30 minutes. Turn oven down to 275 degrees and cook for an additional 1½ to 2 hours. Uncover pan and turn off oven. Allow legs to rest in the oven while preparing breasts and sauce.
While legs are cooking, score skin of duck breasts and season with salt and pepper. Flip breast to meat side and sprinkle with the zest of 1 orange and 1 lemon. Set aside.
Place vinegar and sugar into a saucepan and bring to a boil. Continue to cook until sugar is dissolved and the liquid has the consistency of a light caramel. Remove from the heat and add stock. Return to burner and allow to reduce by half.
Place breasts in a large saute pan. Turn heat to medium low to medium and allow breasts to slowly cook on one side until skin is deep golden brown and fat is almost completely rendered. Pour fat off of duck breast as you go, but save the fat to use later!
When skin is rendered and nicely browned, turn breasts and cook for an additional 5 minutes. Remove breasts from pan and cover with foil to keep warm. Reheat pan to medium high, add Grand Marnier and ignite, scraping up browned bits from pan. Strain into sauce.
Add margarine to sauce along with candied orange and juice of 1 lemon and 1 orange.
Slice breast and plate along with one of the legs. Spoon sauce over and serve.
*Duck can be purchased whole or in portions. If you have good butchering skills, you can break the duck down, carefully carving the breast and legs. By doing this you can save the back and wings to make duck stock and render the fat for use later.
Candied Orange Peel
2 oranges
1 cup water
½ cup sugar
With a peeler remove the peel from the orange just getting the orange part and very little of the white. Cut into thin strips. Combine the water and sugar in a small saucepan and bring to a boil. Add the strips of zest and reduce to a simmer. Loosely cover the pan and let the liquid cook until reduced by half. Remove from the heat and allow to cool. Strain the zest to use.
Lisa Glickman is a private chef and teacher who lives in Portland. She has made TV appearances on COTV in Central Oregon and appeared on the Cooking Channel's "The Perfect Three." She can be reached at lisa@lisaglickman.com.