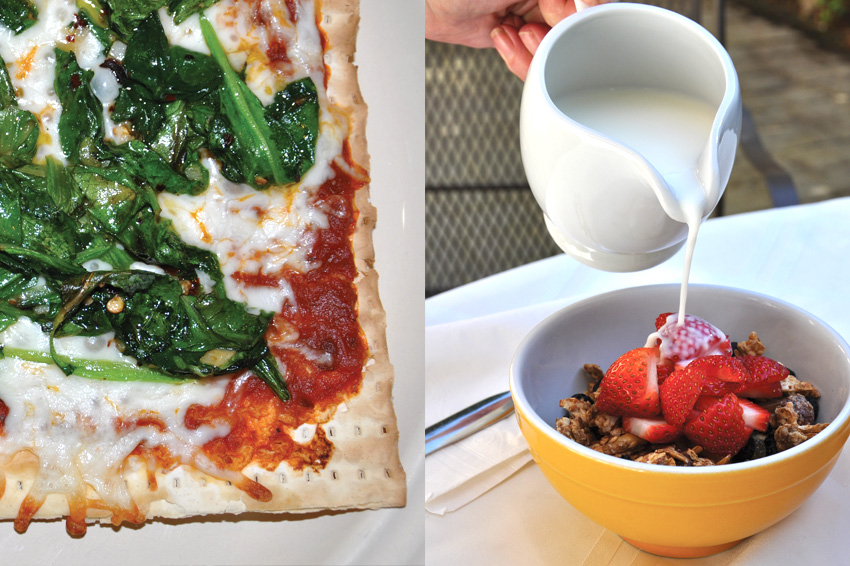 I am not a morning person. There, I've said it. Weekdays call for me to rise and shine just before 6 am to prepare for the day. Breakfast needs to be made, lunch needs to be packed and school drop-off looms at 7:20. Left to my own devices, I would happily linger through the first hour of the "Today" show before getting up and getting on with my day. I am much more a "burn the midnight oil" type of person who will stay up well into the evening to finish a project after everyone else has gone to bed.
The first thing I typically put in my body in the morning is a strong cup of black coffee and maybe a few leftover bites of my son's breakfast. I know better. Skipping breakfast sets me up for bad choices like overeating later in the day. I know that starting the day with a healthy breakfast gives me energy, satisfies my appetite and sets the stage for smarter eating choices all day long. With this in mind I've decided that maybe I need to come up with some ideas that will help me "break the fast" with the nutrition that my body needs.
A healthy breakfast should combine good carbohydrates and fiber with some protein. Eggs, cheese, yogurt, nuts and seeds are all good sources of protein. Proteins function as building blocks for bones, muscles, cartilage, skin and blood. Whole grain cereal, oatmeal and fresh and dried fruit provide fiber and carbohydrates that help fuel the body and fill us with the necessary energy to get through the first part of the day without feeling ravenous by noon. A blender comes in handy for a speedy breakfast and also allows us to add super greens like spinach, kale or nutritious flaxseeds to our breakfast smoothies, amping up the vitamins, minerals and antioxidants. Filling up on empty calories in the form of simple carbohydrates and sugary cereals is never a good idea, because the sugar crash that will inevitably happen by midday can lead to a sense of tiredness and lethargy – stimulating us to make more poor food choices.
Balancing calories throughout the day also helps us lose weight or maintain a healthy weight. Energy-boosting carbohydrates and belly-filling fiber and protein provide the fuel you need to keep your body moving. Being overly hungry leads to reaching for a late afternoon cookie or candy bar, resulting in regret and weight gain.
Starting the day with a healthy and satisfying breakfast is just a good idea. Whether we like our eggs sunny side up, need a little toasty crunch or gotta whip it up fast in the blender, we need to eat breakfast! Even during Passover week, these quick and tasty recipes will start the day off right.
Matzo Breakfast Pizza
¼    cup prepared pizza sauce
1    clove garlic, minced
2    tablespoons olive oil
1    large handful leafy greens (spinach, kale
or a combination)
¼    teaspoon chili flakes
Salt and pepper to taste
3     tablespoon shredded mozzarella cheese
1     matzo
1     egg
1     teaspoon prepared basil pesto or
shredded basil
Preheat oven to 400 degrees. Heat olive oil in a nonstick pan. Add garlic and sauté for 30 seconds. Toss in leafy greens, chili flakes, and salt and pepper to taste. Sauté until just wilted. Place matzo on baking sheet. Spread pizza sauce on matzo and sprinkle with cheese. Top with wilted greens and place in oven. While pizza bakes, break egg into nonstick pan and cook to desired doneness. Remove pizza from oven and top with egg and basil pesto or fresh basil.
Laurel's Matzo Granola
16    ounces matzo farfel (or whole matzo         broken up into small pieces)
4     eggs, beaten
½     cup brown sugar
1     teaspoon cinnamon
1     cup sliced almonds
1     cup pecans
2     tablespoons maple syrup
2     tablespoons flaxseed (optional)
1     cup golden raisins
1     cup dried cranberries, apricots or             berries
Preheat oven to 300 degrees. Mix first six ingredients in a large bowl. Spray a large cookie sheet generously with nonstick spray. Spread mixture in an even layer and bake for 40 minutes, stirring to break up when crisp. Remove from oven and drizzle with maple syrup and sprinkle with flax seeds. Return to oven and bake additional 20-30 minutes until lightly brown and crisp. Cool. Transfer to bowl and add dried fruit. Store in covered container.
"Apple Pie for Breakfast" Smoothie
1    tablespoon almond butter
1     apple, cored but not peeled, coarsely         chopped (depending on your blender)
1     banana
¾     cup plain Greek yogurt
½     cup almond vanilla milk
5-6    ice cubes
¼     teaspoon cinnamon
2     pitted dates
1     teaspoon ground flaxseeds (optional)
Place all ingredients in blender and blend for 30 seconds or until smooth.
Lisa Glickman is a private chef and teacher who lives in Portland. She has made TV appearances on COTV in Central Oregon and appeared on the Cooking Channel's "The Perfect Three." She can be reached at lisa@lisaglickman.com.