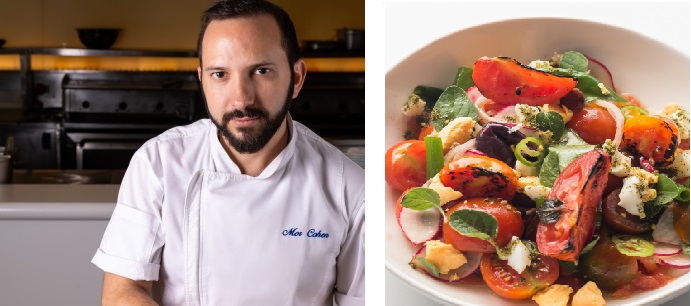 By Mala Blomquist & Deborah Moon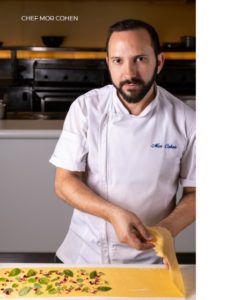 Mor Cohen is the head chef at the Herbert Samuel restaurant, located at The Ritz-Carlton in Herzliya, Israel. The restaurants namesake, Herbert Samuel, was a Liberal British politician who was appointed in 1920 as the first British High Commissioner of Palestine.
The Herbert Samuel is a modern Hebrew kitchen that specializes in kosher cuisine using local and seasonal produce.
"I believe that my dishes, like me, are forever evolving so the menu always changes," says Mor. Some of his most memorable dishes over the years include: the fresh and vibrant Herbert Samuel tomato salad; the wholesome and comforting veal and Swiss chard tortellini; and apricot gazpacho and celeriac croquette – a refreshing start to a meal.
Mor started cooking professionally after his military service in the Israeli Defense Forces. "I was working as a barista at a local restaurant near my childhood city and by looking at the busy kitchen's work and energy I had to give it a try," he remembers. "Starting from peeling potatoes and later on in service, I got hooked."
He currently lives in Israel where he has spent most of his "cooking and living" years. "In Israel, as a small country, we always strive for advancement and progress. We try to show the world that we are the best in everything – despite our disadvantage in size," says Mor. He believes this is what drives Israeli chefs to strive for perfection in their cuisine and be "creative and daring."
His Jewish identity also impacts his cooking although he admits that kosher cuisine has a lot of challenges because of the lack of ingredients that other cuisines have. But by using a lot of creativity, and the best seasonal and local produce, he creates exciting flavors and textures.
"Sadly, the Jewish people are spread all over the world," says Mor. "But to my kitchen's advantage, I use that to explore different cuisines from around the globe, and use that knowledge to create."
Mor acknowledges his inspiration comes from a combination of wanting to unleash his creativity and to make others happy. "Food connects people, brings them together with no words," he says. "Cooking for me is a form of art that can touch every person."
Tomato Salad
2 teaspoons grated tomato
2 teaspoons olive oil
1 garlic clove, crushed into paste
2 cups mixed cherry tomatoes in different colors, cut in half
4 stalks of spring onion, cut into tubes 2 cm (roughly a half inch) in length
1 medium shallot, sliced into rings
4 Kalamata olives, pitted and hand turned
Fresh basil and oregano leaves, to taste
5 thin slices of green chile (optional)
1 hardboiled egg
Pinch of za'atar
1 tomato cut into 6 wedges
Pinch of brown sugar
Salt, to taste
Fresh lemon juice, to taste
Season the grated tomatoes with olive oil, garlic paste and salt. Place in the bottom of a serving bowl.
Mix cherry tomatoes, spring onion, shallot, olives, fresh leaves and green chile. Season with fresh lemon juice, olive oil and salt. Place on top of the grated tomato.
Roughly chop the hardboiled egg and spread on the salad. Sprinkle a little bit of Za'atar on top.
Place the tomato "boats" on a tray and sprinkle a little bit of brown sugar on top. Grill in an oven until slightly caramelized. Place the grilled tomato on top of the salad and serve. Makes 4 servings.