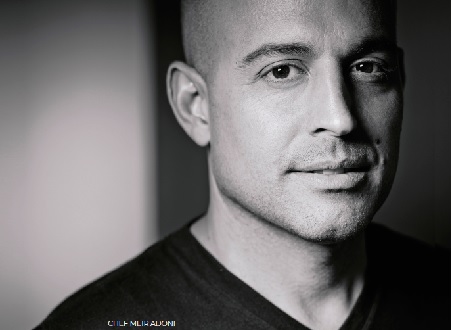 By Mala Blomquist & Deborah Moon

To say Chef Meir Adoni is a busy man is an understatement. In Tel Aviv, he owns Lumina, a modern Israeli bistro located on the seafront, and Blue Sky, located on the rooftop of the Carlton Hotel with a rich vegetarian and fish menu. Meir also owns Layla in Berlin, Germany, and Nur in the heart of New York City – both serving cuisine that is his "personal modern interpretation of the Middle East."
In early 2018 he also opened up a street food chain, Dunya, featuring grilled meats. Dunya is now in five locations in Israel stretching from Metula in the north to Eilat in the south.
Meir also has a weekly column in Israel Today and a line of kitchen tools manufactured by Arcosteel.
When asked to pick a signature dish, he replies, "It is very difficult to choose a dish since all my dishes are like my kids." But Meir does admit that in the last few years two dishes have appeared in one way or another in all of his restaurants.
"The eggplant carpaccio, which comes with tahini, dates, flowers of roses and feta cheese; and the forel 'donuts,' which have forel fish wrapped in a carpaccio of dates."
He decided to pursue cooking as a career early on, being inspired as a child spending time in the kitchen of his grandmother Masudda. "Cooking for her and for my mom, Sima was a way to show love, to unite the family, and I knew back then I wanted to make people feel and get excited via food," says Meir.
Meir also says that his Jewish identity is part of everything he does. He explains that being Jewish means collecting cultural aspects from all over and creating your own interpretation. "This is what I do," he says. "I take the Middle East food, North African food and even Northern European food and create my own way with it."
He has traveled the world learning cooking techniques from classic to molecular, but he is proud to call Israel home. "There is no place that allows all of it (to come) together better than Israel. It's the place to create a story that makes you think/feel in every bite," says Meir. "Everything (here) inspires me: the culture, the smell, the view, the combinations, the relationships."