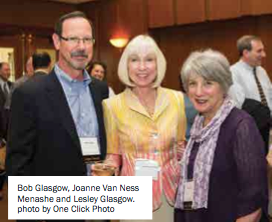 It is difficult to make financial and estate plan decisions, accepting your own mortality. Yet, it can also be empowering. By making thoughtful and informed estate plans, you can express your deepest Jewish values, those of community tzedakah and tikkun olam.
Leaving a legacy gift can help make the world a better place for future generations. Planned giving can be complicated or simple, but regardless of the method you choose, after-lifetime gifts are truly gifts from the heart that are rewarding to make, knowing that you are helping ensure Jewish tomorrows for the organizations you hold dear.
The Life & Legacy/Create a Jewish Legacy Oregon program, launched last fall by the Oregon Jewish Community Foundation in partnership with the Harold Grinspoon Foundation, focuses attention on the importance of legacy gifts to help ensure a strong future for Oregon and SW Washington's Jewish com- munities. The program already has made a difference. Donors throughout the region have declared their intent to make legacy gifts to help ensure Jewish tomorrows for our community. To date, more than 70 individuals or couples have decided to sign a declaration of intent. These promises, the vast majority of which name several Jewish organizations as beneficiaries, translate into an estimated $8.25 million to benefit our Jewish organizations in the future.
Jonathan Glass and family
"The Jewish community has been an integral part of our lives, touching us in so many positive ways. Now, it's our turn to give back," say Steve and Elaine Kantor. "Through a legacy gift, we are privileged to be able to return the favor through supporting the Jewish communities in Oregon and Southwest Washington. In doing so, we honor the values of our parents and grandpar- ents, and preserve their legacy for generations to come."
One of the long-term goals of the Life & Legacy program is to change the cultural fabric of our community so legacy giving will become the norm.
"The Oregon Jewish Community Foundation has allowed us, individually and as a family, to grow as leaders and volunteers and to support our Jewish and secular philanthropic endeavors," says OJCF's Board President Sharon Morell. "We are honored to be included as Life & Legacy participants and to help foster a strong Oregon Jewish community for many generations to come."
The Life & Legacy program is a donor-driven community effort.
According to Arlene Schiff, national director of the Life & Legacy program, "One of the hallmarks of Harold Grinspoon's philanthropic strategy is to inspire other donors."
Participating organizations' Legacy Teams around the coun- try are composed of volunteers, the majority of whom are legacy donors themselves. These dedicated and inspired individuals are out in the community, engaging their peers in conversations about the importance of legacy giving.
"We are very pleased to be part of the Life & Legacy program," say Bob and Lesley Glasgow. "We have been personally involved with and benefitted from many local Jewish agencies over our entire lives, including Cedar Sinai Park, Mittleman Jewish Community Center, Oregon Jewish Museum and Center
for Holocaust Education, Oregon Area Jewish Committee, Jewish Family & Child Service, B'nai B'rith Camp and OJCF. Because these agencies do such important work, we want to help ensure that they will be able to continue for future generations."
Making a legacy gift through a bequest in your will provides the oppor- tunity to reflect upon what organizations have been important to you throughout your lifetime.
"The organizations and causes that are important to my husband Jonathan and myself may change as we move through life, raising our children," says Sarah Kahn Glass. "However, legacy planning allows you to take a snapshot of your life at a given time. I may add charitable gifts to my estate plan later in life, but today's planning will allow me to reflect on what is important to my family and my com- munity at this moment."
Legacy gifts can be used to educate our children, care for the elderly, feed the hungry, strengthen Jewish identity, pre- serve our culture and heritage, support your synagogue or provide support for Israel. One thing is guaranteed: whatever their form, legacy gifts make a difference in the lives of future generations and are
profoundly rewarding for today's donors.
THE LIFE & LEGACY/CREATE A JEWISH LEGACY OREGON PARTICIPATING ORGANIZATIONS:
Cedar Sinai Park | Congregation Beth Israel |Congregation Neveh Shalom | Congregation Shaarie Torah | Jewish Family & Child Service | Jewish Federation of Greater Portland | Mittleman Jewish Community Center | Oregon Jewish Museum and Center for Holocaust Education | Portland Jewish Academy | Temple Beth Israel, Eugene