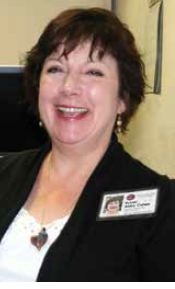 Rabbi Abby Cohen has wanted to live in Portland since she attended a knitting conference here in 2009. She started rabbinical training 1987, but soon raising two children took priority. She returned to the Jewish Theological Seminary of America later in life and graduated in 2012. Now she's found her dream job as spiritual director of Cedar Sinai Park in the city where she had hoped to settle for years.
"It's Jewish values, Jewish celebration, honoring people as they get older," Rabbi Abby says about her new position. Before moving to Portland, she completed chaplaincy training in California including hospital and hospice work. She grew up in New Jersey and earned an undergraduate degree at Bennington College in Vermont before enrolling in rabbinical school. "I've been trained to work as an interfaith chaplain, and I work with people of every stripe. I'm here to support the staff, volunteers and residents. I'd like everyone that Cedar Sinai Park touches to have pastoral care if they want it."
Rabbi Abby plans to enhance existing programs and create new ones. "I want to make Jewish texts accessible by teaching in ways that are invigorating and accessible," she says. "I'll lead services sometimes, but we are so lucky to have an incredible group of volunteers (who do that). I'll support any who want to hone their skills. We'll make sure religious services are engaging and not too long for the residents' comfort. And pastoral encounters can happen in the dining room, or elevator, or while you're pushing someone's wheelchair. It's a matter of being mindful. There's always an opportunity to connect."
CSP board member Eddy Shuldman deals with religious and spiritual life. "We weren't looking for a rabbi or chaplain, but someone with experience working with elders who could offer chaplaincy, provide spiritual guidance and offer a spiritual experience," she says. "Our Jewish and non-Jewish residents have theological questions like where is G-d, and why is this happening to me? Volunteers and local rabbis helped, but a large number of residents are not affiliated with a synagogue." Shuldman looks forward to Rabbi Abby's help supporting volunteers, teaching residents and helping staff learn about Jewish holidays and customs. "I'm passionate about this," she says. "One thing that makes Cedar Sinai special is that everyone's emotional and spiritual needs are valued."
CSP Chief Executive Officer David Fuks agrees. "Many who come here already have an attachment to a rabbi, but the number of unaffiliated has grown," he says. "Close to 40% of Rose Schnitzer Manor residents have followed their kids to Oregon. We encourage all the rabbis to be a presence on this campus. A number of volunteers do religious services, and people love to come make something lively happen on Shabbat. We don't want to interrupt these things, we want to augment them. "We spent a long time clarifying the job description," Fuks continues. "Not everyone we interviewed was a rabbi. Although Abby was ordained through the Conservative movement, she has a heterodox approach welcoming Orthodox, Reform and ethnic Jews. The goal is robust Jewish living. All the work we do on the campus should be perceived as a spiritual expression."
For more information on Cedar Sinai Park visit cedarsinaipark.org. Contact Rabbi Abby at Abby.cohen@cedarsinaipark.org.